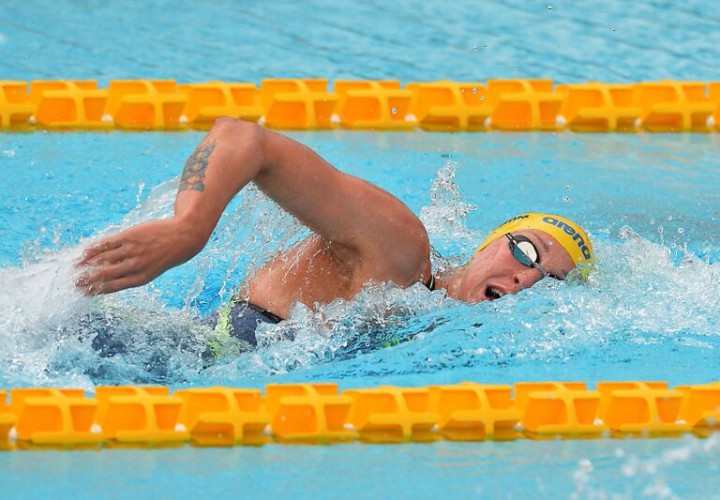 Photo Courtesy: Gian Mattia D'Alberto / lapresse
Swedish sprinter Sarah Sjostrom blasted out another impressive effort on day two of the Mare Nostrum stop in Monaco, where she won the 100 free, 50 fly and 50 free. She recorded the fastest time in the world in the 50 fly while just missing her own top-ranked time in the sprint frees.
Read below for full coverage of day two, and coverage of semi-finals and finals in the sprint 50 shoot-outs can be found below.
Hungary's Benjamin Gratz cruised to the top spot in the men's 400 IM, coming in at 4:19.23. Canada's Robert Hill finished second in 4:24.01, and Australia's Tomas Elliott took third in 4:25.64.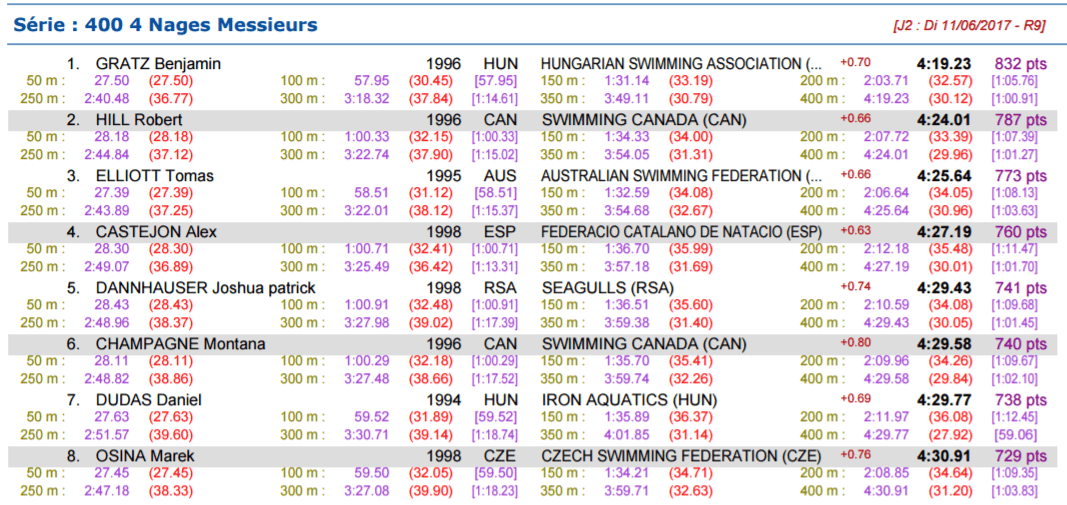 Canada's Mary-Sophie Harvey picked up the win in the women's 400 free in 4:12.26, followed by the Australian duo of Leah Neale (4:17.03) and Elyse Woods (4:21.57).

Great Britain's James Guy came out on top of a tight duel with Hungary's Laszlo Cseh to win the men's 100 fly. Guy, traditionally a freestyler but a key member of Great Britain's 400 medley relay as a butterflyer, touched in 52.30, while Cseh came in second at 52.35. Belarus' Yauhen Tsurkin came in third at 52.79 after leading early in the race.

Japanese teenager Suzuka Hasegawa pulled away from Russia's Svetlana Chimrova on the last 50 to win the women's 200 fly. Hasegawa touched in 2:06.70, a half-second off her world No. 1-ranked time of 2:06.29. Chimrova came in second at 2:07.67, and Hungary's Katinka Hosszu took third in 2:08.69.

Australia's Mitch Larkin added the men's 200 back to his earlier win in the 100 back. He came in at 1:56.85 to win the event by three seconds over Belarus' Mikita Tsmyh. Tsmyh also got under 2:00, touching in 1:59.83, while Austria's Bernhard Reitshammer took third in 2:02.87.
Australia's Emily Seebohm blasted a swift 59.23 to win the women's 100 back by more than a second. Seebohm, the reigning World Champion in the event, currently ranks No. 2 in the world at 58.62. Russia's Anastasia Fesikova took second in 1:00.34, just ahead of Olympic gold medalist Hosszu (1:00.47).

Japan's Yasuhiro Koseki won the men's 100 breast in 1:00.08 to pick up his second win of the weekend after winning the 200 breast Saturday. Russia's Kirill Prigoda took second in 1:00.45, and Belarus' Ilya Shymanovich was third in 1:00.55. South Africa's Cameron van der Burgh, the 2012 Olympic gold medalist in the event, ended up seventh in 1:02.30.

Russia's Yulia Efimova, who holds the top time in the world in the women's 200 breast in 2:21.35, won that event in Monaco in 2:22.55. Finishing well back in second was Australia's Taylor McKeown, who came in at 2:26.18, and Finland's Jenna Laukkanen took third in 2:28.79.

Guy took home his second win of the day, taking first in the men's 200 free in 1:47.27. Guy was the 2015 World Champion in the event, and he was fourth at the Olympics in Rio. South Africa's Myles Brown took second in 1:48.31, and Australia's Mack Horton came in third at 1:48.56.

Sweden's Sarah Sjostrom picked up her second win of the meet in the women's 100 free, touching in 52.60 to just miss her world No. 1-ranked time of 52.54. She took down reigning World Champion Bronte Campbell by more than a second, as the Aussie came in at 53.68.
Sweden's Michelle Coleman took third in 54.05, one hundredth ahead of Campbell's older sister Cate, the world record-holder in the event.

Hosszu won her first race of the day in the women's 200 IM, blasting a 2:08.49 for the fastest time in the world this year. British Olympic silver medalist Siobhan-Marie O'Connor was in the field, but she could not challenge Hosszu this time, settling for second in 2:11.08. Italy's Sara Francheschi took third in 2:13.25.

In the shoot-out final of the men's 50 fly, Great Britain's Adam Barrett touched out Finland's Riku Poytakivi for the win, 23.62 to 23.64.
Shortly after getting out of the 100 free, Sweden's Sarah Sjostrom threw down a 24.90 in the women's 50 fly final to easily defeat Japan's Rikako Ikee (25.95). Sjostrom's time surpassed her own 24.96 as the fastest time in the world this year. Earlier in the night, Sjostrom had posted a 25.26 in the semi-finals.

After Larkin took down Tsmyh to win both the 100 and 200 back, Tsmyh touched out Larkin to win the men's 50 back final, 25.01 to 25.08.

In yet another tight finish in a shoot-out 50 final, Australia's Holly Barratt beat out Belarus' Aliaksandra Herasimenia, 27.66 to 27.67. Seebohm, who won both the 100 and 200 back and was the top seed out of quarterfinals, was eliminated in the semis.

Van der Burgh blasted to the top spot in the men's 50 breast. He touched in 26.99 to improve to fifth in the world this year. Brazil's Felipe Lima finished behind van der Burgh in 27.16, while Koseki, who previously swept the 100 and 200 breast, didn't make it out of the semi-finals.

Efimova did manage to complete the breaststroke sweep, finishing first in the women's 50 breast by two tenths over Sweden's Jennie Johansson. Efimova touched in 30.23, off her world No. 1-ranked time of 29.88, while Johnansson improved to sixth in the world by touching in 30.43.

Brazil's Bruno Fratus beat out Finland's Ari-Pekka Liukkonen to win the men's 50 free shoot-out. Fratus, who currently ranks fifth in the world at 21.70, touched in 21.78 in the final, while Liukkonen took second in 21.90.

Sjostrom completed her remarkable two-day meet in Monaco with a win over Bronte Campbell in the 50 free, 23.95 to 24.58. Sjostrom missed her top-ranked time of 23.83, but the time was still faster than Pernille Blume's Olympic gold medal-winning time, even in Sjostrom's fifth race of the evening session.