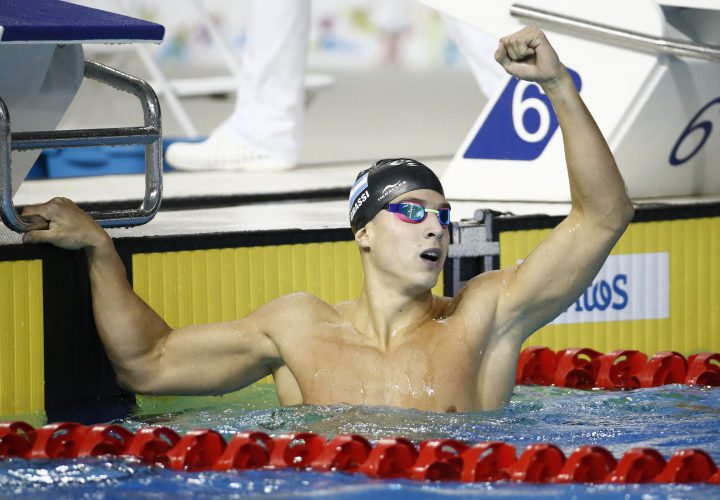 Photo Courtesy: Rob Schumacher/USA Today Sports Images
Night three of the 2018 Charlotte UltraSwim played host to the final rounds of the 50 free shootouts and saw many athletes collecting multiple wins. Santiago Grassi doubled up on victories in the 50 and 100 fly, while Veronica Burchill finished in the top three in a total of three events.
Women's 200 Free
Veronica Burchill of Athens Bulldog cruised to victory in the women's 200 free, maintaining her spot atop the leaderboard with a 2:00.19.
Kyla Valls of Cavalier Swimming finished second overall with a 2:02.60, followed by teammate Paige Madden and her time of 2:02.76.
Men's 200 Free
Anton Ipsen of Wolfpack Elite backed up his 400 free victory with a strong showing in the 200 free. Ipsen posted a final time of 1:50.80, slicing 2.09 seconds off his prelims time of 1:52.89.
SwimMAC's John Walker turned in a second-place finish of 1:51.37, while Tennessee's Walker Higgins was third with a 1:51.91.
Women's 200 Breast
Gamecock's Rachel Bernhardt continued to be the Queen of Breaststroke with a first-place finish in the women's 200 breast. Bernhardt stopped the clock at a time of 2:32.18, while teammate Emily Barksdale scooped up second with a time of 2:33.80.
Jordyn Gulle of Athens Bulldog took third overall with a 2:36.31.
Men's 200 Breast
Nils Wich-Glasen held off some fast-charging competition from Cavalier's Matthew Otto in the men's 200 breast final. Wich-Glasen touched first with a 2:20.12 over Otto's 2:20.18.
Max Iida of GTAC posted a close third-place finish of 2:20.82.
Women's 100 Fly
Auburn's Alyssa Tetzloff and Burchill both flew beneath the one-minute mark in finals of the women's 100 fly. Tetzloff posted a 59.12 for the gold, while Burchill was close behind with a 59.25 for the silver.
Duke's Isabella Paez rounded out the top three with a 1:01.17.
Men's 100 Fly
Santiago Grassi, also of Auburn, collected the 100 fly victory on the men's side, clocking a final time of 53.58. Wolfpack Elite's Coleman Stewart and Alvin Jiang turned in times of 54.62 and 55.11 for second and third.
Women's 200 Back
Cavalier's Erin Earley posted a decisive win in the women's 200 back, finishing more than two seconds ahead of the competition with a time of 2:12.25.
Madison Homovich of Marlins of Raleigh delivered a 2:14.65 for second, while Wolfpack's Mackenzie Glover was third with a 2:15.46.
Men's 200 Back
Hennessey Stuart maintained his first-place position in the men's 200 back final, turning in a time of 2:02.20 for the gold.
Christopher Thames was second overall with a time of 2:04.56, while Marlins of Raleigh's John Healy was third with a 2:05.87.
Women's 50 Fly
The final round of the 50 fly shootouts saw Tetzloff maintaining her spot at first, posting a swift time of 26.96 to take home the win.
IA's Abigail Dolan turned in a 27.38 to hold her spot at second, while Gamecock's Christina Lappin bypassed Athens Bulldog's Donna Blaum for third in the shyest margins, taking the bronze 27.52 to 27.53.
Men's 50 Fly
Grassi echoed his 100 fly victory with a strong finish in the men's 50 fly shootout, stopping the clock at a 24.43.
AAC's Ryan Baker picked up a narrow second-place with a 24.94, just ahead of Athens Bulldog's Camden Murphy at 24.97.
Wolfpack Elite's James Bretscher was fourth with a 25.28.
Women's 50 Back
Wolfpack Elite's Elise Haan backed up her 100 back victory with a top showing in the women's 50 back shootout, turning in a 28.22 for first.
Grace Countie of Marlins of Raleigh took second overall with a 28.56, while SwimMAC's Madelyn Flickinger (29.33) and Glover (29.99) were third and fourth.
Men's 50 Back
Justin Ress of Wolfpack Elite dominated the men's 50 back final shootout round, finishing close to one and a half seconds ahead of the competition. Ress stopped the clock at a 24.47 for the victory.
Duke's Maximillian St. George posted a 25.96 for second, while Ress' teammate Coleman Stewart was disqualified.
John Whiteside of Cavalier Swimming was a no show for the event.
Women's 50 Breast
Bernhardt completed a sweep of the breaststroke events with a top showing in the 50 breast. She posted a time of 31.58, followed closely by Wolfpack's Olivia Calegan at 31.78.
MSA's Kaylee Hamblin and WAVE's Mikaela Fullerton rounded out the top four with times of 32.34 and 32.66.
Men's 50 Breast
SwimMAC's Nic Eriksson won the men's 50 breast shootout with a time of 28.37, followed by 18-year-old teammate William Chan and his time of 28.63.
Gamecock's Itay Goldfaden was third with a 29.04, followed by TE's Austin Rednour's 29.24.
Women's 50 Free
SwimMAC's Madison Kennedy proved to be the sprint queen at the end of the shootout rounds, delivering a strong finish of 25.13.
Burchill posted a second-place finish of 25.61, while Wolfpack's Ky-lee Perry (25.64) and Lappin (25.99) rounded out the top four.
Men's 50 Free
Aaron Greenberg splashed to victory in the men's 50 free final shootout, posting a final time of 22.67.
Oliver Smith and John Long took second and third, respectively, with times of 22.97 and 23.16, while Grassi completed the top four with a time of 23.66.
All results can be found on Meet Mobile – 2018 Charlotte UltraSwim.