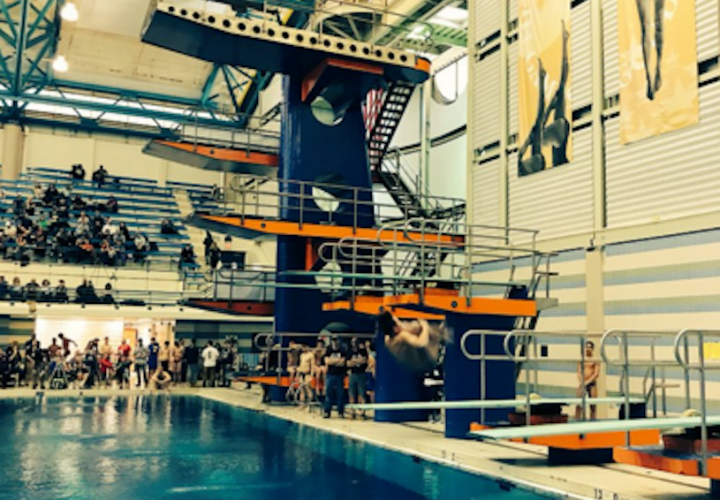 Photo Courtesy: NYSPHSAA Twitter (@NYSPHSAA)
Agon is the proud sponsor of all high school coverage (recruiting, results, state championships, etc.) on SwimmingWorld.com. For more information about Agon, visit their website?AgonSwim.com.?National Records for High School Are Pending Application Verification.? Click Here to Learn More
The team from Saint Anthony's won the 2018 New York Boys High School swimming and diving state championships today, scoring 250 points. Ward Melville was second with a score of 218 while Fordham Prep totaled 212 points for third.
Ward Melville opened the meet with a 200 medley relay victory. Ryan Kaplan, David He, Luka Zuric, and Cameron Kubik edged Saint Anthony's Ian Fitzpatrick, Michael Chang, Mark Owens, and Justin Meyn 1:33.79 to 1:33.88.
Three swimmers cleared 1:40 in the 200 freestyle. Christian Sztol of Chaminade was first to the wall in 1:37.21. Andrew Babyak, a New Rochelle-Bronxville senior, out touched Greeley freshman Matthew Fenlon 1:39.07 to 1:39.08 for silver. Stolz returned for another gold, this one in the 100 freestyle with his time of 44.62. Andy Lee, a Great Neck South junior, touched second in 45.08.
Babyak, who will head to the University of Michigan in the fall, won the 500 freestyle in 4:28.26. There was a close race for second as Eastport-S Manor's George Kalletta edged Half Hollow Hill's Kabir Randhawa 4:32.12 to 4:32.81.
Shoreham-Wading's Jason Louser raced ahead of the field in the 200 IM, touching in 1:48.20. He tied with Chang for second as the duo finished in 1:51.13.
South Lynbrook's Timothy Marski raced to a 20.53 for the 50 freestyle title. Also joining him under 21 seconds was Lee, in 20.87. Marski also won the 100 butterfly in 48.53, leading three swimmers under the 50 second barrier. He was followed by Salesian's Jalen Ramjohn (49.45) and Half Hollow Hill's Ethan Tack (49.80).
Nick Lydon of Shenendehowa won one meter diving with 559.25 points.
Canisius's Christian Balkin, Jacob Ruffolo, Christian Granto, and Dan Bowen swam a 1:24.88 for the 200 freestyle relay title. In second was New Rochelle-Bronxville's Michael Lawson, Finn Seibold, Timothy Cushman, and Babyak in 1:25.15.
Greeley's Fenlon stopped the clock in 49.64 for 100 backstroke gold. Burnt Hills' Trenton Burr (49.83) snagged silver.
Three juniors posted 55s in the 100 breaststroke: Shoreham-Wading's Jason Louser (55.07), Hauppauge's Jack Casey (55.19), and Saint Anthony's Chang (55.54).
The last race was a tight one. Lawson, Siebold, Cushman, and Babyak swam a 3:06.61 in the 400 freestyle relay to finish in 3:06.61, just .04 faster than Ward Melville's He, Kubik, Kaplan, and Zuric in 3:06.65.