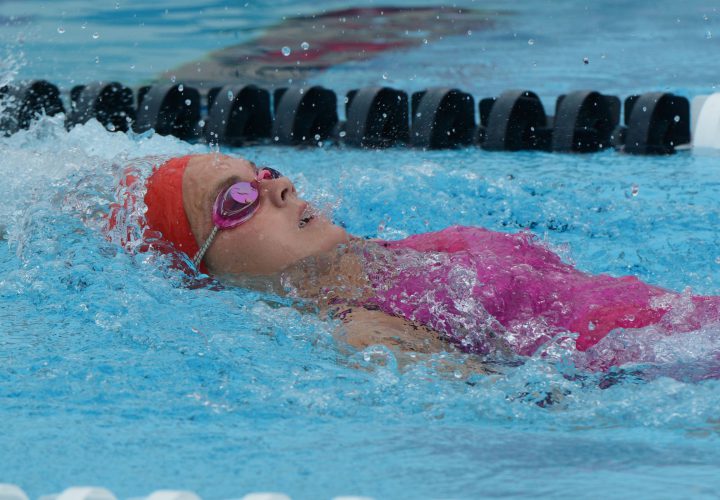 Photo Courtesy: Donna Nelson
Another stop of the Speedo Sectionals series opened at the Mount Hood Aquatic Center today.
Finals began with a tight finish in the men's 100 freestyle. Tualatin Hill's Evan Carlson won in 51.30. Three swimmers were tight on his tail. In second through fourth were Portland Aquatic Club's Sidney Farber (51.74), Boise YMCA's Thomas Roark (51.76), and University of Denver Hilltop's Keegan Bundy (51.79).
The women's 100 freestyle was won by Mount Hood's Jamie Stone in 56.44. Four tenths behind her was Jillian Visscher (56.85). Scottsdale Aquatic Club's Ashley Strouse (57.63) touched third.
Scottsdale's Emma Cain out touched The Dolphins Portland Swimming's 15 year old Kaitlyn Dobler 2:34.77 to 2:34.96 to win the 200 breaststroke. Coeur D'Alene Area Swim Team's Sarah Nicholls (2:35.82) was a second back for third.
Joshua Bottelberghe of Portland Aquatic Club won the men's 200 breaststroke with a 2:17.80. Rounding out the podium was a close finishing duo- Keegan Foulke (2:18.53) and Swim Utah's Brody Lewis (2:18.74).
Rhyan White was absolutely dominant in the women's 200 backstroke. The 17 year old from Wasatch Front fish Market touched in 2:11.20. Lake Oswego Swim Club's Mara Newman (2:16.02) and Mesa Aquatics Club's Brynne O'Shea (2:16.84) finished second and third.
In the men's 200 backstroke Swim Utah's Brandon Shreeve (2:03.17) was first to the wall. Michael Zarian of Jeffco Hurricanes was second (2:06.25) and Mesa's Cale Berkoff (2:07.32) finished third.
Swim Utah's Jordan Anderson clocked a 2:15.88 to win the women's 200 fly. Scottsdale's Kelly Huffer was second in 2:16.26, a half second ahead of Tualatin Hill's Caitlyn Wilson (2:16.70).
The final event of the night, the men's 200 fly, went to Jeffco Hurricanes' Andrew Torres with his 2:02.22. Tigard Tualatin Swim Club's Benjamin Miller (2:03.80) touched second just before University of Denver Hilltop's Kyle Ewoldt (2:04.17).
Results available on Meet Mobile: "2017 Speedo Sectionals at Gresham"