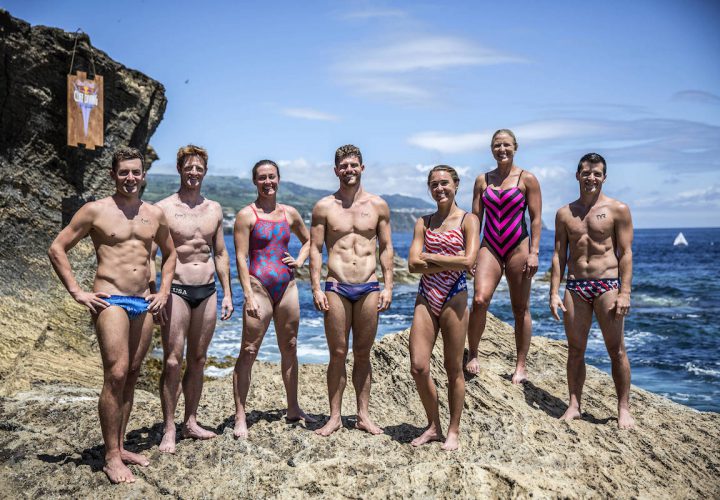 Photo Courtesy: Romina Amato/Red Bull Content Pool
The third stop of the 2017 Redbull Cliff Diving World Series is quickly approaching and will be held in Texas this upcoming weekend. Six of the Redbull Cliff divers in the 2017 World Series call the USA home and Redbull would like to shine a spotlight on the six who will be looking to claim a win in front of a home crowd.
Andy Jones (32) – Anchorage, Alaska
Andy Jones is currently in 3rd place overall in the World Series and the American to watch on the podium. Having finished the 2016 season in 3rd place; Jones is primed to take the top spot this year and hopes to reel in a US victory.
On being called a jack-of-all "thrill-seeker" trades (Red Bull Cliff Diver, Cirque du Soleil artist, and professional stuntman):
"All three require a tremendous amount of preparation, dedication, and focus. The other common denominator is danger. So, I guess you could say danger is my… nope I'm not going to say that. Although certain aspects cross over, the training for each differs in many ways. Training for a Cirque du Soleil act is usually a very specific and sometimes odd skill. Competing for Red Bull Cliff Diving is also very specific and uncommon. Lastly, stunt work can range from being hit by a car, lit on fire, or falling down a flight of stairs. I think doing stunt work is really where the versatility comes in handy. However, staying physically fit and active is a huge benefit and necessary for all."
David Colturi (28) – Sylvania, Ohio
David Colturi is the underdog this season but not to be counted out. With 4 times as fifth overall and a less than memorable 2016 season, Colturi is determined to change the tide of the last half of the 2017 tour.
On what's tougher – hitting the books or hitting the water – the former Purdue medical student weighs in:
"Both cliff diving and arduous academics are difficult endeavors, and each requires discipline and persistence to succeed. It's nice that the classroom does not take such a toll on your body, and the fear and hypothetical consequences of failure are not as detrimental to your health. Cliff diving definitely requires more physical training, and it's own specific type of mental preparation, but medicine is extremely intense on the mind and the responsibility for others well being that comes alongside it can be an even greater task to take on. Both have taught me many important skills that have helped me succeed in the water and out, and I'm happy to have both as a passion in life!"
Steven LoBue (32) – Ewing, New Jersey
Steven LoBue recently won 27m gold at the 2017 FINA World Championships in Budapest. The unstoppable "turbo-spinner" (he can do five somersaults in less than 3 seconds) is one to watch in Texas.
On being a coach and father and the advice he would give if his daughter chose to "join the family business":
"Being a diving coach has definitely had an impact on my training and on how I mentally prepare. It allows me to structure my pool workouts better and it helps me see a clearer picture of the proper mechanics of a dive in my head. As for being a husband and a father, there is no greater joy in life and that joy carries over into all aspects of life including diving! Knowing I have the love and support from my family is paramount to my success.  As for "joining the family business", I would say go for it! The most important advice I could give her would be to follow the path of traditional diving and gain all of the necessary basics and skills needed to be a high level cliff diver. Also, don't tell mom!"
Cesilie Carlton (36) – San Antonio, Texas
Cesilie finished the 2016 season on the podium. While currently in 6th place overall, she's no stranger to upset wins. Carlton was the first wildcard diver to win a competition. The Texas tour stop may bring luck for the San Antonio native.
On growing up with a large family and the sisterhood and brotherhood she feels exists in Red Bull Cliff Diving:
"I think growing up swimming with a large family was really cool. You always had your support system with you cheering for you.  My younger sister and me often swam against each other, so being a gracious winner and loser was very important.

I believe that this sport has such a degree of danger to it, that there is a brotherhood and sisterhood that comes with it. We are all bonded by the fear, love, and excitement of the sport.

When Rachelle (Simpson) moved on, I have felt like I am missing my sister this year. I could tell her when I was scared; we would practice together, hang out, and discover new places. She was one of my fiercest competitors, but she is also one of my best friends. There are so many people that compete, that I can say this about. We stay in touch in the off-season. We worry about one another. We are most definitely a family."
Ginger Leigh Huber (42) – Milledgeville, Georgia
Ginger Leigh Huber is the American to watch for the women's event this season and is currently in 3rd place overall. Having finished 2016 in 6th place, Huber has had a consistent 2017 season and is gunning for the World Series title.
On being a self-proclaimed acrophobic and how she forces herself to overcome the fear factor of diving from such great heights:
"What I do to overcome such heights is to do a lot of mental preparation. I believe if I can see a dive successfully in my head then I can take it up to higher heights. Plus, I work a lot on keeping the core of my body physically strong so I can withstand the impact from 21meters and I try to get to a pool to dive off 10 meters to work on my take off and entry of my dive."
Tara Hyer Tira (31) – Tampa, Florida
Tara Hyer Tira is the wildcard of the group. She has placed 4th in both of her 2017 appearances in the Red Bull Cliff Diving World Series and also placed 4th in the FINA World Championships. She's a standout diver with a creative approach to training. She is pulling out all the stops to secure a Texas victory.
On how being a "yogini" impacts her training as a Red Bull Cliff Diver:
"Practicing yoga definitely helps me keep a strong balance both mind and body for my cliff diving. Not only does it help build strength and flexibility but it also eases my mind if I am under stress or tension. Before I do cliff diving I usually try to still my mind of distractions, fears, and worries by taking deep breaths and visualizing how I want to perform my dive. I am truly lucky to be able to combine my two passions of yoga and cliff diving in order to do what I love to do!"
All bios and photos courtesy of Red Bull Cliff Diving.