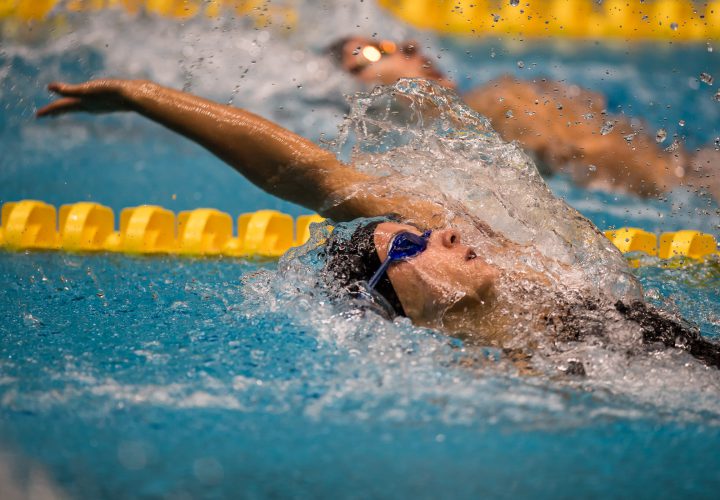 Photo Courtesy: Peter H. Bick
Women's 200 Back Final
15-year-old Regan Smith delivered in a big way during finals of the women's 200-meter backstroke, dropping two seconds from her semi-final qualifying time to score the gold medal and set a championship record in the event with her time of 2:07.45. Her opening speed was unmatched, her first 100 being almost two full seconds ahead of the rest of the field. However, she was just off her world junior record-breaking time of 2:07.19 that she went at World Championships in Budapest earlier in the month. Teammate Alexandra Sumner was close behind in 2:09.04 for second place. Bronze went to Natsumi Sakai of Japan in 2:09.34.
Russia rounded out fourth and fifth place, with fourth place going to Polina Egorova of Russia in 2:10.04, and fifth to teammate Anastasiia Avdeeva in 2:10.11.
Canada's Hannah Jade touched sixth in 2:10.44, while Tatiana Salcultan of Moldova took seventh in 2:11.56. Eight place in the final went to Laura Ilyes of Hungary, with her time of 2:13.31.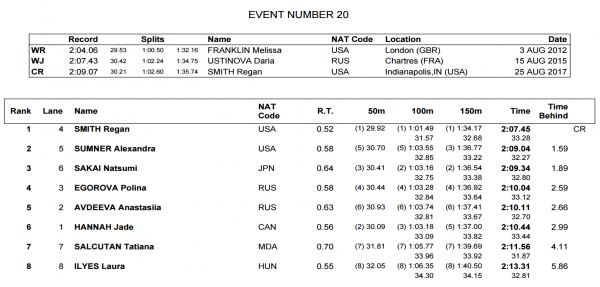 Swimming World Radio
Regan Smith, United States
Alex Sumner, United States
---