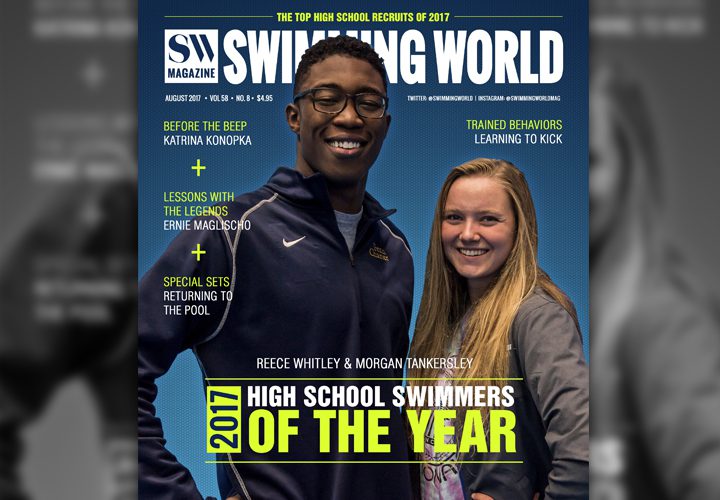 ON THE SEPTEMBER COVER
Juniors Reece Whitley (William Penn Charter High School, Pa.) and Morgan Tankersley (Plant High School, Fla.) were named Swimming World's Male and Female High School Swimmers of the Year for the 2016-17 high school season. Both swimmers ranked No. 1 in two events—Whitley in the boys 100 breast (51.84, a national high school record) and 200 IM (1:44.91) and Tankersley in the girls 200 and 500 yard free (1:44.31, 4:37.60).
(See features, Table of Contents Below)
Not a subscriber?  Subscribe With This Special 3-Year Offer! Swimming World Magazine gives you access to all of the back issues of Swimming World Magazine dating back to 1960!  Visit the Swimming World Magazine Vault.
Save 25% on a 1 year subscription and download more issues from the Swimming World Vault and get the following:
Use Coupon Code: realnews and save 25%
A monthly print copy of Swimming World Magazine in the mail for 1 year!
Free download of the next 12 issues and the past 12 issues of Swimming World Magazine!
Free download of next 24 issues and the past 24 issues of Swimming World Biweekly!
Free download of next 4 issues and the past 4 issues of Swimming Technique Magazine!
Click Here For This Special Offer with coupon code "realnews" during checkout.
Take a video tour of the current issue of Swimming World Magazine…

FEATURES
018 POWERHOUSE OF POSITIVITY
by Annie Grevers
Junior Morgan Tankersley of Plant High School (Tampa, Fla.) finished the 2016- 17 high school season as the top-ranked female swimmer in the 200 and 500 yard freestyles and third in the 100, and was named Swimming World's Female High School Swimmer of the Year. Perhaps even more special is that she uses her star power to inspire and encourage those around her.
021 TALENT RUNS DEEP
by Annie Grevers
This year's runners-up for Swimming World's Female High School Swimmer of the Year honors all had equally impressive performances during the 2016-17 season.
023 GREAT EXPECTATIONS
by David Rieder
Reece Whitley, Swimming World's 2016-17 Male High School Swimmer of the Year (two No. 1 rankings in the 100 breast and 200 IM with a national record in the 100 breast) just completed his junior year at William Penn Charter High School (Pa.). He seems to have all the tools necessary to be a transcendent talent in swimming.
026 IN THE HUNT
by David Rieder
Reece Whitley may have been the clear choice for Swimming World's Male High School Swimmer of the Year, but the four runners-up also turned in a few No. 1 times of their own.
028 TOP HIGH SCHOOL RECRUITS
by Cathleen Pruden
The high school Class of 2017 boasts several top recruits who should make an impact with their new teams at the college level.
030 ISHOF EXHIBITS: POSEIDON… MORE THAN A TROPHY
by Chuck Warner
The bronze sculpture of the rugged face of Poseidon—Greek god of the sea—that stands at the entrance to the International Swimming Hall of Fame is quite likely swimming's most spectacular "trophy.
032 MENTAL PREP: BEFORE THE BEEP WITH KATRINA KONOPKA
by Annie Grevers
COACHING
010 LESSONS WITH THE LEGENDS: ERNIE MAGLISCHO
by Michael J. Stott
013 KICKING
by Michael J. Scott
This is the fourth of a multi-part series on "trained behaviors" in swimming—actions that can be executed under pressure and in unusual circumstances. This month's article focuses on kicking.
016 SWIMMING TECHNIQUE MISCONCEPTIONS: TOP SWIMMERS HAVE A "FEEL FOR THE WATER"
by Rob Havriluk
034 SPECIAL SETS: RETURNING TO THE POOL
by Michael J. Stott
Coaches Allison Beebe (high-performance coach, Santa Clara Swim Club) and John Smithson (assistant coach, Quest Swimming) share their philosophy on how to train their swimmers following the summer break.
036 TRAINING OUTSIDE THE BOX
by Michael J. Stott
When it comes to training, there are respected coaches and athletes who are able to think outside the box. And when they do, the swimming world takes notice. What follows is a sampling of divergent training methods used over the years.
041 Q&A WITH COACH PAUL SILVER
by Michael J. Stott
042 HOW THEY TRAIN ZACH BROWN & MADISON HOMOVICH
by Michael J. Stott
TRAINING
045 DRYSIDE TRAINING: THE IM STROKE SERIES—BACKSTROKE
by J.R. Rosania
JUNIOR SWIMMER
038 GOLDMINDS: HOW TO DEVELOP A WINNING MINDSET
by Wayne Goldsmith
046 UP & COMERS
by Taylor Brien
COLUMNS
008 A VOICE FOR THE SPORT
047 GUTTER TALK
048 PARTING SHOT
Click Here To View Previous Swimming World Magazine High School Swimmers of the Year