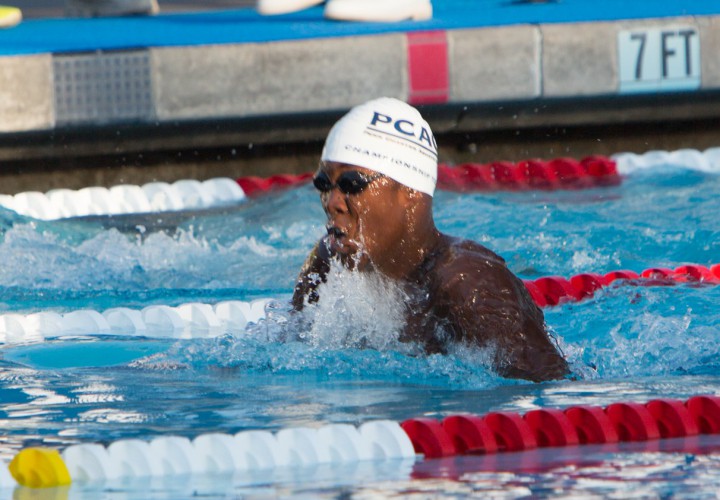 The 2016 NCSA Juniors National Championships begin tomorrow in Orlando, FL with the short-course distance events. The meet, which boasts a wide variety of talented swimmers ages 13-18, hosts a number of close match-ups.
One of the biggest match-ups of the meet will be between 16-year-old breaststroke dynamos Michael Andrew and Reece Whitley. The two will be competing in multiple events with some seeds closer than others. The two sit as the 1-2 seeds in the 100 breaststroke with times of 51.75 (Andrew) and 52.56 (Whitley).
While the two young superstars are closely matched in the 100, Whitley leads Andrew in the 200 by almost seven seconds. Whitley sits at the number one seed with a 1:53.66 over Andrew's ninth place seed of 2:00.34. The pair's other close match-up will be in the 200 IM with first and seventh place seeds of 1:42.77 (Andrew) and 1:47.55 (Whitley).
Katherine Drabot holds the number one seed time in a total of eight events, including a sweep of the 50 through 500 freestyle events. Along with the four freestyle events, Drabot is the top seed in the 200 (1:56.05) and 400 (4:08.67) IM's and 50 and 100 (52.37) fly.
Competing in many of the same events as Drabot is Margaret Aroesty, who leads the competition in the 100 breaststroke with a 1:00.00. Seeded a slim .02 seconds behind her is Alexis Wenger with a 1:00.02.
Aroesty boasts a qualifying time of 4:12.03 for the second-place seed in the 400 IM, just behind Drabot, and a second-place seed of 2:11.67 in the 200 breaststroke behind Halladay Kinsey's 2:11.56.
Ethan Young tops the men's 200 back with a seed time of 1:43.52, while fellow 18-year-old Ryan Baker sits second with a 1:44.88.
The young Robert Freeman tops an older crowd with a number one seed time of 4:18.82 in the 500 yard free. That leads by almost four seconds.