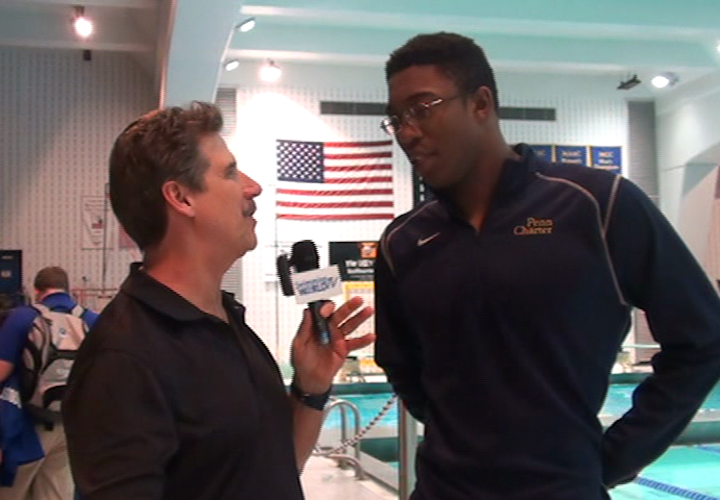 Photo Courtesy: Swimming World TV
Tonight during finals of day one at the 2016 Eastern Interscholastic Swimming and Diving Championships young breaststroke all-star Reece Whitley of William Penn Charter took down the eighteen-year-old meet record in the men's 200 IM and also nabbed the pool record.
The former record of 1:48.10 was set by Nick Kaschik in 1998. During prelims Whitley gently cruised to a final time of 1:51.39 putting a new meet record well into perspective.
Swimming World was on hand to not only capture the race, but also got the chance to catch up with Whitley after finals to talk about the race.
With the mention of this morning's 1:51 Whitley noted that he felt shocked that he turned in as quick a time as he did because he was only two days rested. Despite the lack of taper the ever-humble Whitley praised the atmosphere of his team and the joyous feeling of competition from battling for the top relay spot with Peddie.
Catching Swimming World publisher Brent Rutemiller off guard was the phrase "baby phase" when discussing all strokes but breaststroke. When asked to clarify what he meant Whitley noted that his 200 IM was still developing as he works to become known as more than just a breaststroker.