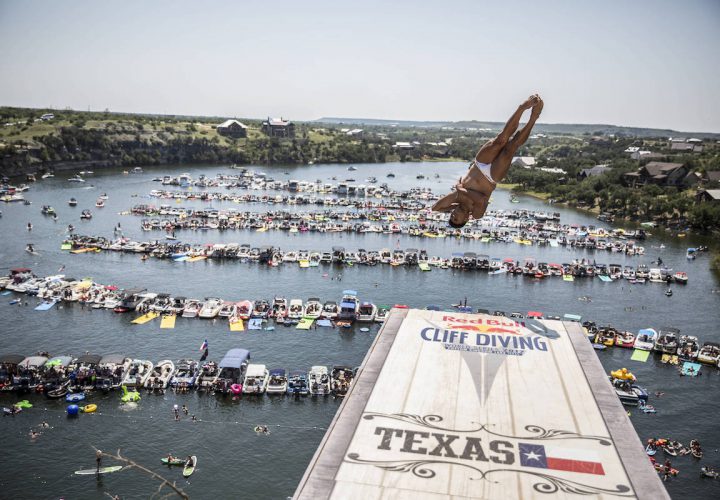 Photo Courtesy: Romina Amato/Red Bull Content Pool
The World Series comes off a shocker of a 2017 season where Mexico's Jonathan Paredes dethroned six-time champion Gary Hunt (GBR) on the 27m platform and returns to the Lone Star State of Texas for the fifth straight year to celebrate a decade of pushing the limits of what's physically possible. In the women's, the Texas results from 2017 were a harbinger of things to come as Australian Rhiannan Iffland cruised to her second straight overall title, winning four of the six tour stops including her second straight U.S. stop. Whether her dominance from 21m continues in the women's fifth year and whether the brilliant Brit can find the right formula to reclaim the King Kahekili Trophy will soon be witnessed by throngs of fans flocking to Possum Kingdom Lake.
Texas has been a good hunting ground for the 28-year-old Mexican diver, who's not only been awarded the most tens from the judges for a single dive in this location, but also has a first and second place to his name in the past two seasons. After winning the thrilling finale in the waterfalls of Chile last October, the style master, who's best known for his immaculate form in the air, looks forward to eager challengers in the men's division; first and foremost the British duo Hunt and Blake Aldridge, with the former Olympian finishing 2017 as overall third.
American veterans Andy Jones, David Colturi and Steven LoBue, who finished fifth through seventh in the 2017 standings, will be supported by the enthusiastic fans on boats as they soar from heights the equivalent of six double-decker buses, twisting and flipping before they hit the water at over 85km/h.
On the women's platform, Australia's two-time champion could make it her 10th victory in 13 starts – her third in a row at Hell's Gate – when the season swings into action in the venue where it all started for the women five years ago. However, the 26-year-old is not resting on her laurels as emerging talents like Adriana Jimenez (MEX), who won the Portugal stop in 2017, and Lysanne Richard will try and make a run for glory; the Canadian, who was runner-up to Iffland before she had to withdraw from the 2017 season due to injury, is one to watch out for at the first of five female division stops in 2018.
The kick-off into the World Series' 10th year features not only 18 permanent divers but also four wildcards in both the men's and women's divisions. These talents, as young as 17 years in the women's and 23 in the men's, are expected to spice up the competition.
Wildcards (men, women): Nikita Fedotov (RUS), Miguel Garcia (COL), Sergio Guzman (MEX), Kyle Mitrione (USA); Jessica Macaulay (GBR), Maria Paula Quintero (COL), Eleanor Townsend Smart (USA), Irlanda Valdez (MEX).
As 2018 marks a special year in the history of cliff diving, the World Series is poised once again to hit oceans, rivers, and lakes while thousands of fans from all around the globe flock to see these elite athletes put on a display of athleticism and grace unrivaled in the world of diving.
While Gary Hunt wants to regain his crown after being toppled by Paredes last season, Rhiannan Iffland aims to make it three titles in a row, and a blazing start is expected as the world's best 14 male and 10 female cliff divers begin the battle for the King Kahekili trophy all over again, with a tight fight in store right from the start.
WATCH IT LIVE
This competition will be LIVE on June 2 from 20:15 GMT on www.redbullcliffdiving.com, Red Bull TV, Facebook & YouTube. Red Bull TV is available on connected TVs, gaming consoles, mobile devices and more. Find out more at about.redbull.tv.
Red Bull Cliff Diving World Series
Since 2009, the Red Bull Cliff Diving World Series has provided a platform for aesthetic free-falls and dives of ever growing complexity, spotlighting the sport's finest athletes as well as the most promising talents and in 2014 it introduced a Women's World Series. Celebrating its 10th season in 2018, this rapidly progressing sport will crown two new champions during seven demanding competitions for the men and five for the women. Between June and September, this pure extreme sport will hit waters in natural and urban environments as well as remote and iconic venues of World Series classics.
The above press release was posted by Swimming World in conjunction with Red Bull Cliff Diving. For press releases and advertising inquiries please contact Advertising@SwimmingWorld.com.