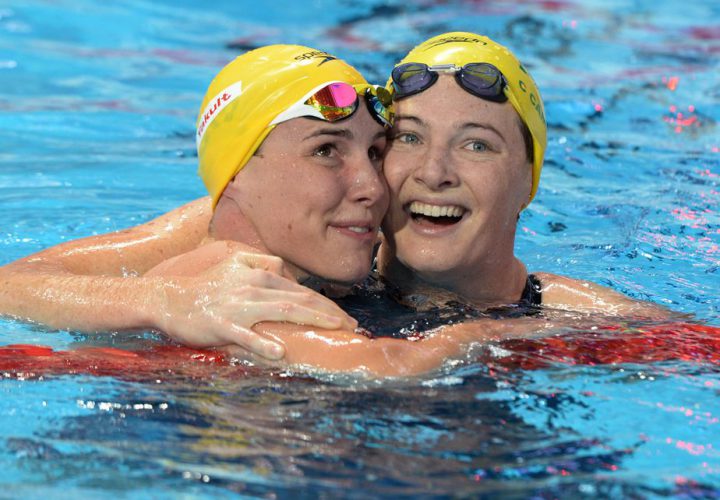 Photo Courtesy: R-Sport / MIA Rossiya Segodnya
This morning at the 2016 Australian Nationals the Campbell sisters put up a 1-2 finish to both earn individual swims in 100 freestyle at the 2016 Olympic Games.
Cate Campbell led the way, posting a 52.38, knocking three hundredths off her own world leading time.
Bronte Campbell was just two tenths behind in 52.58, knocking two tenths off her own time, and moving into position as the sole holder of the second fastest time in the world this year. She was previously tied for second with Sweden's Sarah Sjostrom. Sjostrom now sits third in the world in 52.78.
Emma McKeon was third tonight in 52.80. That is the world's fourth ranked time, but will not get an individual berth in Rio. Fourth place Britta Elmslie also cleared Australia's Olympic cut with a 53.54.
These four women should combine for an impressive 400 freestyle relay in Rio.
Watch the full race below:
Full Results of the Australian final:
 === Finals ===
1 CAMPBELL, CATE 23 COMM 52.41 52.38A 982
 r:+0.79 24.86 52.38 (27.52)
 2 CAMPBELL, BRONT 21 COMM 52.78 52.58. 971
 r:+0.68 24.94 52.58 (27.64)
 3 MCKEON, EMMA 21 STPET 52.98 52.80Q 959
 r:+0.72 25.34 52.80 (27.46)
 4 ELMSLIE, BRITTA 21 BGRAM 53.62 53.54Q 919
 r:+0.72 25.94 53.54 (27.60)
 5 COUTTS, ALICIA 28 REDLA 54.67 54.09 892
 r:+0.74 26.00 54.09 (28.09)
 6 NGAWATI, KOTUKU 21 MVC 54.59 54.10 891
 r:+0.66 26.39 54.10 (27.71)
 7 BARRATT, BRONTE 27 STPET 54.40 54.39 877
 r:+0.63 26.29 54.39 (28.10)
 8 JACK, SHAYNA 17 COMM 54.39 54.68 863
 r:+0.73 25.89 54.68 (28.79)