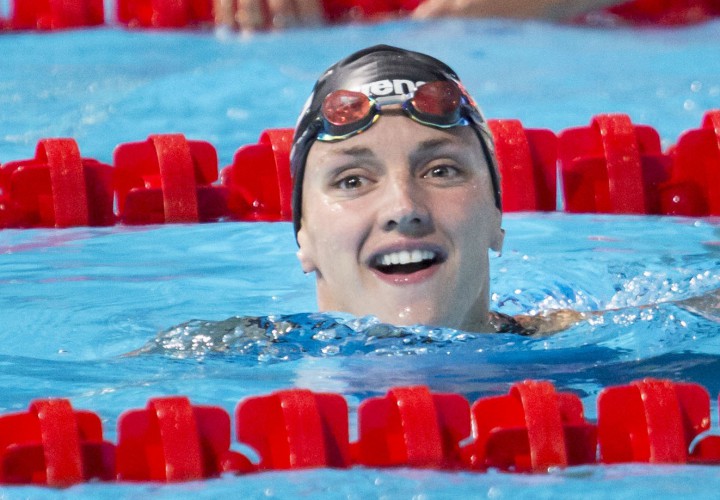 Special thanks to ArenaUSA for proudly sponsoring our coverage of the Arena Grand Prix circuit. For all of our coverage and more, please visit our event coverage page
ORLANDO, Florida, February 14. SHE wasn't able to replicate her morning speed of 1:57.60, but still managed to power through the finale with the win as the Iron Lady Katinka Hosszu clocked a 1:58.09 for the victory and her first podium paycheck of the Arena Grand Prix in Orlando. That's what Hosszu is typically about, as she hunts down top prizes at money meets throughout the world. Although, she's event-limited here in Orlando, and won't be able to swim her typical 4-5 events a day. She's already swum more than 200 times this season before even setting foot in Orlando.
Agnes Mutina, Hosszu compatriot and Hungarian record holder with a 1:56.47 to her credit from 2009, raced her way to second in 2:00.50, while IX3's Chloe Sutton pocketed third-place money with a 2:00.61. That's just a second off her lifetime best of 1:59.38.
Bulldog's Megan Romano had paced her way into second at the halfway mark, but faded down the stretch with a 2:00.98 for fourth overall. York's Courtney Harnish, 14, snared fifth overall in 2:01.80 to smash her lifetime best of 2:02.66, while Great Britain's Elizabeth Simmons posted a 2:01.94 for sixth.
Rockwood's Jordan Stout touched in seventh with a 2:03.07, off her lifetime best of 2:02.58, while T2's Amanda Kendall comprised the rest of the championship heat with a 2:03.20 for eighth overall.
Gator's Andreina Pinto started off the night with a 2:01.14 to claim the consolation heat in the 200 free. That's her in-season best, beating the 2:01.74 she last posted at the 2011 Charlotte UltraSwim. She's just off her lifetime best of 2:00.79 from the 2011 Pan American Games as well. That's a strong note to start off this meet on for Pinto.