Tokyo Flashback: Emma McKeon Crowned Queen Of The Pool with Third Tokyo Gold In 50 Metres Freestyle in 23.81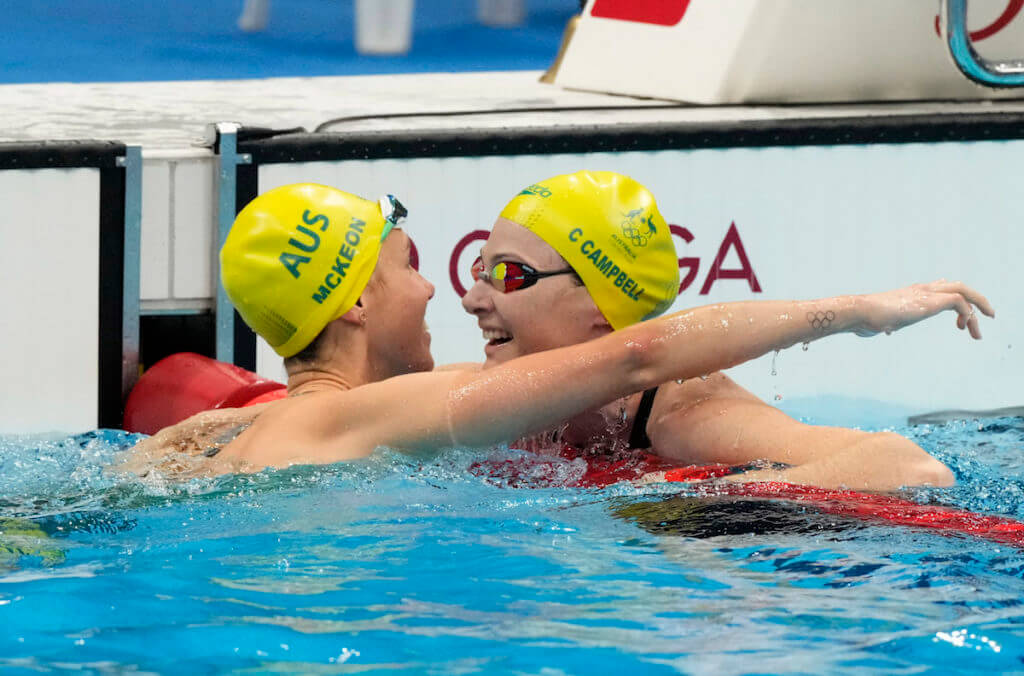 LANE OF HER OWN: Emma McKeon congratulated by Cate Campbell after winning her third gold in the pool in Tokyo. Photo Courtesy: Rob Schumacher
Editorial content for the 2021 Tokyo Olympic Games coverage is sponsored by GMX7.
See full event coverage. Follow GMX7 on Instagram at @GMX7training #gmx7


Left Sidebar

Tokyo Flashback: Emma McKeon Crowned Queen Of The Pool with Third Tokyo Gold In 50 Metres Freestyle in 23.81
One year has passed since the Olympic Games, delayed by a year due to COVID-19, unfolded in Tokyo. To celebrate what went down in the Japanese capital, Swimming World is revisiting the championship finals – each on their one-year anniversary – by once again running the stories that were posted after the medals were decided.
Australia's Emma McKeon is now the queen of the 2020 Olympic pool and Australia's greatest ever Olympic medallist after winning her third gold medal of these Tokyo Games with a start-to-finish victory in the 50m freestyle.
Admitting after the race that her goal for Tokyo was to come to these Games and win  gold.
McKeon, 27, added the 50m freestyle in a new Olympic record of 23.81 to her gold medals in the 100m freestyle and 4x100m freestyle relay and later the women's 4x100m medley – taking her gold medal tally to four and overall tally to seven – becoming the fifth swimmer to take the 50-100m freestyle double
And it also elevates her to Australia's greatest ever overall Olympic medallist – lifting her tally to 11 medals – four from from Rio and seven from Tokyo  – two one more than Ian Thorpe and Leisel Jones (nine each).
"To come here to win gold was the plan that my coach Michael Bohl and I worked so hard for..that's what we had our eyes on," McKeon, told Nathan Templeton on the Seven Network.
"And I never thought I would ever win a 50m freestyle gold medal after training for the 200m all my life, but after my 100m was so good (first gold since J0die Henry in 2004) and I'd been training so well, I definitely had that belief in myself…and if I put it all together I knew I could win it.
"Walking out for the 50m final, which I admit is not one of my main events and I haven't got as much emotional energy (attached to it) although I care about it of course;  but being on the last night I felt like I owed that to Bohly for all that he has put in and really put in and really go out after it….everything that he has done..my gold medals are for him as well…."
It was all McKeon in today's 50m freestyle, with the girl from the Gold Coast continuing to re-write the Olympic record books – setting a new mark in heat, lowering it again to 24.00 in the semi-final and again to 23.81 in a final.
She owned today's race from start to finish to take her third gold from Sweden's world record holder Sarah Sjoestroem (24.07) with Rio gold medallist, Denmark's Pernille Blume (24.21) taking the bronze.
Blume said her first  25 was a bit of a mess.
"But I managed to set things straight and get back into the race and race my heart out. I'm really proud that I turned it around I'm very happy," said Blume.
It was a rewarding silver for Sjoestroem, who broke her elbow when she slipped and fell on ice in February, putting her Games in severe jeopardy.
Australia's Cate Campbell, bronze in this event in 2008 and bronze in the 100m freestyle here was seventh in her fourth Olympic Games.
Women's Olympic 50m freestyle Final
1 Emma McKeon (AUS) 23.81
2 Sarah Sjoestroem (SWE) 24.07
3 Pernille Blume (DEN) 24.21
4 Ranomi Kromowidjojo (NED) 24.30
5 Katarzyna Wasick (POL) 24.32
5 Qingfeng Wu (CHN) 24.32
7 Cate Campbell (AUS) 24.36
8 Abbey Weitzeil (USA) 24.41