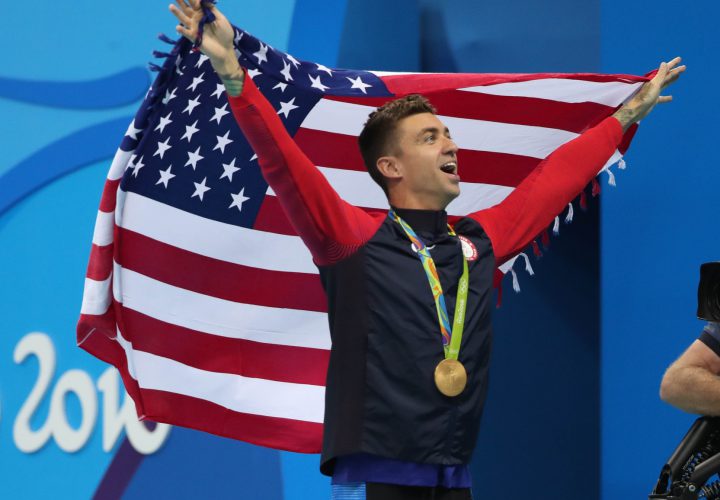 Photo Courtesy: Rob Schumacher-USA TODAY Sports
Tourette Association of America (TAA), the premier national non-profit organization serving the Tourette Syndrome (TS) and Tic Disorder community, today announced that four-time Olympic medalist and ambassador Anthony Ervin will be a special guest at this year's premier gala on Monday, November 6, as well as at the association's 2018 National Education Conference, March 2-4.
Anthony joined the Tourette Association of America in 2017 as an ambassador. Ervin, who suffers from Tourette syndrome, has met with other youth ambassadors this year to talk about the misconceptions about TS, and to show kids they are not alone.
"Anthony embodies everything we look for in an Ambassador – strength, courage, leadership and a willingness to better the community around them," said John Miller, President and CEO of Tourette Association of America. "We are incredibly honored that he has accepted our invitation and will be joining us for this year's gala and next year's bi-annual National Education Conference as he helps to support our mission to make life better for all people affected by Tourette and Tic Disorders."
In 2011 at the age of 30, Ervin returned to swimming winning gold at the Chesapeake Pro-Am and immediately putting himself back in the U.S. top five. Anthony participated in the U.S. Olympic Trials and was selected for the London Olympic Games for the 50 freestyle. Following the Olympics, Anthony swam to 16 medals on the World Cup circuit, nine of them gold, and an American record in the 50 Freestyle. In 2014, Anthony regained his U.S. National title in the 50m Freestyle getting a Silver medal at that year's Pan Pacific Championships in Australia.
After winning the Olympic gold, two World Championships, and seven NCAA titles, Ervin retired at the young age of 22 in 2003. He then spent several years traveling the world and exploring other interests, including his higher education, music, tattoos, teaching people all over the world about swimming, and tsunami flood relief. His vision is to use his experiences and his platform as a chance to give back and inspire people of all ages to live the life they love.
"Living with Tourette's is a unique struggle. At times the struggle has defeated my best efforts. But I have no doubt that the strength I develop from living with Tourette's contributes to my success at the Olympics, and in life," shared Anthony Ervin.
The above press release courtesy of the Tourette Association of America
About the Tourette Association of America:
Founded in 1972, the TAA is dedicated to making life better for all individuals affected by Tourette and Tic Disorders. The premier nationwide organization serving this community, the Association works to raise awareness, advance research and provide on-going support. The TAA directs a network of 32 Chapters and support groups across the country. For more information on Tourette and Tic Disorders, call 1-888-4-TOURET and visit us at tourette.org, and on Facebook, Twitter, Instagram and YouTube.