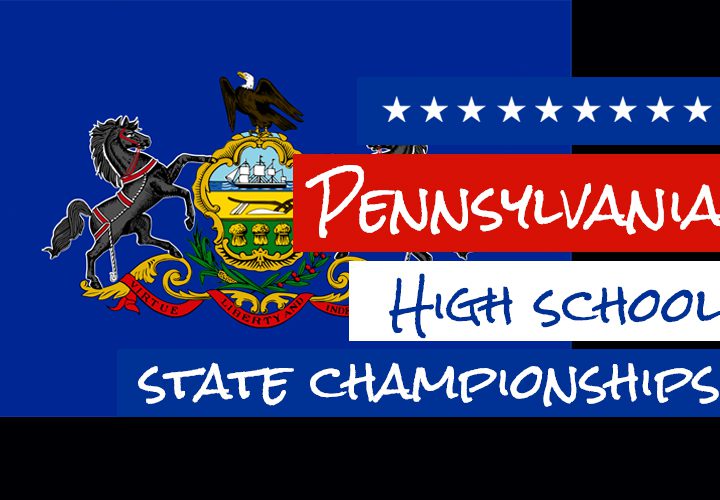 Agon is the proud sponsor of all high school coverage (recruiting, results, state championships, etc.) on SwimmingWorld.com. For more information about Agon, visit their website AgonSwim.com.]
The Pennsylvania high school swimming state championships wrapped up with the AAA meet on Saturday and Sunday.
Girls
Avon Grove totaled 228.5 points for a solid lead over the competition. With 176.5 points Upper Dublin finished second.
Gateway freshman Olivia Livingston posted a state record 22.73 in the 50 freestyle, .02 faster than the mark set by Emily Cameron in 2012. Fellow freshman Caroline Famous of Conestoga was second (22.98).
The Avon Grove team of Emma Brinton, Olivia Paoletti, Sydney Paglia, and Sophie May won the 200 medley relay in 1:43.61. Two tenths back in 1:43.86 was Downingtown East's Taylor Ament, Heather Maccausland, Tara Collier, and Caroline Maki.
Junior Morgan Scott of Pennridge dominated the 200 freestyle relay with a 1:46.77. Madison Kolessar of Garney Valley out touched Abbie Amdor of Upper Dublin 1:49.62 to 1:49.64 for second.
Scott then won the 100 freestyle in 49.43, just a tenth ahead of Livingston (49.53). Also cracking 50 was Trinity Ward (49.98) of Mt. Lebanon.
Paoletti cracked two minutes in the 200 IM with a 1:59.20. In 2:00.73 Maccausland secured runner up honors.
The 100 butterfly gold went to Ward in 54.14. West Chester East's Anna Carozza (54.46) and Hershey's Carlene Rippon (54.54) were also on the podium.
Famous, Sophia Poeta, Caroline Apathy, and Madison Ledwith won the 200 freestyle relay for Conestoga in 1:34.38.
Famous then won the 100 backstroke in 53.63. Another freshman, Cameron Gring of Muhlenberg, finished second (54.66).
Lower Merion's Anna Kalandadze swam well ahead of the field in the 500 freestyle with a 4:48.29. Peters Township's Abby Hay got her hand to the wall first in a tight race for second. Hay touched in 4:55.27. On her heels was Twin Valley's Hannah Schlegel (4:55.55), just .01 ahead of Kolessar (4:55.56) of Garnet Valley.
In an impressive race, Maccausland and Paoletti both got to the wall in 1:01.49 in the 100 breaststroke. Upper Dublin's Amdor, Elle Braun, Aly Breslin, and Jenna Johns posted a 3:24.41 for 400 freestyle relay gold.
Full results here.
Boys
North Allegheny dominated the boys meet with 271 points. Lasalle College finished runner up with 183 points.
The eventual team champions started the meet with a dominant win. Andrew Zhang, Rick Mihm, Maxwell Gonzalez, and Mason Gonzalez stopped the clock in 1:30.79 in the 200 medley relay.
Jack Wright, Mihm, Maxwell Gonzalez, and Eben Krigger picked up a second relay win in state record fashion with a 1:20.95 in the 200 freestyle relay.
Mason Gonzalez was later impressive with a 19.99 50 freestyle. Souderton's Cristian Musterait was runner up (20.44) and State College's Matt Brownstead (20.59) finished third. Gonzalez followed that swim up with a 43.62 in the 100 freestyle. Penn Hills' Kimani Gregory (44.57) and Wright (44.67) earned silver and bronze.
Lasalle College's Jake Sannem put together a 1:34.76 to win the 200 freestyle. Behind the senior were Andy Thomas (1:36.47) of Hatboro Horsham and Eben Krigger (1:36.85) of North Allegheny.
Sannem picked up a second gold with a 4:21.63 in the 500 freestyle. Two other seniors- State College's Tobias Van Dyke (4:26.32) and Krigger (4:28.19)- were also atop the podium.
Pennsbury's Connor Doyle (1:48.77) and North Penn's Sean Faikish (1:49.84) cracked 1:50 in the 200 IM.
Conestoga's Brendan Burns led three swimmers under 50 in the 100 fly with his 48.06. North Allegheny's Andrew Zhang (49.84) and North Penn's Noah Jamieson (49.85) followed. Burns added a 100 backstroke victory in 48.51. Chambersburg's Avery Barley (49.65) and Conestoga's Brian Mckendrick (49.73) placed second and third.
Andy Thomas of Hatboro-Horsham won the 100 breaststroke in 55.16, a full second ahead of Hersey's Jason Young (56.16).
Thomas, Luke Emig, Stuart Sumner, and John Scully swam a 3:04.70 to win the 400 freestyle relay for Hatboro-Horsham.
Full results here.