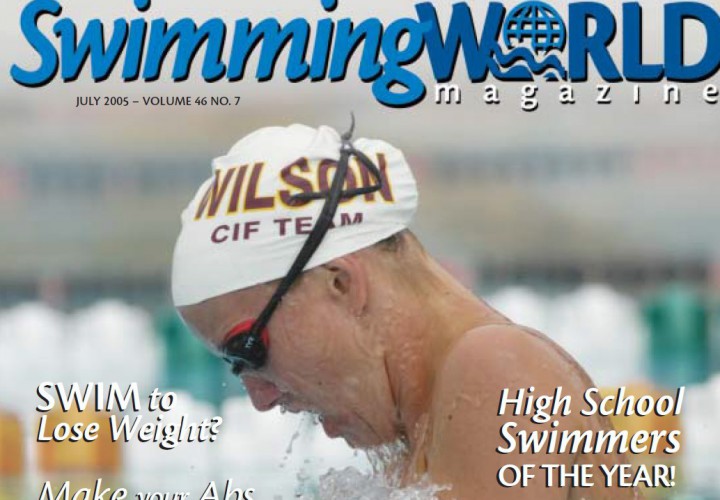 PHOENIX, Arizona, July 17. AS part of our 11-day series highlighting the National Interscholastic Swim Coaches Association's release of the 2013-14 All-America lists, Swimming World will also be looking at the history of each event that is part of the high school schedule. Today, we're looking at the 100-yard breast. Seattle Prep's Patrick Fowler and Woodrow Wilson's Jessica Hardy took the 100-yard breaststroke to new levels during their prep careers.
At the 1998 Washington State Championships, Fowler stunned the himself and the swimming community by smashing the national high school record in the 100-yard breast. He raced his way to a 53.66 in finals after clocking what was then a personal-best 55.09 in prelims. His time in finals beat future Olympic gold medalist Nelson Deibel's 1990 record of 54.35.
"Honestly, that was my goal for next year, and I just broke through it," Fowler said after his astounding swim. "Everyone was saying what times I could do and the fastest one I heard was 53.79, and I can't believe I beat that."
The crowd stood in awe after witnessing Fowler's historic swim as the first high school swimmer to break 54 seconds in the event, and for his efforts he was named Swimming World's High School Swimmer of the Year that year.
Fowler's performance in 1998 would have finished fifth in the national this year on the NISCA All-American lists, behind another barrier breaker as Jacob Molacek became the first high schooler to dip under 53 seconds.
Also, we would be remiss if we didn't point out the top time from 1991! Yes, that's Morning Swim Show host Jeff Commings with a 54.78 during his high school career prior to attending the University of Texas during his collegiate years.
BOYS 100 BREAST TOP TIMES PER YEAR
1974, 59.1, Ken Mirch, Santa Clara
1975, 57.31, Lance Michaelis, Santa Clara
1976, 55.99, Chris Woo, Punahou
1977, 57.68, Danny Rosenthal, Nova
1977, 57.68, Greg Winchell, Wilson
1978, 56.39, Greg Winchell, Wilson
1979, 56.34, Greg Winchell, Wilson
1980, 55.442, Glenn Mills, Finneytown
1981, 55.30 Rickie Gill, Palm Springs
1982, 55.06, John Moffet, Newport Harbor
1983, 54.32, John Turner, Mercersburg
1984, 55.56, Gianni Minervini, Naperville North
1985, 56.19, Sam Schwartz, Tamalpais
1986, 56.42, Kirk Stackle, Mt. Carmel
1987, 56.42, Mike Barrowman, Winston Churchill
1988, 56.51, Kristian Bruggert, Clovis West
1989, 55.56, Daniel Watters ,Washington
1990, 54.35, Nelson Deibel, Peddie School
1991, 54.78, Jeff Commings, University
1992, 55.07, Todd Bricker, Robert E. Lee
1993, 55.86, Jeremy Linn, Central Dauphin
1994, 54.70, Jeremy Linn, Central Dauphin
1995, 55.37, Anthony Robinson, Memorial
1996, 54.83, Anthony Robinson, Memorial
1997, 54.57, Dave Denniston, Arapahoe
1998, 53.66, Patrick Fowler, Seattle Prep
1999, 53.93, Brendan Hansen, Haverford
2000, 53.67, Brendan Hansen, Haverford
2001, 55.43, Will Brandt, Baylor School
2002, 55.74, Keenan Newman, Davis
2003, 55.64, Ivan Barnes, Plano
2004, 55.17, Ivan Barnes, Plano
2005, 54.70, Chris Ash, Akron Firestone
2006, 54.51, Scott Spann, Westlake
2007, 54.15, John Criste, Mission Viejo
2008, 54.88, Curtis Lovelace, Montgomery Bell Academy
2009, 53.81, Nicholas D'Innocenzo, Andover
2010, 54.55, Cody Miller, Palo Verde
2011, 53.80, Matt Elliott, Richwoods
2012, 54.06, Steven Stumph, Campolindo
2013, 53.39, Steven Stumph, Campolindo
2014, 52.92, Jacob Molacek, Creighton Prep
On May 13, 2005, Woodrow Wilson's Jessica Hardy did what no other high school female had done before – a sub-1:00 100-yard breast. At the CIF Southern Section Division 1 Championships at the Belmont Plaza, Hardy shocked the swimming world with a 59.20 for the win. As a junior, Hardy made 1:00 the target with a 1:00.41 to set the high school mark in the event. The following year, as a senior, she did just that.
"It was always in the back of my mind when I was training," Hardy said in the July 2005 issue of Swimming World. "It was something fun to look forward to trying to do."
With the performance, Hardy joined some pretty exclusive company as a two-time winner of Swimming World's High School Swimmer of the Year award. At the time, only four other swimmers had pulled off the feat with Alex Lim, Misty Hyman, Joe Hudepohl and Christina Swindle having pulled it off. Since then, Mary Beck, Dagny Knutson and Jack Conger have been added to that special list.
Hardy's time was so fast, she would have led the NISCA All-American list this year, nearly a decade later. Only a techsuit-fueled 58.75 from Kasey Carlson in 2009 has managed to clear Hardy's historic swim.
GIRLS 100 BREAST TOP TIMES PER YEAR
1974, 1:07.8, Dena Sengbusch Thousand Oaks
1975, 1:07.58, Pam Rogers Heritage
1976, 1:06.17, Jan Ujevich Central Area
1977, 1:06.11, Jan Ujevich Central Area
1978, 1:04.20, Tracy Caulkins Harpeth Hall
1979, 1:04.357, Tami Paumier Wilde Lake
1980, 1:03.607, Patricia Waters Miami Killian
1981, 1:03.27, Patty Clark Cardinal Newman
1982, 1:02.49, Kim Rhodenbaugh Cincinnati Oak Hills
1983, 1:03.51, Shannon Orcutt Capistrano Valley
1984, 1:03.37, Shannon Orcutt Capistrano Valley
1985, 1:03.30, Jennifer Hau Prospect
1986, 1:02.56, Susan Johnson Spanish River
1987, 1:03.39, Jenny Hau Prospect
1988, 1:03.74, Lori Heisick Edina
1989, 1:01.88, Mary Ellen Blanchard Norcross
1990, 1:02.35, Tori DeSilvia St. Andrew's School
1991, 1:02.78, Keri Reynolds Okemos
1992, 1:02.85, Casey Keiber Easton Area
1993, 1:01.79, Kristine Quance Granada Hills
1994, 1:02.88, Emily Short Xavier Prep
1995, 1:02.51, Kristy Kowal Wilson
1996, 1:01.47, Kristy Kowal Wilson
1997, 1:02.10, Amanda Beard Irvine
1998, 1:01.77, Staci Stitts Carlsbad
1999, 1:00.74, Kristen Woodring Wilson
2000, 1:01.90, Erin Sieper Esperanza
2001, 1:01.67, Kristen Caverly San Clemente
2002, 1:02.28, Erin Sieper Esperanza
2003, 1:01.70, Caroline Bruce Trinity Academy
2004, 1:00.41, Jessica Hardy Woodrow Wilson Classical
2005, 59.20, Jessica Hardy Woodrow Wilson Classical
2006, 1:00.94, Annie Chandler Winston Churchill
2007, 1:00.23, Michelle McKeehan Center Grove
2008, 59.94, Kasey Carlson Las Lomas
2009, 58.75, Kasey Carlson Las Lomas
2010, 59.52, Kasey Carlson Las Lomas
2011, 1:01.08, Abby Duncan Champlin Park
2012, 1:00.54, Emily Cameron Warwick
2013, 1:00.16, Lindsey Horejsi Albert Lea
2014, 59.66, Bethany Galat Penn
2013-14 NISCA Girls High School All-Americans

2013-14 NISCA Boys High School All-Americans

NOTE: All America times have to be submitted to NISCA by a certain deadline in order to make the 2014 All-American list. Coaches can submit times here: http://www.niscaonline.org/aaswimming/. Corrections can also be submitted to NISCA via three emails: Boys Swimming contact: boysswaa@niscaonline.org; Girls Swimming contact: girlsswaa@niscaonline.org; Boys and Girls Diving contact: aadiving@niscaonline.org
This is the 10th day of what will be an 11-day showcase of the NISCA All-American program. Swimming World is proud to partner with NISCA to provided a global spotlight on high school swimming in the U.S., and will be talking to some of the top movers and shakers in high school swimming this week as part of the Morning Swim Show. Additionally, we'll be taking a look back at some of the best of the best high school swimmers historically.
To access high school All-Americans all the way back through 1974, purchase back issues of Swimming World Magazine!
For more incredible high school content, make sure to subscribe to Swimming World TODAY to make sure you get our High School Swimmers of the Year (August) and High School National Champions of the Year (September) issues.