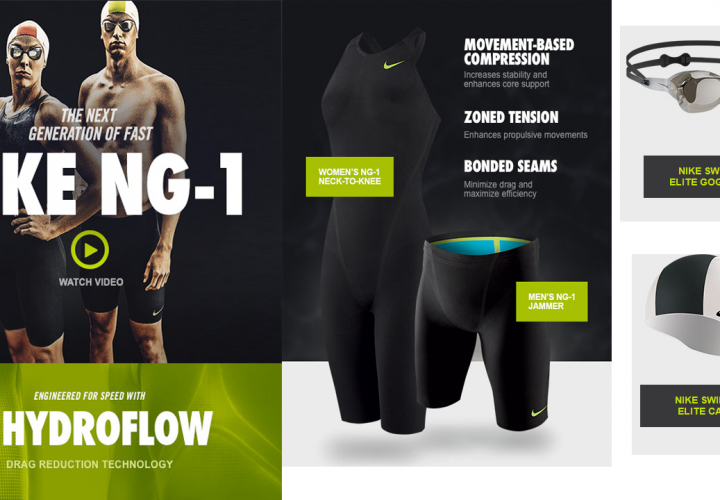 PHOENIX, Arizona, May 16 NIKE SWIM introduces the latest head to toe innovations in elite competition swim. Be sure to click through to check out all of their amazing videos and find out more about Nike Swim at NIKESWIM.COM
The Nike NG-1, specifically engineered for the elite swimmer using Hydroflow, combines two hydrophobic stretch-woven fabrics to help limit water absorption and reduce drag for an optimum balance between flexibility and compression keeping you one stroke ahead of the competition.
The Nike Swift Elite Goggles activate Hydroflow with lay-flat straps, a sleek nose bridge and smooth lenses that extend the streamline surface over the cheekbone ensuring a low profile that helps reduce drag at all points of stroke so you can focus on winning.
The Nike Swift Elite Cap for the elite swimmer, activates Hydroflow with stretch mapping and a micro-texture coating on the signature mohawk stripe to create a fast sleek cap that helps keep a streamline shape with optimum fit & comfort so you can slice through the water.
The Nike Swimmer's Backpack features an oversized main payload, ultra durable, water-resistant fabric, detachable mesh bags for your wet and dry items, and a large front panel perfect for team customization.