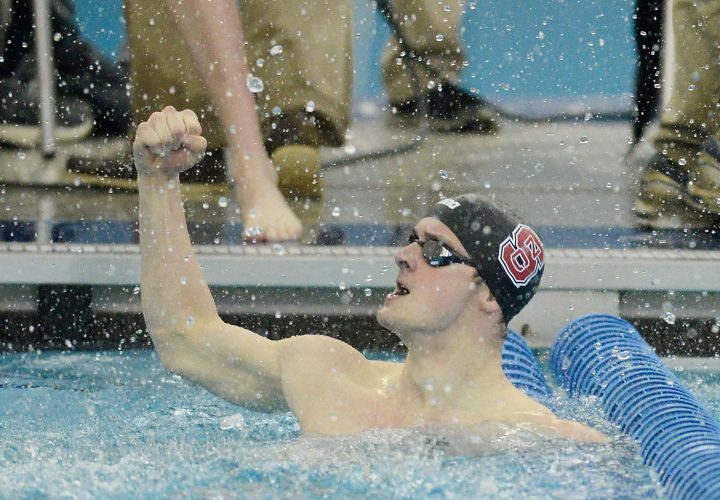 Photo Courtesy: Sarah D. Davis/theACC.com
Editorial content for the 2018 NCAA DI Championship coverage is sponsored by TritonWear. Visit TritonWear.com for more information on our sponsor. For full Swimming World coverage, check event coverage page.
The NCAA record was safe for the first time tonight, though for the first time in four years, someone not named Ryan Murphy won the 100 back at DI men's NCAA's.
With Cal's backstroke legend gone, this year's final was wide open and it was NC State's Coleman Stewart who followed up his B final win in the 100 fly by nabbing his first NCAA title in the event with a time of 44.58, which marks the seventh fastest time in history.
Just .01 behind Stewart was Longhorn John Shebat who touched second in 44.59.
Claiming third in tonight's A final was NC State's Andreas Vazaios with his 44.81.
A freshman trio of Texas' Austin Katz (44.99), USC's Robert Glinta (45.10) and Louisville's Nicolas Albiero (45.10) followed behind in fourth, fifth and sixth, respectively.
Rounding out the A final was USC's Ralf Tribuntsov in a 45.34.
UGA's Javier Acevedo took the B final in a time of 45.20.
 Event 12  Men 100 Yard Backstroke
=========================================================================
         NCAA: N 43.49  03/25/2016Ryan Murphy, California-PC
     American: A 43.49  03/25/2016Ryan Murphy, California-PC
   U. S. Open: O 43.49  03/25/2016Ryan Murphy, California-PC
 Championship: C 43.49  03/25/2016Ryan Murphy, California-PC
         Pool: P 44.83  03/16/2007Albert Subirats, Arizona
    Name           Year School            Prelims     Finals NISCA Points
=========================================================================
                            === A - Final ===                            
 
  1 Coleman Stewart  SO NC State            45.16      44.58P  190   20  
    r:+0.63  21.61        44.58 (22.97)
  2 John Shebat      JR Texas               45.00      44.59P  190   17  
    r:+0.68  21.38        44.59 (23.21)
  3 Andreas Vazaios  JR NC State            45.00      44.81P  188   16  
    r:+0.64  21.66        44.81 (23.15)
  4 Austin Katz      FR Texas               45.21      44.99   186   15  
    r:+0.67  21.89        44.99 (23.10)
  5 Robert Glinta    FR USC                 44.99      45.10   185   14  
    r:+0.69  21.53        45.10 (23.57)
  6 Nicolas Albiero  FR Louisville          45.05      45.16   184   13  
    r:+0.62  21.99        45.16 (23.17)
  7 Anton Loncar     SR Denver              45.11      45.20   184   12  
    r:+0.76  22.17        45.20 (23.03)
  8 Ralf Tribuntsov  SR USC                 45.03      45.34   183   11  
    r:+0.67  21.87        45.34 (23.47)