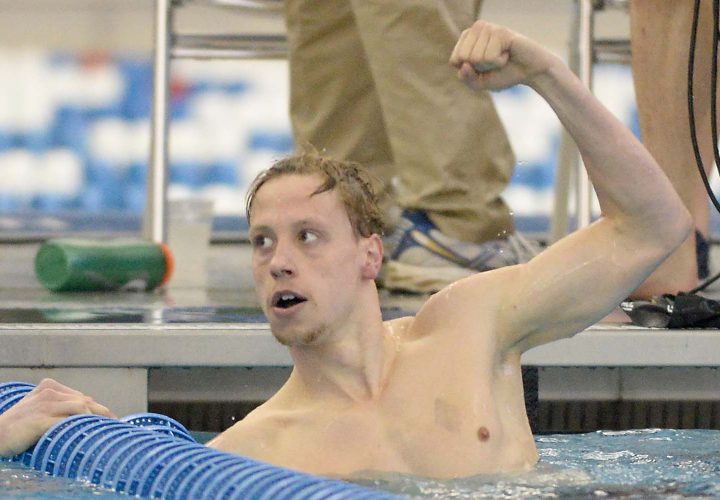 Photo Courtesy: Sarah D. Davis/theACC.com
Editorial content for the 2018 NCAA DI Championship coverage is sponsored by TritonWear. Visit TritonWear.com for more information on our sponsor. For full Swimming World coverage, check event coverage page.
NC State senior Anton Ipsen swam an incredible back-end 1650 free to break the pool record in a time of 14:24.43, a mark which puts him seventh on the all-time list.
Touching second in a time of 14:29.42 was Michigan's Felix Auboeck while California's Nick Norman earned the Bears much needed points by placing third in 14:30.82.
In eighth was Stanford's True Sweetser in a 14:40.48 while his teammate Liam Egan took 16th in 14:46.59.
Event 15  Men 1650 Yard Freestyle
=========================================================================
         NCAA: N 14:22.41  03/25/2017Clark Smith, Texas
     American: A 14:18.25  12/02/2017Zane Grothe, Unattached
   U. S. Open: O 14:18.25  12/02/2017Zane Grothe, Unattached
 Championship: C 14:22.41  03/25/2017Clark Smith, Texas
         Pool: P 14:26.70  03/17/2007Larsen Jensen, Southern Cal
    Name           Year School               Seed     Finals NISCA Points
=========================================================================
  1 Anton Ipsen      SR NC State         14:31.21   14:24.43P        20  
    r:+0.69  24.03        50.38 (26.35)
        1:16.92 (26.54)     1:43.51 (26.59)
        2:09.99 (26.48)     2:36.30 (26.31)
        3:02.79 (26.49)     3:29.09 (26.30)
        3:55.58 (26.49)     4:21.94 (26.36)
        4:48.14 (26.20)     5:14.64 (26.50)
        5:40.92 (26.28)     6:07.30 (26.38)
        6:33.55 (26.25)     6:59.95 (26.40)
        7:26.02 (26.07)     7:52.39 (26.37)
        8:18.60 (26.21)     8:44.73 (26.13)
        9:10.98 (26.25)     9:37.24 (26.26)
       10:03.65 (26.41)    10:29.92 (26.27)
       10:56.15 (26.23)    11:22.35 (26.20)
       11:48.57 (26.22)    12:14.88 (26.31)
       12:41.03 (26.15)    13:07.20 (26.17)
       13:33.26 (26.06)    13:59.31 (26.05)    14:24.43 (25.12)
  2 Felix Auboeck    SO Michigan         14:34.10   14:29.42         17  
    r:+0.78  24.28        51.10 (26.82)
        1:18.01 (26.91)     1:44.55 (26.54)
        2:11.02 (26.47)     2:37.22 (26.20)
        3:03.39 (26.17)     3:29.75 (26.36)
        3:56.16 (26.41)     4:22.48 (26.32)
        4:48.72 (26.24)     5:14.96 (26.24)
        5:41.23 (26.27)     6:07.49 (26.26)
        6:33.69 (26.20)     6:59.89 (26.20)
        7:26.08 (26.19)     7:52.43 (26.35)
        8:18.55 (26.12)     8:44.87 (26.32)
        9:11.20 (26.33)     9:37.55 (26.35)
       10:04.00 (26.45)    10:30.32 (26.32)
       10:56.72 (26.40)    11:23.18 (26.46)
       11:49.85 (26.67)    12:16.71 (26.86)
       12:43.59 (26.88)    13:10.50 (26.91)
       13:37.25 (26.75)    14:03.86 (26.61)    14:29.42 (25.56)
  3 Nick Norman      JR California       14:39.77   14:30.82         16  
    r:+0.72  24.09        50.33 (26.24)
        1:16.83 (26.50)     1:43.45 (26.62)
        2:10.22 (26.77)     2:36.90 (26.68)
        3:03.61 (26.71)     3:30.25 (26.64)
        3:56.97 (26.72)     4:23.66 (26.69)
        4:50.27 (26.61)     5:16.93 (26.66)
        5:43.36 (26.43)     6:09.93 (26.57)
        6:36.50 (26.57)     7:03.06 (26.56)
        7:29.55 (26.49)     7:55.98 (26.43)
        8:22.44 (26.46)     8:48.79 (26.35)
        9:15.28 (26.49)     9:41.67 (26.39)
       10:08.19 (26.52)    10:34.70 (26.51)
       11:01.33 (26.63)    11:27.78 (26.45)
       11:54.37 (26.59)    12:20.82 (26.45)
       12:47.19 (26.37)    13:13.55 (26.36)
       13:39.83 (26.28)    14:06.05 (26.22)    14:30.82 (24.77)
  4 Zach Yeadon      FR Notre Dame       14:34.60   14:35.98         15  
    r:+0.80  24.31        51.02 (26.71)
        1:17.92 (26.90)     1:45.02 (27.10)
        2:11.80 (26.78)     2:38.96 (27.16)
        3:06.02 (27.06)     3:32.96 (26.94)
        4:00.00 (27.04)     4:26.94 (26.94)
        4:53.66 (26.72)     5:20.47 (26.81)
        5:47.42 (26.95)     6:14.41 (26.99)
        6:41.32 (26.91)     7:08.38 (27.06)
        7:35.45 (27.07)     8:02.33 (26.88)
        8:29.21 (26.88)     8:56.14 (26.93)
        9:22.38 (26.24)     9:48.57 (26.19)
       10:14.87 (26.30)    10:41.39 (26.52)
       11:07.77 (26.38)    11:33.97 (26.20)
       12:00.08 (26.11)    12:26.18 (26.10)
       12:52.33 (26.15)    13:18.45 (26.12)
       13:44.60 (26.15)    14:10.60 (26.00)    14:35.98 (25.38)
  5 Marcelo Acosta   JR Louisville       14:41.21   14:38.22         14  
    r:+0.72  24.40        50.58 (26.18)
        1:17.33 (26.75)     1:43.92 (26.59)
        2:10.64 (26.72)     2:37.44 (26.80)
        3:03.83 (26.39)     3:30.49 (26.66)
        3:57.24 (26.75)     4:23.81 (26.57)
        4:50.15 (26.34)     5:16.70 (26.55)
        5:43.16 (26.46)     6:09.76 (26.60)
        6:36.53 (26.77)     7:03.37 (26.84)
        7:30.23 (26.86)     7:57.17 (26.94)
        8:24.31 (27.14)     8:51.53 (27.22)
        9:18.27 (26.74)     9:45.36 (27.09)
       10:11.99 (26.63)    10:38.84 (26.85)
       11:05.47 (26.63)    11:32.11 (26.64)
       11:58.85 (26.74)    12:25.70 (26.85)
       12:52.51 (26.81)    13:19.51 (27.00)
       13:46.00 (26.49)    14:12.53 (26.53)    14:38.22 (25.69)
  6 PJ Ransford      SR Michigan         14:49.19   14:38.23         13  
    r:+0.79  25.19        51.61 (26.42)
        1:18.45 (26.84)     1:44.94 (26.49)
        2:11.52 (26.58)     2:38.27 (26.75)
        3:04.99 (26.72)     3:31.69 (26.70)
        3:58.38 (26.69)     4:24.94 (26.56)
        4:51.65 (26.71)     5:18.03 (26.38)
        5:44.39 (26.36)     6:10.73 (26.34)
        6:37.27 (26.54)     7:03.81 (26.54)
        7:30.37 (26.56)     7:56.88 (26.51)
        8:23.46 (26.58)     8:49.89 (26.43)
        9:16.33 (26.44)     9:42.93 (26.60)
       10:09.67 (26.74)    10:36.29 (26.62)
       11:02.91 (26.62)    11:29.76 (26.85)
       11:56.57 (26.81)    12:23.50 (26.93)
       12:50.57 (27.07)    13:17.99 (27.42)
       13:45.37 (27.38)    14:12.86 (27.49)    14:38.23 (25.37)
  7 Ricardo Vargas   FR Michigan         14:40.30   14:40.27         12  
    r:+0.67  24.37        50.73 (26.36)
        1:17.56 (26.83)     1:44.28 (26.72)
        2:11.16 (26.88)     2:38.13 (26.97)
        3:04.92 (26.79)     3:31.52 (26.60)
        3:58.15 (26.63)     4:24.84 (26.69)
        4:51.41 (26.57)     5:17.99 (26.58)
        5:44.58 (26.59)     6:11.12 (26.54)
        6:37.90 (26.78)     7:04.82 (26.92)
        7:31.37 (26.55)     7:58.14 (26.77)
        8:24.93 (26.79)     8:51.71 (26.78)
        9:18.74 (27.03)     9:45.55 (26.81)
       10:12.39 (26.84)    10:39.13 (26.74)
       11:05.88 (26.75)    11:32.72 (26.84)
       11:59.73 (27.01)    12:26.56 (26.83)
       12:53.48 (26.92)    13:20.74 (27.26)
       13:47.76 (27.02)    14:14.60 (26.84)    14:40.27 (25.67)
  8 True Sweetser    SO Stanford         14:41.48   14:40.48         11  
    r:+0.72  24.77        51.49 (26.72)
        1:18.30 (26.81)     1:45.21 (26.91)
        2:12.15 (26.94)     2:39.01 (26.86)
        3:05.89 (26.88)     3:32.73 (26.84)
        3:59.46 (26.73)     4:26.04 (26.58)
        4:52.44 (26.40)     5:18.82 (26.38)
        5:45.47 (26.65)     6:12.22 (26.75)
        6:38.96 (26.74)     7:06.00 (27.04)
        7:32.95 (26.95)     8:00.00 (27.05)
        8:27.08 (27.08)     8:54.28 (27.20)
        9:21.35 (27.07)     9:48.74 (27.39)
       10:15.86 (27.12)    10:42.58 (26.72)
       11:09.46 (26.88)    11:36.17 (26.71)
       12:02.55 (26.38)    12:29.05 (26.50)
       12:55.80 (26.75)    13:22.28 (26.48)
       13:48.82 (26.54)    14:15.16 (26.34)    14:40.48 (25.32)