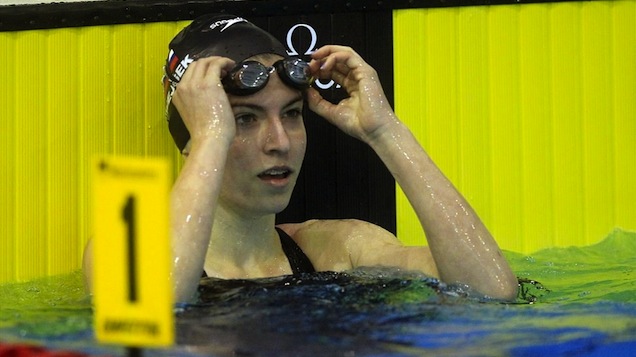 KRANJ, Slovenia, June 8. TWO more Slovenian records fell during the final night of racing at the Kranj Grand Prix, as Nastja Govejsek and Ava Schollmayer set individual records in the 50 fly and 50 back, respectively.
Radovan Siljevski of Beograd won his second event of the meet in the first event of the evening, taking the men's 50 fly in 24.10. Siljevski also won the 100 fly last night. Robert Zbogar of PK Gorenjska Banka finished nearly a second behind in 25.02, while Lubos Grznar of Vysokoskolsky Klub Univerzity came in third in the race in 25.18. In the women's 50 fly, PK Velenje's Nastja Govejsek lowered her own Slovenian record of 26.95 from two weeks ago with a 26.72 for the victory. Govejsek also won the women's 50 free last night. Svenja Stoffel of Switzerland took second in 27.13, while Silvia Laszlova of Vysokoskolsky Klub Univerzity finished third in 28.42.
Sasa Gerbec of Primoje recorded a four-tenth victory in the men's 50 back final, finishing first in 26.91. Kristian Komlenic of Croatia squeezed into second in 27.31, ahead of a few other swimmers, including Thomas Maurer of Berner Oberland (27.59). Another Slovenian record fell, this time in the women's 50 back. Ava Schollmayer of SD Riba lowered Metka Sparavec's 1999 record of 29.25 by a tenth, to 29.15. Ema Sarar of Croatia touched second in 29.92, while Desiree Felner of SVS Schwimmen came in third at 30.17.
Switzerland claimed the top two spots in the men's 400 free final behind strong performances from Nils Liess (4:01.80) and Olivier Nowak (4:07.08). PK Neptun's Gasper Frece out-touched two others to finish third in 4:14.19. After winning the 800 free last night, Nikoletta Kiss of Ujpesti Torna Egylet added a second win, this time in the 400 free. Kiss stopped the clock in 4:13.76 to top Gaja Natlacen of PK Fuzinar (4:16.34) and Nika Karlina Petric of PK Triglav Kranj (4:18.09).
PK Gorenjska's Robert Zbogar raced to another podium finish with the only sub-2:00 200 fly performance of the meet. Zbogar finished in 1:59.70, way ahead of OL's Blaz Demsar (2:05.32) and LL's Adam Zupan (2:07.09). GBR's Anja Klinar had an equally dominant race in the women's event, winning by more than five seconds in 2:13.44. Klara Farkas touched second in 2:18.99, ahead of Vanja Murtin of VOJ (2:20.82).
Vysokoskolsky Klub Univerzity's Marek Botik came out on top of a tightly packed field in the men's 100 breast final. Botik stopped the clock in 1:04.87 to beat Switzerland's Luca Pfyffer (1:04.96) by less than a tenth. SV Volksbank Spittal/Drau's Heiko Gigler finished not far behind in 1:05.12. Anna Sztankovics of Ujpesti Torna Egylet won the women's 100 breast in the only sub-1:10 effort of the day, a 1:09.70. Tjasa Vozel of PK Zvezda, who lowered the Slovenian record in the 50 breast last night, finished second in 1:10.08. Lisa Mamie of Switzerland rounded out the top three in 1:11.54.
Zan Pogavar of GBR topped the field in the men's 200 back final in 2:04.94, with Marko Krce Rabar (2:06.23) and BM's Vito Vodenik (2:07.17) in second and third, respectively. Kata Burian came out ahead in the women's event with a 2:14.77, more than three seconds better than Austria's Sara Rashid Taghipour (2:18.47). Beograd's Nadja Velickovic touched third in 2:19.49.
Austria's Patrick Staber collected the men's 400 IM title with a convincing four-second victory. Staber touched in 4:31.03, ahead of Switzerland's Tim Slanschek (4:35.98) and PK Olimpija's Blaz Demsar (4:36.14). PK Gorenjska Banka's Karolina Bohinec topped the women's 400 IM final in 5:07.35. Primorje's Ana Matkovic finished close behind in 5:08.05, followed by PK Branik's Kaja Balant Marin in 5:09.53.
Anze Tavcar of PK Ljubljana brought home the men's 100 free title in 50.59, almost half a second in front of Beograd's Radovan Siljevski (51.01). Uros Nikoliv of Vojvodina N. Sad rounded out the top three in 51.41. Nastja Govejsek of PK Velenje won her third event of the meet and second of the night with a 55.71 in the women's race. Tjasa Pintar of PK Gorenjska Banka (56.39) and Anemari Kosak of PK Neptun 57.47) rounded out the top three.
The women's 1500 free and men's 800 free closed out the competition. Tjasa Oder of PK Fuzinar won the 1500 in 16:51.92, nearly a full minute ahead of PK Gorenjska Banka's Ajda Teran (17:47.38). Austria's Esther Uhl claimed third in 17:50.43. Croatia's Sven Arnar Saemundsson picked up the final individual event title of the meet with an 8:14.72 in the men's 800. PK Branik teammates Grega Popovic (8:20.82) and Erik Hren (8:26.33) rounded out the top three.