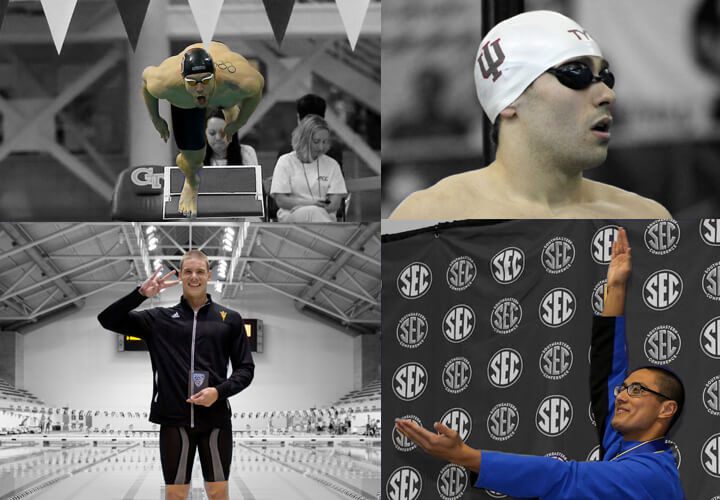 Photo Courtesy: Swimming World
NCAA DI editorial coverage is proudly sponsored by Adidas. Visit adidasswimming.com for more information on our sponsor. For all the latest coverage, check out our event coverage page.
CLICK HERE FOR LIVE RESULTS
By David Rieder.
The United States men swept Olympic golds in the three relays last summer in Rio, but each one of those wins came with the assistance of Michael Phelps—who, as most of you reading almost certainly know, is once again retired.
The success of 2016 helped wash away some of the stench from the 2015 World Championships in Kazan when the U.S. men swam without the suspended Phelps. The results? Not so rosy: a tie for 11th in the 400 free relay and the end of an 11-year winning streak in the 800 free relay.
So does the loss of Phelps mean that the Americans will revert back to the mediocre levels of 2015? Not necessarily. The results from the college ranks provide some answers.
Last year, Caeleb Dressel ripped up the short course yards' record books in the sprint free events, and it was hardly surprising to see him Rio-bound a few months later. But in the aftermath of the 2016 NCAA championships, few would have figured that Ryan Held and Blake Pieroni would be joining Dressel at the Olympic Games.
Now, both have gold medals to their names, and both showed up at their respective conference championships with a full beard—and still dominated. Pieroni heads into the NCAA championships ranked second in the country in the 100 free at 41.44, with Held just behind at 41.61.
This season, both of their head coaches have noticed what their star sprinters took away from the Olympic experience.
"You are who you hang out with, and he got to eat dinner and lunch with guys like Michael Phelps," Indiana head coach Ray Looze said in December. "Blake took a lot out of that. He's a real smart guy, a student of the sport. He's been a different guy. He wants to be really, really good."
NC State head coach Braden Holloway felt similarly about how the experience affected Held.
"I think the biggest thing that changed for him is his belief that he can swim even faster," Holloway said. "He knows in four years, he and Caeleb and Blake are going to be lead dogs. That's a big burden. That's a big responsibility for USA Swimming. He's let that catapult him further to continue to move forward."
On top of the Dressel-Held-Pieroni trio, Michael Chadwick split a 41.13 anchoring Missouri's 400 medley relay while unshaved at SECs, and wily veteran Nathan Adrian didn't look all that rusty when he returned to competition after a seven-month layoff and clocked 48.66 in the 100-meter free at the arena Pro Swim Series meet in Indianapolis this weekend.
A U.S. 400 free team that was in transition this past summer won a gold medal, and compared to this point in 2016, the American sprint roster is in much better shape with less than five months to go before the World Championships.
As for the 200 free and the 800 free relay, the changeover must begin in earnest before it's too late.
Phelps is gone, and also missing from this summer's relay will be the now-suspended Ryan Lochte, whose streak of 13 years on the U.S. finals squad will come to an end at the World Championships in Budapest. And then there's Conor Dwyer, a five-year veteran of the relay team whose status for this summer is currently unclear as he has not competed since the Olympics.
What the Americans do have to build around is Townley Haas, whose split of 1:44.14 in the 800 free relay Olympic final was faster than anybody else on any team. The expectations were sky-high for Haas after his ridiculous 1:30.46 in the 200-yard free at NCAAs last year, and he has mostly lived up to them.
Haas has a 200 free season best of 1:32.17, which might not seem all that fast by his standards, but it's a second faster than his best time heading into NCAAs last year (1:33.19). The 1:30-barrier could come under fire when Haas swims the event at the NCAA championships later this month.
As for some other potential pieces for the U.S. relay, Jack Conger will get some attention after he finished third in the 200 free at Olympic Trials in 1:45.77, and so will fellow prelims relay participants Gunnar Bentz and Clark Smith.
But if the most recent swims from the conference championships are any indication, this summer could bring some unfamiliar names—perhaps the two freshmen who will have the top two seeds in the 200-yard free entering the NCAA championships.
Any idea how Dean Farris and Cameron Craig finished in the 200 free at Olympic Trials? Well, neither of them swam the event as both opted for the 100 back that same day. Craig finished in a three-way tie for 15th before finishing third in a swim-off with a semifinals spot on the line, while Farris was 55th.
Last week, Farris won the Ivy League title in the 200-yard free in 1:31.56, and then Craig took first at the Pac-12 championships in 1:31.71. Not to be forgotten in the freshman mix is Maxime Rooney, who won the SEC title for Florida in 1:32.18.
Time conversions are tricky, but according to Swimming World's Time Conversion Utility, all of those marks convert to somewhere between 1:44-mid and 1:45-mid. For some perspective, Haas finished first in the 200-meter free at Olympic Trials in 1:45.66, and Smith made the Olympic team when he finished sixth in 1:47.53.
So if these three teenagers can find their long course form, all will be heard from this summer when they return to Indianapolis for U.S. Nationals.
And the U.S. might need every bit of help it can find for the 200 free. After all, Great Britain finished just over two seconds behind in the 800 free relay final in Rio, and there's no reason to believe that team will be falling off the pace any time soon, with James Guy, Duncan Scott and Stephen Milne all 22 years old or younger.
Are we getting ahead of ourselves in projecting conference championship times onto the long course pool? Yes, probably—all of April and May and most of June can be dedicated to that.
But with all the landscape of the men's relay events has changed over the past few weeks, it made some sense to get a head start.
All commentaries are the opinion of the author and do not necessarily reflect the views of Swimming World Magazine nor its staff.