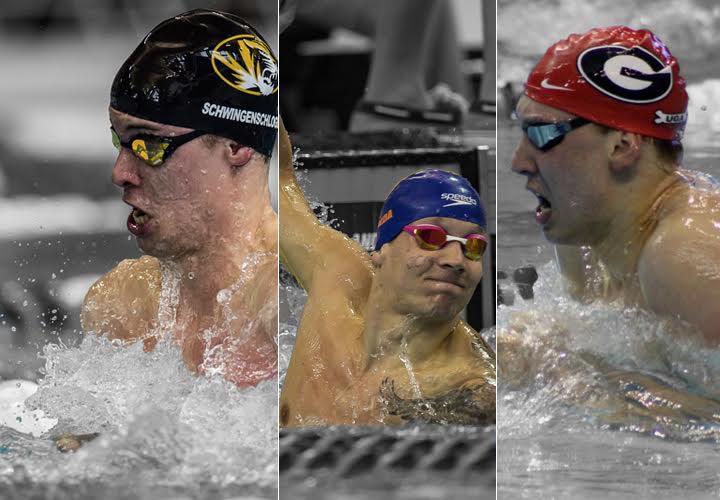 Photo Courtesy: Swimming World
NCAA DI editorial coverage is proudly sponsored by Adidas. Visit adidasswimming.com for more information on our sponsor. For all the latest coverage, check out our event coverage page.
CLICK HERE FOR LIVE RESULTS
By David Rieder.
In any discussion of the favorites for this year's men's NCAA championships, three teams have gotten most of the love—Texas, Cal and NC State. All for very good reasons.
Texas won last year's championship by a whopping 190.5 points over Cal and lost the likes of sprinter John Murray and diver Cory Bowersox to graduation. That's it. Returning are three individual event champions from 2016 (Joseph Schooling, Townley Haas and Will Licon), another from 2015 (Clark Smith) and a man who broke an American record by more than a second in the 200 fly and still finished second (Jack Conger).
Cal, meanwhile, lost Josh Prenot and Jacob Pebley, but backstroker-extraordinaire Ryan Murphy returns for one final go-round, and transfer Matt Josa and freshmen Michael Jensen and Pawel Sendyk have been huge boosts to the sprint corps so far this season.
As for NC State, this team went to Austin for a November dual meet and demolished the Longhorns. Olympic gold medalist Ryan Held and Todd DeSorbo's re-loaded sprint group, along with distance man Anton Ipsen, will score big points in Indianapolis.
So yes, the love for these teams is very much deserved.
But interestingly, none of these top-ranked teams teams hail from the conference that was hailed as the best in swimming just a few years ago. While the Pac-12 might have stolen some of the sizzle, no conference has more depth than in the SEC.
No stat is more telling than this one: of last year's top ten teams at the NCAA championships, six of them came from the SEC. Florida finished third, and Georgia also finished in the top-five. Alabama (sixth), Tennessee (seventh), Missouri (eighth) and Auburn (10th) all got into that mix as well.
Let's start with Florida, which brings back Caeleb Dressel. Pretty solid foundation, no? Plenty of fans will have their eyes on the clock to see if Dressel can take his ridiculous sprint records (18.20 in the 50 free and 40.46 in the 100 free), but from a team standpoint, it'd be a shocker to see anyone beat the junior in either event.
Florida loses less than 50 points scored from last year's NCAAs and adds a freshman named Maxime Rooney, who has won a pair of U.S. National Championships in the 200 free. Rooney is a potential three-event scorer and a significant piece for relay depth.
No, Florida has not swum particularly fast this year—the Gators were ranked 10th in the latest CSCAA poll—but Gregg Troy's teams always struggle in-season. Don't read too much into that—the Gators are an improved squad from last year.
In three SEC dual meets this season, Florida lost just once, to Georgia on Oct. 28. Well, the Bulldogs are pretty good, too. They return 165.5 to 239.5 points from last year's championships. They typically over-perform at NCAAs—last season, Georgia scored 90 points higher than their psych sheet projections, the largest jump of any team.
Georgia finished fifth at NCAAs, the program's highest finish in years, and that was without Chase Kalisz, whose Olympic redshirt paid off with an Olympic silver medal. And the Kalisz that returns to UGA is far more versatile and stronger than the one that left almost two years ago. Like Florida, this team is better than last year's version.
Then there's the team that might be the hardest to peg: Auburn. The Tigers won five straight NCAA team titles from 2003 to 2007 and another in 2009 but have not made the top five since. A season ago, Auburn was projected to score 283 swimming points at NCAAs, the fifth-most of any team, but ended up with just 151. Adding in diving, the team finished with 167 for 10th place.
The good news is that most of the Tigers' heavy-hitters—including Joe Patching, Michael Duderstadt and Peter Holoda—are back this season. Auburn made the jump up to sixth in the latest CSCAA poll, but this season will be judged on whether or not the pieces come together in March this time.
The Tigers' in-state rival Alabama loses sprinter Kristian Gkolomeev but return every other point from last year's national title-winning 200 medley relay and actually every other point scored from a sixth-place team in 2016.
Another set of Tigers, Missouri, look dangerous in the medley relays with defending 100 breast national champion Fabien Schwingenschlogl, sprinter Michael Chadwick and rising flyer Andrew Sansoucie. Missouri suffered only minimal losses to graduation after finishing eighth last year.
And although Tennessee suffered some big losses after finishing seventh a season ago, specifically with Sean Lehane graduating, Sam McHugh could be a three-event scorer this year, and Peter Stevens remains a national-title contender in the 100 breast.
So, yes, that's six teams with top-ten aspirations. Chances are, the SEC won't repeat that feat from a season ago, but no other conference even has a shot at this at the women's meet or the men's. (The closest possibility is the Pac-12 women, from which four teams could finish top-ten.)
At the very least, the SEC men's meet should be the most-wide open and hotly-contested of any of the Power Five conference titles.
But remember, these are not predictions. (And neither was this.) There's still more than six weeks left to discuss what we actually think will happen in Indianapolis—and believe me, we will!
For right now, just remember that even though no team in the SEC is a sexy choice to win this year's national championship, the men's swimming in the conference is as competitive as ever.
Dan D'Addona and Price Fishback contributed analysis. All commentaries are the opinion of the author and do not necessarily reflect the views of Swimming World Magazine nor its staff.