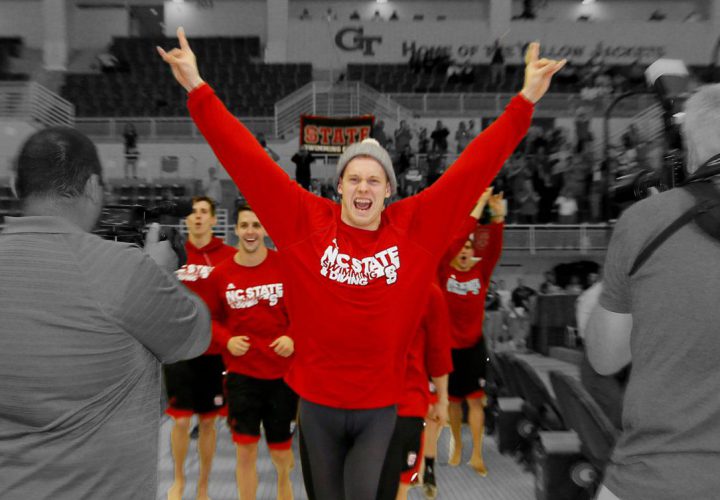 Photo Courtesy: Todd Kirkland, theACC.com
NCAA DI editorial coverage is proudly sponsored by Adidas. Visit adidasswimming.com for more information on our sponsor. For all the latest coverage, check out our event coverage page.
CLICK HERE FOR LIVE RESULTS
By David Rieder.
When the Stanford women won an NCAA championship this past week in Indianapolis, it was a surprise to few. Entering the season with three U.S. Olympic medalists helped the Cardinal earn favorite status, and the team entered the meet projected to score 551 points in swimming alone and finish on top by 152 points.
As it turned out, Stanford won by 160.5 points, and Cal finished second, just like the psych sheet projections had indicated. The initial data showed that there would be a tight battle for third, but Texas A&M ended up pulling ahead over the final two days to put a lock on that position.
This week, the top men's swimmers in the country will take up residence inside the IUPUI Natatorium for their version of the NCAA championships, and if the psych sheet projections are to be trusted, we're in for a dogfight among the top five teams.
These projections, supplied by University of Arizona professor and longtime NCAA statistician Price Fishback, are by no means predictions. Swimming World published its official predictions for the meet in the March issue of the magazine, picking Texas as the team champion.
The numbers below are merely a tool, one of many tools that can be used in figuring out exactly what will happen. But they are an interesting resource and worth keeping track of throughout the meet.
| Team | Day 1 Score | Day 2 Score | Day 3 Score | Day 4 Score | Total Score |
| --- | --- | --- | --- | --- | --- |
| (1) NC State | 40 | 105 | 82 | 112 | 339 |
| (2) Texas | 26 | 106 | 80 | 117 | 329 |
| (3) Cal | 32 | 96 | 98 | 85 | 311 |
| (4) Florida | 30 | 109 | 75 | 88 | 302 |
| (5) Indiana | 34 | 116 | 77 | 64 | 291 |
| (6) Louisville | 28 | 24 | 72 | 55 | 179 |
| (7) Alabama | 4 | 43 | 58 | 62 | 167 |
| (7) Stanford | 18 | 69 | 51 | 29 | 167 |
| (9) Arizona State | 8 | 41 | 47 | 55 | 151 |
| (10) USC | 14 | 32 | 50 | 53 | 149 |
| (11) Ohio State | 6 | 54 | 46 | 42 | 148 |
| (12) Michigan | 22 | 38 | 36 | 50 | 146 |
| (13) Georgia | 10 | 27 | 54 | 30 | 121 |
| (14) Missouri | 0 | 38 | 40 | 34 | 112 |
| (15) Auburn | 12 | 47 | 16 | 25 | 100 |
Yes, based on the numbers, the North Carolina State Wolfpack are favorites—very slight favorites, but favorites nonetheless—to capture the first national title in program history. NC State has never finished higher than fourth, which it achieved twice, in 1955 and 2016.
The Wolfpack lost their best swimmer from last season, Simonas Bilis, but junior sprinter Ryan Held has taken a massive step forward since making the U.S. Olympic team and will be a favorite to finish in the top three in the sprint freestyles and the 100 fly.
Andreas Vazaios, a two-time Olympian for Greece, has been a key addition in the fly events and the 200 IM, and the Wolfpack's signature sprint depth remains. Big points will come in both the 50 and 100 free, and in the relay events, the team is seeded first in the 800 free, second in the 200 medley and 400 free and third in the 200 free.
But just behind NC State is Texas, the two-time defending national champions. Whereas the Stanford women brought three Olympic medalists to NCAAs, the Longhorn men have four—Joseph Schooling, Townley Haas, Jack Conger and Clark Smith—and that list does not include Will Licon, a two-time individual national champion each of the last two seasons.
And on top of that, the Longhorns typically get a strong boost from diving and have a history of out-performing their seed times. With no teams of their caliber in the Big 12 conference, they typically don't rest most of their swimmers for that meet and then proceed to crush their entry times at the NCAA championships.
How much does Texas typically improve from its psych sheet projection at NCAAs? In the past eight years, the differential has been 79, 106.5, 147.5, 246, 134.5, 253.5, 197 and 133.5 points.
Sorry, NC State fans. Probably not exactly what you wanted to read.
And this is not a two-team race, either, as Cal, Florida and Indiana have all squads expected to finish within 50 points of NC State. The Golden Bears are led by Ryan Murphy, but the squad is far more than that, as Dave Durden's corps of sprinters and 100-stroke specialists make day three a real burden for other teams.
Amazingly, Cal has finished either first or second in every season dating back to 2010, Durden's fourth season as head coach. The Bears almost never score in diving but still manage to improve on their projections at the NCAA meet season after season—in fact, the Bears have moved up by at least 55 points in each of the last seven years.
Florida, meanwhile, will aim to show just how far one swimmer can take a team. Sure, Jan Switkowski, Mark Szaranek and Maxime Rooney are all fine swimmers, but Caeleb Dressel is the star for the Gators. Almost singlehandedly, he has the team's 200 and 400 free relays seeded first heading into the meet.
The last team in that pack is Indiana, at one point this year ranked No. 1 in the country. Blake Pieroni, another U.S. Olympian, gets the bulk of the attention on that squad, but Vini Lanza and Ian Finnerty have also had excellent years for Ray Looze's squad.
After that, the psych sheets project a huge drop-off before seven teams are projected to finish within 31 points of each other. That includes a Louisville team that has a potential scorer in just about every event, and a resurgent Stanford men's program led by freshmen freestylers Grant Shoults and True Sweetser. Arizona State, which finished tied for 44th last season with two points and is now projected to score 151 to finish ninth.
Behind that pack and seeded 13th is Georgia, projected to score 121 points. But the Bulldogs were actually the most-improved team at last year's meet, out-performing their seeds by 90.5 points en route to a fifth-place finish.
But depending on the same thing this year could be dangerous. The Georgia women's and men's programs train together, and while the women improved 44 points this season, that's way down from the massive 121-point jump last season.
Speaking of combined programs, watch out for Missouri, whose women were projected for 26 points and ended up with 135, the biggest jump of any team at that meet. At last season's men's meet, the Mizzou men improved by 41 points, the sixth-most of any team. This, too, looks like a team to watch for.
Georgia has recent top-five experience, and Missouri has admitted its goal of finishing in the top five, but if either team will need to catch fire this week in Indianapolis to pull that off. Of course, while these projections are great for figuring out what might happen, they do swim the meets for a reason.
Price Fishback is a professor at the University of Arizona and a longtime NCAA statistician. All commentaries are the opinion of the author and do not necessarily reflect the views of Swimming World Magazine nor its staff.