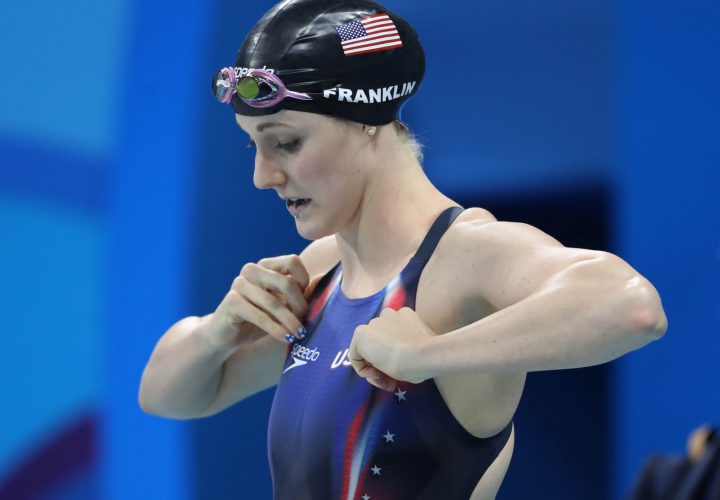 Photo Courtesy: Erich Schlegel-USA TODAY Sports
Following the Olympic Games, Missy Franklin will be returning to Cal-Berkeley to finish up her degree and continue to train. Franklin confirmed the news on ABC's Good Morning America Monday morning.
"I'm heading back to Cal-Berkeley, and I'm so excited about it. There's so much I'm looking forward to getting back to there: getting back with my team, getting back with Athletes in Action, all these different groups that I've missed being part of this past year, so I couldn't be excited."
Franklin won gold in Rio as a member of the U.S. 800 free relay squad, on which she competed in the prelims, but Franklin was left off the finals squad in favor of Allison Schmitt, Leah Smith, Maya DiRado and Katie Ledecky. She also missed the finals in the 200 free and 200 back, the latter in which she was the defending Olympic champion. Franklin did not even qualify for the U.S. Olympic team in the 100 free or 100 back.
Franklin won four gold medals four years ago in London, and she added a record six World titles to her resume a year later. Her two-year NCAA career at Cal-Berkeley was rocky, and back spasms were a major setback at the 2014 Pan Pacs, but Franklin bounced back with a three-victory performance at the 2015 NCAA Championships in Greensboro, leading Cal to a team title.
Franklin, as had been planned all along, went pro after two years at Cal, and she returned home to Colorado to train under coach Todd Schmitz during the spring of 2015. But a not-great World Championships in 2015 was followed by a 2016 season that she calls "by far the most disappointed I've been with any athletic performance."
"It just wasn't my week. It's heartbreaking that all the hard work and sacrifices I made didn't show up, but I know that they will, eventually, and I know that I will be so much stronger after this experience," Franklin said.
"I think I have so much left to learn from the sport, so much left to give to it, so I would love to be in 2020."
Watch Franklin's full GMA interview here: