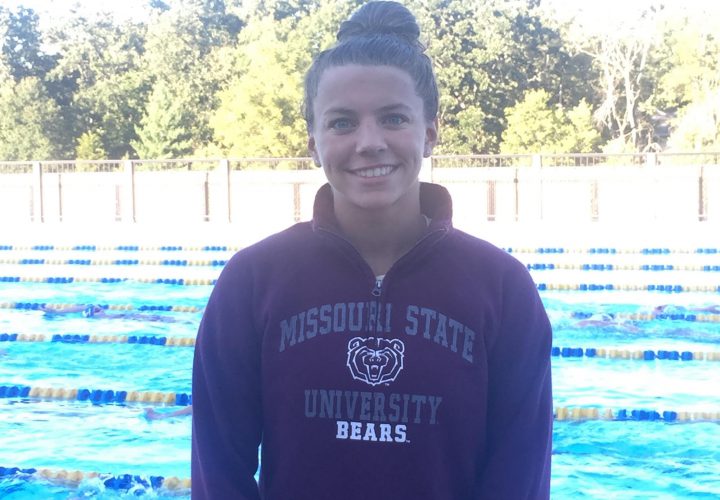 Photo Courtesy: Anna Miller
Agon is the proud sponsor of all high school coverage (recruiting, results, state championships, etc.) on SwimmingWorld.com. For more information about Agon, visit their website AgonSwim.com.
Anna Miller has given her verbal commitment to Missouri State University. Miller is from Chesterfield, MO and swims for Rockwood Swim Club under Coach Mary Liston.
Miller is a sprinter who will make a huge impact for the Bears. Her best times are:
50 Free 23.14
100 Free 50.52
50 Fly 25.86
100 Fly 56.89
The high school senior is a two time USA Swimming Scholastic All-American and tells Swimming World that she thinks she would like to pursue a degree in business.
"I chose Missouri State because the team made me feel so welcome when I visited! It felt like home. I can't wait to swim for coaches Dave and Chelsea. Bear up!" Miller said.
When she heads to Springfield in the fall she will join former Rockwood teammates Phillip Willett, Sydney Zupan, and Conner Ripp.
In a historic finish, Southern Illinois University scored a half point more than the Bears for the Missouri Valley Conference Title last year. In a conference where every point clearly counts, Miller is a huge recruit for the Bears. Last year, her best time would have won the conference title in the 50 freestyle. Missouri State's freshman Loretta Stelnicki (23.44) finished second. Miller also would have won the 100 freestyle and been an A finalist in the 100 butterfly. She should also be a key to the team's relays.
To report a college commitment email HS@swimmingworld.com.