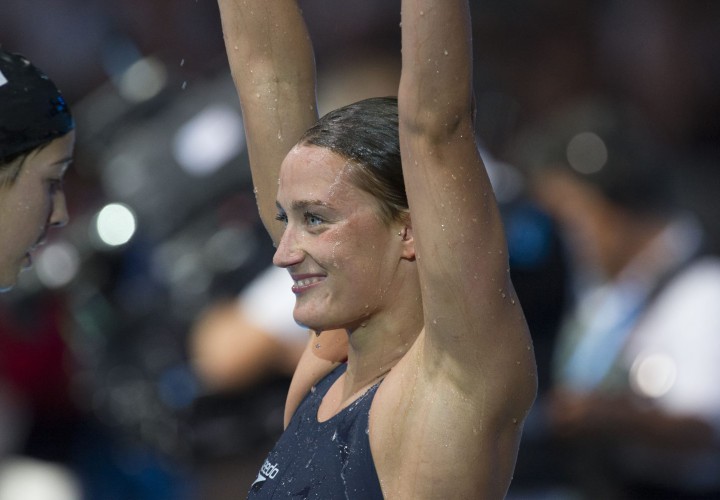 PALMA DE MALLORCA, Spain, April 11. NO one seems to be able to stop Mireia Belmonte Garcia as she continued to fire on all cylinders at the Spanish National Championships in Palma De Mallorca.
Belmonte Garcia, fresh off a night one double that featured wins in the 200 fly and 800 free, picked up yet another title with a meet record in the women's 400-meter IM. She rocketed to a 4:32.92, breaking her own record of 4:33.91 from 2012 as well as vaulting to the top of the SwimVortex world rankings. Aimee Willmott had previously owned the top spot with a 4:33.64 from the Flanders Cup in Belgium. Catalina Corro Lorente finished well back with a 4:39.20 for second that still placed her ninth in the world. Beatriz Gomez Cortes checked in with a third-place 4:40.23.
Marc Torrens lowered the Spanish record in the men's 400-meter IM with a time of 4:15.64. That swim moved him to eighth in the world rankings, and broke Javier Nunez Molano's 2008 record of 4:16.98 set here in Palma De Mallorca. Alexis Manacas Santos finished second in 4:17.62 for Portugal, while Guillermo Sanchez Gutierrez-Cabello snagged third in 4:21.37.
Mercedes Peris Minguet dominated the women's 50-meter backstroke finale with a 28.24 for the win. That's more than a second faster than Duane Da Rocha Marce's second-place 29.34. Minguet actually went faster in prelims with a 28.14 to top qualifying and move to sixth in the world rankings. Laura Yus Fernandez snared third in 29.54.
Juan Miguel Rando Galvez raced his way to fifth in the world rankings with a 25.14 to win the men's 50-meter backstroke this evening. Miguel Ortiz placed second in 25.40, just outside the top 10 in the world, while Juan Francisco Segura Gutierrez placed third in 25.64.
Melanie Costa Schmid topped the women's 200-meter free finale with a 1:57.90, winning by more than two seconds in the process. She just missed the meet record of 1:57.58 set by Mireia Belmonte Garcia back in 2012. Judit Ignacio Sorribes finished second in 1:59.99 with Beatriz Gomez Cortes earning third in 2:00.55.
Judit Ignacio Sorribes posted the only sub-1:00 time of the day in the women's 100-meter fly as she won in 59.32. Katherine Anne Mills took second with a 1:00.94, while Maria Sanchez Rodriguez posted a third-place time of 1:01.64.
Poland's Konrad Czerniak captured the men's 100-meter fly crown in 53.22 as the Spanish Nationals are an open event with international swimmers competing alongside natives. Luis Garcia Lizaran finished second in 53.42 with Javier Rivas Gallego taking third in 53.60.
Victor Manuel Martin grabbed the men's 200-meter free title in 1:48.57 with Miguel Duran Navia taking second in 1:49.04. Albert Puig Garrich rounded out the top three in 1:49.53.