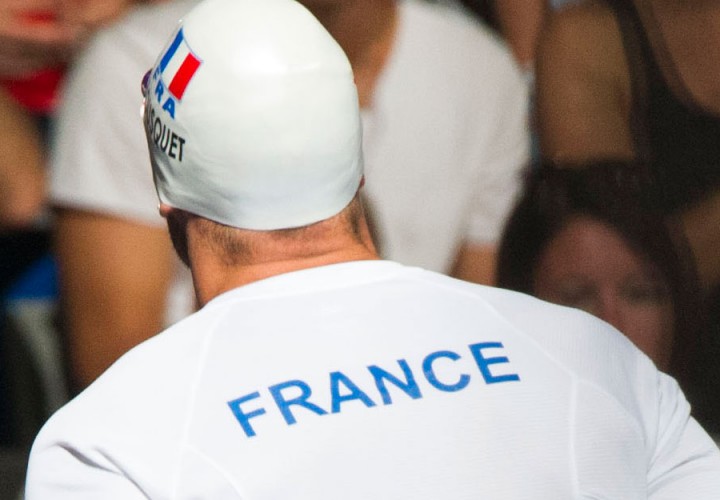 The final night of the 2017 French Swimming Championships concluded on Sunday night in Strasbourg. The meet is also serving as qualification for the 2017 World Championships in Budapest later this summer.
Melanie Henique squeaked under her 50 fly French Record with a 25.85 on Sunday night. That swim beat her 25.86 from the 2011 World Championships. Henique had a good race with Beryl Gastaldello, who placed second at 26.02. Marie Wattel was third at 26.32. Henique is now tied for fifth in the world this year with China's Lu Ying. Henique sits behind Sweden's Sarah Sjostrom (24.96), Japan's Rikako Ikee (25.51), Belgium's Kimberly Buys (25.78) and Netherlands' Ranomi Kromowidjojo (25.84).
The sixth night of competition started with a tight race between Marc-Antoine Olivier and Joris Bouchaut in the 1500 free. Olivier held off a furious late charge from Bouchaut over the last 100 to touch first at 15:05.08 ahead of Bouchaut's 15:05.67. Bouchaut split a 55.61 on his last 100 to Olivier's 57.45, but it was not enough to catch him. Damien Joly trailed off the pace over the last 100 meters and finished third at 15:09.92. Joly placed eighth at the Olympics last summer in the 1500 where he was well under 15 minutes at 14:48.90.
Beryl Gastaldello won her third French Swimming title of the week as she won the 100 back on Sunday with a 1:00.17 ahead of Mathilde Cini (1:00.57) and Pauline Mahieu (1:01.70). Gastaldello already took home titles in the 50 back and 100 fly earlier in the week. Gastaldello was less than a second away from Laure Manaudou's French record at 59.50 set ten years ago at the World Championships in Melbourne.
In the men's 200 breast final, Switzerland visitor Jeremy Desplanches was agonizingly close to the Swiss national record in the 200 breast with a 2:11.83 to win by a large margin over French swimmers Quentin Coton (2:14.19) and Theo Charrade (2:15.73). Desplanches just missed the record held by former Virginia swimmer Yannick Kaeser set at the 2015 World Championships in Kazan. Kaeser's record lasts another day that was a 2:11.65. Desplanches already broke the 200 and 400 IM Swiss records at the French Championships this week.
Another non-French swimmer won the 50 free final as Algeria's Oussama Sahnoune won the final with a 22.25 ahead of French swimmers Clement Mignon (22.34) and Maxime Grousset (22.62). Sahnoune was just shy of the Algerian Record set by Salim Iles in 2004 at 22.06. France sprint swimming has taken a hit now that 2012 Olympic gold medallist Florent Manaudou decided to take a break from the sport. Mignon swam at the Rio Olympics last summer where he finished 14th in the 100 free.
In the women's 400 free final, Alizee Morel won the race with a 4:13.04 ahead of Anna Egorova (4:14.00) and Marion Abert (4:15.49).