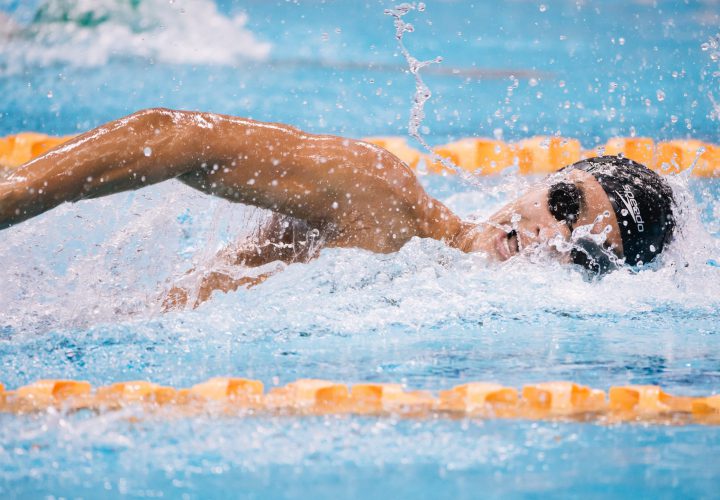 Photo Courtesy: Singapore Swimming Federation
The 2017 All-Florida Invite continued today with the University of Florida Gators securing wins in 12 events. The Gators lead the competition on both the men's and women's sides with scores of 847 and 756 respectively. Florida State is second on both sides with 749 points (men) and 721 points (women), while the University of Miami (Florida) women are poised at third with 417 points.
The Dressel siblings highlighted the 100 fly events as sophomore Sherridon Dressel claimed victory on the women's side with a 55.57, before senior Caeleb Dressel unleashed a 46.89 in the men's final heat.
C. Dressel later added a second place finish in the men's 100 breast to his name with a 55.77, buoyed by teammates Stanley Wu (55.42) and Jan Switkowski (56.26).
The 2017 World Champion competed in both the 200 medley relay and 800 free relay for the Gators. He split a 19.43 to anchor the Gators to a 1:28.65 victory in the 200 medley relay, before later posting a 1:37.54 split as a member of the second place finishing 800 free relay (6:36.59).
Sophomore Maxime Rooney collected two individual wins of his own throughout finals. Rooney topped the competition with a 1:37.02 in the men's 200 free, ahead of teammate Grady Heath (1:38.81) and Florida State's Rudo Loock (1:39.21). Rooney later added a victory in the men's 100 back with a 48.93, followed by Florida State's Chad Mylin (49.07) and University of Florida's Bailey Main (49.12).
Savanna Faulconer led a Florida sweep of the women's 400 IM, touching first with a 4:16.01. Teammates Kelly Fertel and Makayla Sargent rounded out the top three with times of 4:18.17 and 4:20.82.
Faulconer later added a victory in the women's 200 free to her name with a top showing of 1:50.27. She was followed to the wall by teammates Hannah Burns (1:50.76) and Amelia Maughan (1:50.98).
Mark Szaranek delivered a similar charge in the men's 400 IM, grabbing first with a time of 3:57.15. Teammates Grant Sanders and Taylor Delk took second and third with times of 3:57.64 and 4:00.14.
Natalie Pierce collected an individual victory for Florida State with a 1:03.04 in the women's 100 breast. Burns of Florida finished second with a 1:04.55, while Florida teammate Paige Scheriger was third with a 1:04.87.
Florida's Emma Ball finished ahead of the competition in the women's 100 back with an NCAA 'B' cut of 53.30. Florida State's Madeline Cohen and Florida's S. Dressel completed the top three with times of 55.38 and 56.40.
Florida State swept the 3-meter (women) and 1-meter (men) diving events for the day with top showings by Ayla Bonniwell (330.53) on the women's side and Tyler Roberge (327.60) on the men's.
2017 All-Florida Invite, Day Two Results – Results