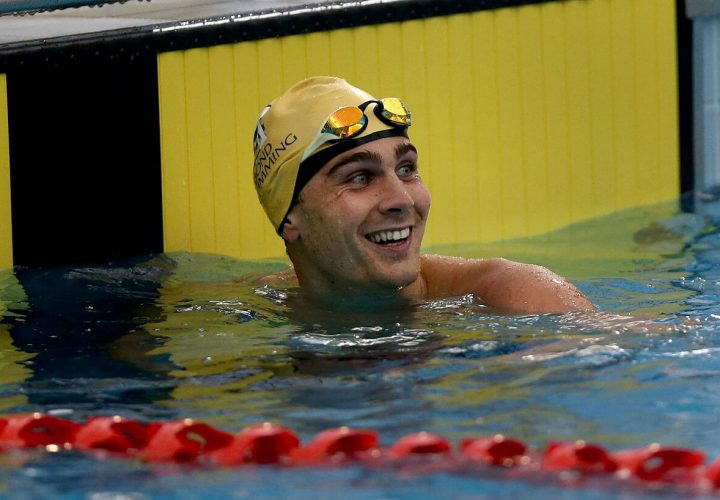 Rio Olympian Matthew Stanley booked his ticket for July's FINA World Championships with a qualifying performance on the second day of the New Zealand Open Swimming Championships in Auckland.
This makes four swimmers to qualify for July's world championships in Budapest after two days, after Helena Gasson, Corey Main and Emma Robinson qualified on the first night of finals.
Stanley, based on the Gold Coast at the Bond Swimming Club, clocked 1:47.55 to go 0.2s inside the qualifying time for the July's FINA World Championships in Budapest in the morning heats.
The 25 year old, swimming for the Matamata club, wanted to lower his own national record in the evening but had to be content with a dead-heat with Rio team-mate Matthew Hutchins in 1:48.53.
"This morning was a race well put together but I couldn't replicate it tonight," Stanley said. "I couldn't really get up tonight. I am not sure if after I qualified in the morning I found it tough to back-up without having the rabbit to chase. It is something I need to work at."
Stanley recently moved to a new programme at Bond University which includes a number of crack Australian swimmers.
"We have a lot of guys who are really good at 100m and 200m freestyle. Training with them every day is motivating and I am sure that backing up will come to be shortly," Stanley said.
"I have been training better than that, in the 1:46 mid range area. I am still struggling to convert that into the racing form but I am confident it will come. I just have a few things to work on."
It was another close miss for Hutchins, the Christchurch swimmer based at the University of Wisconsin, who will look to his favoured 1500m freestyle later in the week to qualify for the worlds.
Visitor Wesley Roberts from Cook Islands was third with 17-year-old Zac Reid from the Aquabladz club in Taranaki claiming the bronze medal.
Olympian Bradlee Ashby set a personal best but just 0.8s outside the qualifying mark for the 400m individual medley, clocking 4:18:68.
Ashby, the 200m individual medley record holder, was under the qualifying time and New Zealand record for 300m but faded slightly with a 1:01.67 split for the 100m freestyle leg to finish just outside the mark but a significant personal best.
He finished clear of talented Wellington teenager Lewis Clareburt and Dunedin's Andrew Trembath.
Gasson could not replicate her hot form on the first night, finishing just outside the qualifying mark in the women's 100m butterfly.
She won impressively in 59.43, which was a second outside the qualifying time, but she was well clear of medallists Yeonsu Lee (North Shore) and Georgia Marris (United).
The men's 100m butterfly was a tight battle with St Peters' swimmer Sam Perry, who is on scholarship at Stanford University, setting the pace and holding on to win in 53.97s just ahead of the North Shore pair of Wilrich Coetzee and Shaun Burnett.
North Shore's Carina Doyle, the top qualifier, took out the women's 200m freestyle in 2:00.98 in a well judged race. The top qualifier edged out US-based Marris, returning to the sport after injury, with Whangarei's Hayley McIntosh, a member of Swimming New Zealand high performance squad, in third.
Natasha Lloyd (North Canterbury) won the women's 200m breaststroke in impressive fashion, clearing out to retain the title in 2:31:74, clear of Ciara Smith (Northwave) and Julia Borlaise (Karori Pirates).
The men's race proved a close fought affair with Hokitika's George Schroder, who swims in Swimming New Zealand's high performance squad, pipped in the final 15m by Hawkes Bay swimmer Julian Layton. Layton won 2:12.80 with Schroder second in 2:13.41 and Jacob Garrod (North Shore) third.
In the Para swimming tonight Sophie Pascoe (QEII) won the 50m breaststroke in 35.87 while Nikita Howarth (Te Awamutu) claimed gold in the 100m backstroke in 1:29.73 and Chris Arbuthnott edged ahead of Jesse Reynolds (Ice Breaker) in the men's 100m backstroke to win in 1:07.36.
The heats begin daily at 10am and the finals from 7pm. All heats sessions will be streamed live on Swimming New Zealand's website with finals live on SKY TV.
Results, day 2:
Men 200m freestyle: Matthew Stanley (Matamata) & Matthew Hutchins (Wharenui) 1:48.53, 1 equal; Wesley Roberts (Cook Islands) 1:51.49, 3; Zac Reid (Aquabladz New Plymouth) 1:52.17, 3.
Women 200m freestyle: Carina Doyle (North Shore) 2:00.98, 1; Georgia Marris (United) 2:01.44, 2; Hayley McIntosh (Northwave) 2:02.92, 3.
Men 400m individual medley: Bradlee Ashby (Fairfield) 4:18.68, 1; Lewis Clareburt (Capital) 4:21.05, 2; Andrew Trembath (Neptune) 4:28.60, 3.
Women 200m breaststroke: Natasha Lloyd (North Canterbury) 2:31.74, 1; Ciara Smith (Northwave) 2:36.15, 2; Julia Borlase 2:38.68, 3.
Men 200m breaststroke: Julian Layton (Heretaunga Sundevils) 2:12.80, 1; George Schroder (Hokitika) 2:13.41, 2; Jacob Garrod (North Shore) 2:15.48, 3.
Women 100m butterfly: Helena Gasson (Coast) 59.43, 1; Yeonsu Lee (North Shore) 1:01.24, 2; Georgia Marris (United) 1:01.44, 3.
Men 100m butterfly: Sam Perry (St Peter's) 53.97, 1; Wilrich Coetzee (North Shore) 54.22, 2; Shaun Burnett (North Shore) 54.71, 3.
Para swimmers:
Men 100m backstroke: Chris Arbuthnott (Ice Breaker) 1:07.36, 1; Jesse Reynold (Fairfield) 1:07.42, 2; David Beck (Mt Albert Grammar) 1:11.30, 3.
Women 100m backstroke: Nikita Howarth (Te Awamutu) 1:29.73, 1; Rebecca Dubber (North Shore) 1:30.24, 2; Tupou Neiufi (Howick Pakuranga) 1:17.38, 3.
Women 50m breaststroke: Sophie Pascoe (QEII) 35.87, 1.
Press release courtesy of Swimming New Zealand