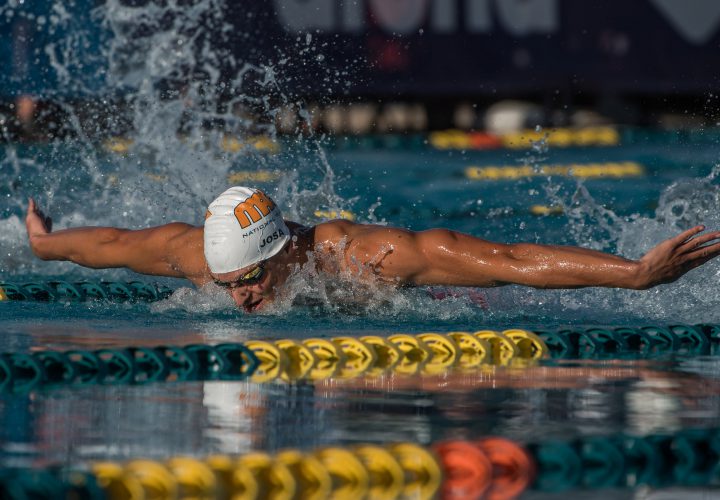 Photo Courtesy: Peter H. Bick
Matt Josa, a finalist in the 100 fly at Olympic Trials last week, will transfer from Queens University of Charlotte to Cal-Berkeley this fall to complete his final two years of NCAA eligibility.
SwimMAC Carolina head coach David Marsh confirmed the news Thursday afternoon. Marsh told Swimming World that Josa's plan all along had been to stay in Charlotte until Olympic Trials before moving to Division 1, and an opportunity to swim for Queens had made that possible.
"I loved my time at Queens—I made some of my best friends, we won tough championships with [Queens head] coach [Jeff] Dugale, but outside of the Olympics, my priority is to race at the Division 1 level with a top team," Josa said via Marsh. "Based on their pattern of success, [Cal head coach] Dave Durden and David Marsh's similar coaching philosophies, and Cal's impressive results in the long course pool, I plan to finish my last two years as a Cal Bear."
Josa had previously competed for Queens from 2013 to 2015 under head coach Jeff Dugale and then had taken a redshirt year to train for Olympic Trials with SwimMAC's Team Elite. Because of the year off, he will be eligible to compete immediately for the Golden Bears.
Josa's top swim of Olympic Trials came in the 100 fly, when he was the top seed out of prelims in 51.61. He went on to finish sixth in the final. Two of those who finished ahead of Josa—Tom Shields and Seth Stubblefield—currently train at Cal, and fourth-place finisher Tim Phillips had trained with Josa this past year in Charlotte.
During his sophomore season at Queens, Josa helped lead the Royals to their first-ever NCAA Division II Championship, defeating ten-time defending champion Drury by 16 points. Josa was named Swimmer of the Meet after setting NCAA DII records in the 200 IM, 100 fly and 200 fly and also winning the 200 back.