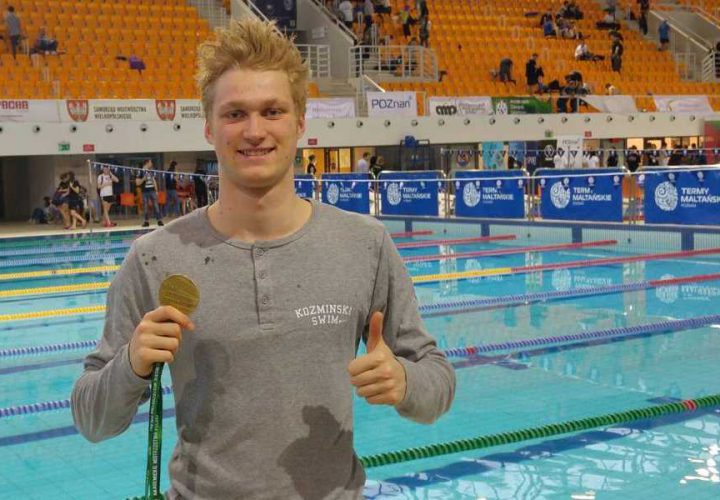 Photo Courtesy: Marcin Stolarski/Instagram
Marcin Stolarski picked off the Polish record in the men's 100-meter breast at the 2016 Polish Nationals.
Stolarski stopped the clock in 1:00.24 for the win, and broke Dawid Szulich's 2013 record of 1:00.54. Maciej Holub placed second in 1:02.15 with Jacek Arentewicz taking third in 1:02.36.
Katarzyna Wilk, who set a Polish record in the women's 100-meter free with a 54.38 leadoff earlier this week, won the individual event in 54.97.  Anna Dowgiert touched second in 55.52 with Aleksandra Urbanczyk snaring third in 56.55.
Kacper Majchrzak raced his way to a 48.96 to win the men's 100-meter free after setting the Polish record in the 200 free earlier this week.  Jan Switkowski finished second in 49.79 with Jan Holub earning third in 50.18.
Paulina Zachoszcz touched out Alexandra Iwanowska for the women's 100-meter breast, 1:09.53 to 1:09.46.  Weronika Paluszek wound up third in 1:10.47.
Nikola Petryka posted a 27.72 to win the women's 50-meter fly.  Katarzyna Kolodziej touched second in 27.74 with Karolina Jurczyk earning third in 27.89.
Maksymilian Zgierski captured the men's 50-meter fly in 23.66 with Kacper Stokowski taking second in 24.19.  Oskar Krupecki picked up third in 24.30.
Justyna Burska picked up the women's 1500-meter free title in 16:44.62, while Joanna Zachoszcz placed second in 16:44.87 in what proved to be a battle to the finish.  Paulina Piechota touched third in 16:50.77.
Filip Zaborowski turned in a time of 7:55.93 to win the men's 800-meter free.  Antoni Kaluzynski placed second in 8:02.94 with Pawel Furtek grabbing third in 8:09.14.
Alicja Tchorz (100.62), Paulina Zachoszcz (1:09.50), Paulina Nogaj (59.31) and Katarzyna Wilk (53.78) lowered the Polish record in the women's 400-meter medley relay with a 4:03.21.  That swim downed the 2005 mark of 4:05.08.
Tomasz Polewka (54.22), Mikolaj Machnik (1:01.68), Michal Poprawa (52.48) and Rafal Bugdol (49.97) closed out the meet with a 3:38.35 to win the men's 400-meter medley relay.
2016 Polish Championships: Day 4 Finals – Results