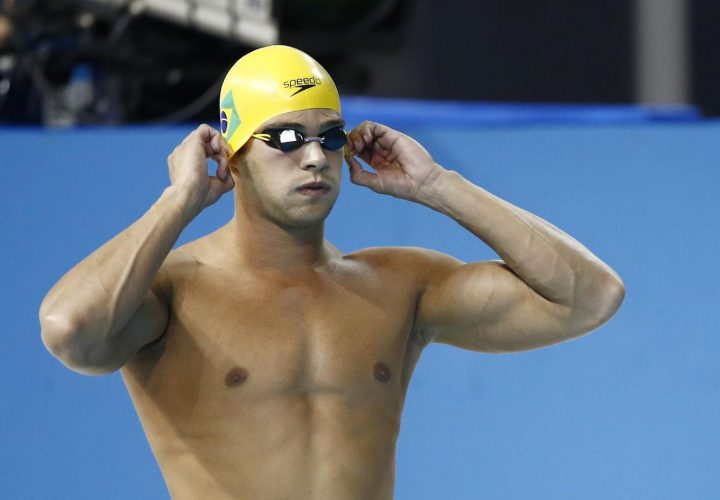 Photo Courtesy: Rob Schumacher/USA Today Sports Images
The third of five days at the Brazilian Swimming Championships — a.k.a. the Maria Lenk Trophy — in Rio will feature a quick final in the men's 100 free after Marcelo Chierighini topped prelims with the ninth-fastest time in the world this year. Read below for a full recap of all the morning action.
Women's 100 Free
Alessandra Marchioro finished just ahead of Manuella Lyrio for the top seed in the women's 100 free finals. Marchioro clocked 55.72, while Lyrio was two tenths back in 55.92. Third went to Daynara De Paula in 56.07.
Men's 100 Free
In what figures to be the top race of the day, two men broke 48 seconds in the 100 free prelims, and it took well under 50 to earn a spot in the championship final. Chierighini led the way with his 48.46, followed closely by Bruno Fratus at 48.50. Both men moved into the world top ten with those swims.
Gabrielle Santos was third in 49.12, just ahead of world record-holder Cesar Cielo, who came in at 49.12.
There ended up being a tie for eighth as Marco Antonio Ferreira and Pedro Henrique Silva each recorded times of 49.61, but Ferreira ended up getting the bid in the A-final, while Silva was regulated to the B-heat.
Women's 50 Breast
Jhennifer Alves Conceicao cruised to the top seed in with her time of 31.04, leaving her just outside the world top-ten in the event but giving her plenty of a margin going into the final.
Renata Paula Sander qualified second in 31.49, with Carolyne Gomes De Souza earning the third seed in 31.52, ahead of Julia Sebastian (31.54) and Ana Carla Carvalho (31.59).
Men's 50 Breast
Felipe Lima will look to add to his collection of titles after winning the 100 breast. He qualified first in the 50 breast in 27.01, the third best time in the world this year. He will look to join Adam Peaty and Nicolo Martinenghi under the 27-second barrier in the final.
Joao Gomes qualified second in 27.27, good for ninth in the world rankings, and 2011 World Champion Felipe Franca Silva was third in 27.42, just ahead of Pedro Brasil Cardona (27.43).
Women's 50 Back
Etiene Medeiros did not swim the 100 back in Rio, but she did earn the top seed in the 50 back with her time of 28.57.
Andrea Eliana Berrino qualified second for the final in 28.66 and will look to give Medeiros a run. WEll back in third was Ana Guilia Pereira Zortea in 29.66.
Men's 50 Back
After already winning the 100 back title, Guilherme Guido is in poll position to add a win in the 50 back. He qualified first in prelims at 25.16, moving into a three-way tie for tenth in the world with Richard Bohus and Apostolos Cristou.
Gabriel Fantoni qualified second in 25.40, and Nathan Bighetti was third in 26.00.
Women's 200 Fly
Joanna Maranhao comfortably qualified first in the 200 fly prelims with her time of 2:13.39. She was well off her own Brazilian record of 2:09.38 from the Pan Am Games in 2015 but will have a chance to make a run at that in the final.
Giovanna Tomanik took second in 2:15.67, and third went to Virginia Bardach Martin in 2:16.55.
Men's 200 Fly
Vini Lanza edged out Luis Lopes Melo for the top spot in the morning's final event. Lanza's time of 1:58.08 beat out Lopes Melo's 1:58.26.
Brazilian record-holder Kaio Almeida qualified third in 1:58.91, and veteran Leonardo De Deus is lurking after qualifying fifth in 2:00.74.