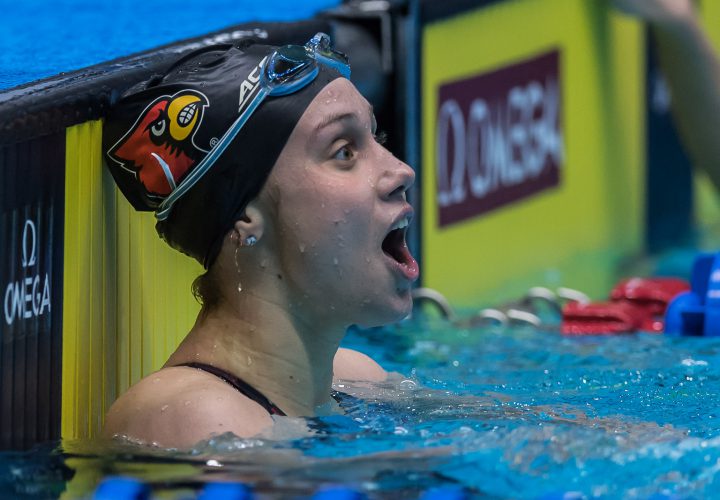 Photo Courtesy: Peter H. Bick
Louisville's Andrej Barna has been selected as the ACC Men's Swimmer of the Week, and Joe Coumos of Notre Dame has been tabbed as the ACC Men's Diver of the Week. On the women's side, Louisville's Mallory Comerford has been named ACC Women's Swimmer of the Week, and Kylie Towbin of Virginia has been selected as the ACC Women's Diver of the Week.
Barna shined in Louisville's win over in-state rival Kentucky over the weekend, winning all three events he swam in. The sophomore from Subotica, Serbia, posted an NCAA automatic qualifying time in the 50 free (19.89), and an NCAA provisional time in the 100 free (44.29). Barna also contributed to the 400 free relay team for Louisville that placed first with a time of 2:58.15.
Coumos had an impressive performance in Notre Dame's win over No. 20 Florida State. The senior from Tomball, Texas, won both the 1-meter and 3-meter competitions, scoring a 327.53 on the 1-meter and 383.78 on the 3-meter.
Comerford recorded three wins and a second-place finish in Louisville's loss to No. 14 Kentucky. The junior from Kalamazoo, Michigan, won the 100 free (49.21), 200 free (1:46.53), placed second in the 100 fly (53.40), and was part of the first-place 200 medley relay team (1:39.94). Comerford posted NCAA provisional times in all events in which she competed, and the 200 medley relay team also recorded an NCAA provisional time.
Towbin was key in wins over No. 15 NC State and No. 21 North Carolina. The junior from New Canaan, Connecticut, won the 3-meter competition in both meets, scoring a 347.10 against NC State and a 355.05 against North Carolina. On the 1-meter, Towbin placed second against NC State, and eighth against North Carolina.
Press release courtesy of the ACC.