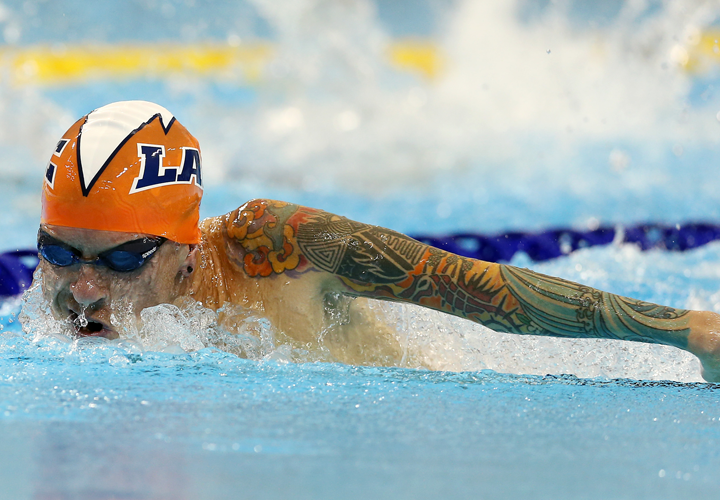 Photo Courtesy: Paralympic.ca
This morning marks the start of the 2016 U.S. Paralympic Trials at the Mecklenburg County Aquatic Center in Charlotte, North Carolina. The event commences this morning, Thursday June 30, and will be completed Saturday evening, July 3. The Trials features swims from athletes across a range of classification categories.
Over 400 athletes are competing in this year's Paralympic Trials, with the hope of representing Team USA at the 2016 Rio Paralympic Games (September 7 – 18), following the 2016 Olympic Games (August 5 – 21). Four women and three men will represent the U.S. at the Rio Paralympic Games.
Prelims, Day 1 Events:
Click here for the full results sheet
Note: The Paralympic classification system for athletes competing in swimming is coded with an S followed by a number. A swimmer competing in a lower number category indicates that they have a physical impairment that has more impact on their ability to compete in swimming. For example, a swimmer in the S2 category has more severe activity limitation in the water than a swimmer in the S14 category. A more detailed description of the classification system can be found here. 
Women 200 Meter Free Multi-Class
Top Seed Leslie Cichocki qualifies first for finals in the event for her S14 class in a 2:29.34, nearly 13 seconds ahead of second-place seed Harper Scott (2:42.28). In the S5 class, Alyssa Gialamas came in first for prelims (3:16.51) and Victoria Beelner touched second (5:34.67).
Men 200 Meter Free Multi-Class
On the men's side, in the S14 class, Garner Moss set a new American Record and jumped from his third-position seed to top qualifier for finals after an impressive 7.61 improvement on his entry time. His 2:20.14 time was nearly five seconds ahead of second qualifier Jesse Greve (2:25.97), who held the former American Record at a 2:21.31. Third in the S14 class going into finals is Alexander Quesada-Amor (2:27.98).
Roy Perkins Jr. was the only entrant in the S5 class, with a 2:49.73 this morning. Curtis Lovejoy raced in the S2 class, and posted a 5:37.43 this morning.
Women 400 Meter Free Multi-Class
Paralympic American Record Holder in the S13 class Rebecca Meyers had the fastest preliminary time, touching the wall this morning in a 4:34.98. Although her time is 13 seconds off her 4:21.66 American Record in the event, it puts her in the top position going into tonight's finals. Second in the S13 class went to Cailin Currie (5:05.38).
Laurrie McClain Hermes (S12) cut nearly ten seconds from her seed time for a 5:18.46, placing her first in her class. In the S10 class, Serafina King came in first at a 5:03.39. In the S9 class, Natalie Sims touched first in a 5:03.48. In the S8 class, American Record holder Jessica Long added 13 seconds this morning (4:54.01), but still qualified first in her class and second overall. The S7 preliminary win went to McKenzie Coan (5:11.63) and the S6 top qualifier for tonight's finals is Sophia Herzog, at a 6:16.65.
Men 400 Meter Free Multi-Class
The top time this morning went to American Record Holder Ian Silverman, at a 4:20.69. Silverman holds the Paralympic American record in this event at a very fast 4:03.23. Additionally. Silverman won gold in the event at the 2012 London Paralympic Games. Second in the S10 class went to Nathan Whitten, who cut over 31 seconds from his seed time for a 5:38.64 preliminary swim.
Bradley Snyder qualified first for finals in the S11 class with a 4:47.34. First in the S9 class went to David Gelfand (4:44.18), who cut over 10 seconds from his seed time. Robert Griswold took the top finals position in the S8 class (4:37.87). S7 went to Trevor Tucci (6:33.80).
Connor Gioffreda (S6) had an impressive morning swim, nearly breaking the American Record (5:54.30) in the event. Gioffreda cut over nine seconds from his entry time to post a 5:54.57 this morning.
Men 50 Meter Breast Multi-Class
47-year-old Michael DeMarco was the sole entrant in the men's 50 meter breaststroke. He added a few seconds in a race against himself for a 1:04.58 preliminary time. DeMarco is the American Record Holder in the S2 class, at a 1:00.68 in 2010.
Women 100 Meter Breast Multi-Class
Leslie Cichocki broke her own American Record in the SB14 class in this morning's prelims. Cichocki bettered her 1:32.58 AR (set in 2015) by nearly two seconds, posting a 1:30.77 for the fifth sixth time of the morning in the women's 100 breastroke. Second in the S14 class went to Sarah Gilbert (1:54.75).
The fastest time of the morning went to Colleen Young, who was just off her SB13 class American Record (1:17.58). Her 1:18.39 preliminary time qualifies her first in her class going into tonight's finals. There was a race for second in the SB13 class between Martha Ruether (1:25.14) and Rebecca Meyers (1:25.99). Ruether took second and Meyers took third going into finals.
Laurrie McClain Hermes was the the only woman competing in the SB12 class, touching in a 1:35.28, a best time. Letticia Martinez represented the SB11 class well in a 1:40.58. Samantha Tubbs was the only woman to break the 1:30 mark in the SB9 class, winning her class in a 1:29.78. Meimei White took the top spot for the SB8 class in a 1:41.31, while Elizabeth Marks did the same in the SB7 class in a 1:29.47. Sophia Herzog cut nearly seven seconds from her entry time to take the top position in the SB6 class, with a 1:40.61. In the SB5 class, Noga Nir-Kistler took the top finals position with a remarkable sub-2 minute 1:56.19.
Bryce Ballinger, classified SB4, nearly took the SB4 American Record (2:19.53) this morning. She cut over 17 seconds from her entry time to post a 2:20.09 in prelims.
Men 100 Meter Breast Multi-Class
Three American Records were lowered by their owners in a very fast morning session of the men's 100 breaststroke. Tharon Drake (SB11) cut three seconds from his 1:13.98 record with an impressive 1:10.85 preliminary swim. Drake posted the fastest time of any competitor in the breaststroke this morning. The second fastest time went to Dalton Herendeen, lowered his own SB8 class American record by a eleven one-hundredths with a 1:14.59, the fastest time in his class. The third American record that fell went to class SB14 swimmer Alexander Quesada-Amor, who took over ten seconds off his entry time for a 1:22.40, the fastest in his class. He bettered his 2014 American record (1:23.64) by over a second.
Another notable swim came from Zachary Shattuck, class SB6, who was entered in a 2:07.88, but cut enough time to win his preliminary class and touch the wall in a 1:33.81.