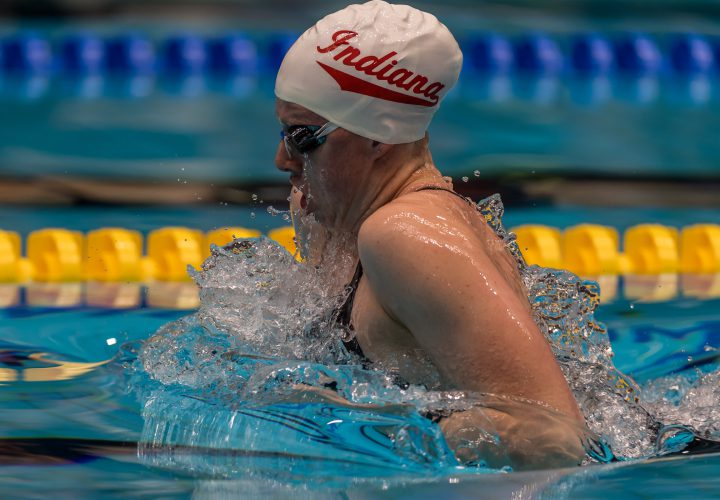 Photo Courtesy: Peter H. Bick
Editorial content for the 2017 USA Swimming Nationals is sponsored by TritonWear. Visit TritonWear.com for more information on our sponsor. For full Swimming World coverage, check event coverage page.
The third night of swimming featured some fast swimming as well as some controversial DQ's in Indianapolis. Leah Smith had a huge swim in the 400 IM but that was overshadowed by the DQ of Ella Eastin who finished second. Eastin was DQ'd for swimming more than a quarter of the race on her back, which is a new rule called the "Lochte rule." Elizabeth Beisel picked up the Worlds spot for Eastin's DQ.
Chase Kalisz posted the number one time in the world for the men's 400 IM with a 4:06.99 to make his third straight Worlds team. Jay Litherland also swam a best time to get his first Worlds spot. Kelsi Worrell and Caeleb Dressel also picked up wins in the 100 fly as the ladder posted the number one time in the World with a 50.87.
Lilly King broke the American Record in the 50 breast with a 29.66 to lower Jessica Hardy's 29.80 from 2009. Kevin Cordes lowered his meet record from this morning and Hannah Stevens and Justin Ress won their first national titles to win the 50 back.
Tonight's Events:
Women's 400 IM
Men's 400 IM
Women's 100 Fly
Men's 100 Fly
Women's 50 Breast
Men's 50 Breast
Women's 50 Back
Men's 50 Back
Women's 400 IM
Leah Smith won her first national title in the 400 IM on Thursday night at the 2017 Phillips 66 USA Swimming National Championships. Smith has been known as a middle distance and distance freestyler over the last few years and tonight showed some IM strength that she has not flexed before. She won the race with a 4:33.86 to swim the third fastest time of 2017 behind Japan's Yui Ohhashi (4:31.42) and Hungary's Katinka Hosszu (4:33.71).
The big story of the race was the disqualification of Stanford's Ella Eastin who finished second with a 4:36, her best time in four years in the event. Eastin made her first major international team with that swim but was disqualified for swimming more than a quarter of the race on her back.
Elizabeth Beisel finished in the second spot after the disqualification with a 4:38.55. Beisel potentially makes her sixth World Championship team in the process. Brooke Forde (4:39.19), Ally McHugh (4:40.25), Madisyn Cox (4:40.39) and Brooke Zeiger (4:44.57) also swam in the A-final. Bethany Galat was disqualified for the same thing that Eastin was DQ'd for.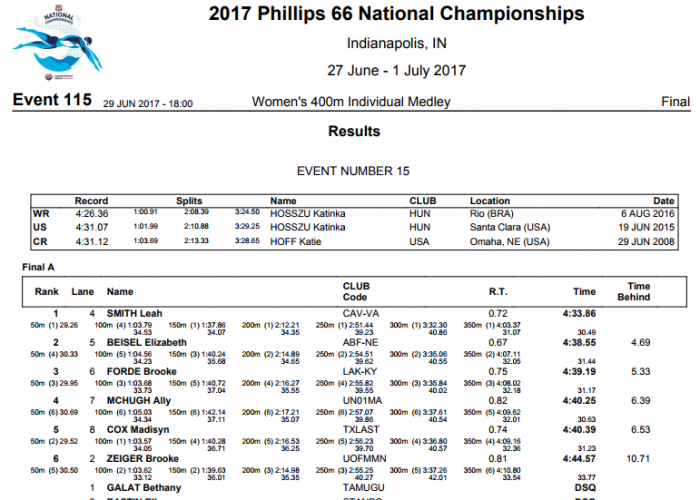 Men's 400 IM
The Olympic silver medalist Chase Kalisz expressed his displeasure in losing the 400 IM gold medal streak last summer in Rio, losing the gold to Japan's Kosuke Hagino by 0.70 seconds. Kalisz showed he his hungry to get that streak back up and going with a 4:06.99 on Thursday night in Indianapolis. The US has not won a gold in the 400 IM at a major meet since Ryan Lochte won in 2012.
Kalisz moves ahead of Hungary's David Verraszto (4:07.47) and Japan's Daiya Seto (4:07.99) in the world rankings. Kalisz officially makes his third straight World Championship team with that swim. Kalisz will be looking to upgrade his silver from 2013 and bronze from 2015. He will be joined by Georgia teammate Jay Litherland, who makes his first Worlds team. Litherland had a very good swim with a best time of 4:09.31. Litherland is now fourth in the world behind the aforementioned three.
Georgia's Gunnar Bentz (4:11.66), Texas' Jonathan Roberts (4:15.50), Nitro's Sean Grieshop (4:17.49), Kieran Smith (4:18.82), Charlie Swanson (4:19.26) and Curtis Ogren (4:21.88) also swam in the A-final.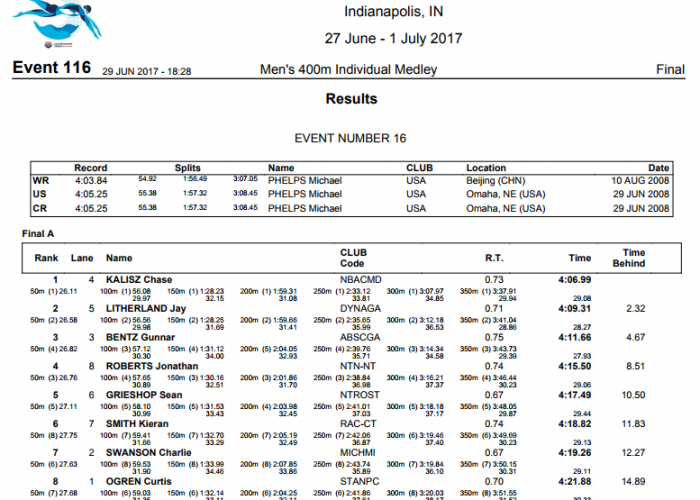 Women's 100 Fly
Kelsi Worrell added another event to her World Championship schedule with a 100 fly win on Thursday night in Indianapolis. Worrell swam a 57.38 to win the event ahead of Texas A&M's Sarah Gibson at 57.96 and Louisville teammate Mallory Comerford at 57.97.
Worrell and Gibson will be swimming in their first World Championships in Budapest this summer. Gibson was just shy of getting a spot on the team in the 200 fly on Tuesday night and just out-touched Comerford here to make her first team. Worrell is still ranked eighth in the world for 2017. She will be looking to improve on her swim in Rio last year after she failed to make it out of semi-finals.
Early leader Amanda Kendall finished in fourth at 58.32. North Carolina's Hellen Moffitt (58.40), Cal's Katie McLaughlin (58.49), Minnesota's Danielle Nack (58.98) and Trojan's Kendyl Stewart (59.59) also swam in the A-final.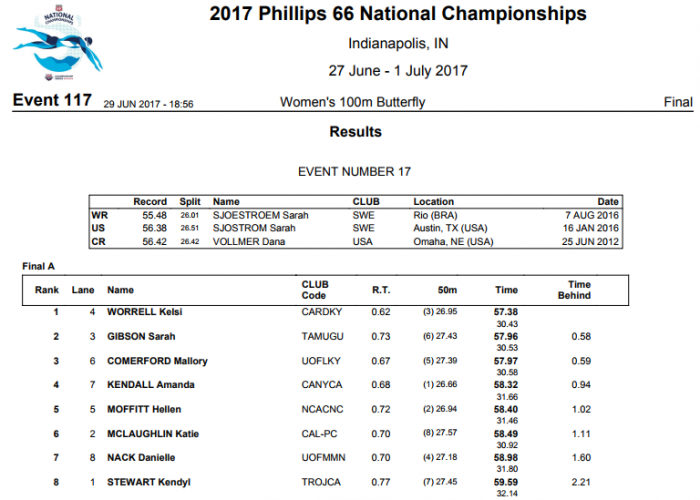 Men's 100 Fly
It might be safe to say that Caeleb Dressel can swim long course now. Dressel was the NCAA swimmer of the year and a lot of people said he needed to prove himself long course, something he hadn't done despite snagging an individual 100 free spot in Rio. Dressel answered those doubters with a huge 50.87 to move ahead of South Africa's Chad Le Clos for the world's number one ranked swimmer in the event. Dressel moved ahead of Le Clos (51.29), China's Li Zhuhao (51.34) and France's Mehdy Metella (51.36). Tim Phillips of Swim MAC moved to third in the world with a 51.30 by placing second in the event.
Phillips makes his second straight World Championship team after he did not make it out of semi-finals in 2015. Phillips held off a very strong field in Texas' Jack Conger (51.33) and Cal's Tom Shields (51.55) to make a return trip to Worlds.
Cal's Justin Lynch (52.20), Louisville's Zach Harting (52.52), Stanford's Andrew Liang (52.87) and Cal's Matthew Josa (52.88) also swam in the A-final.
Women's 50 Breast
Lilly King showed off her incredible sprint speed with a new American Record in the 50 breaststroke on Thursday night at the 2017 Phillips 66 USA Swimming Nationals. King lowered Jessica Hardy's American Record of 29.80 down to a 29.66. King is now the fastest swimmer of 2017 as she moves in front of Russia's Yulia Efimova at 29.88.
King gave the world record a scare and she could certainly lower that later this summer in Budapest. The World Record is held by Lithuania's Ruta Meilutyte at 29.48 from the 2013 World's. King is now the third fastest performer in history behind Meilutyte and Efimova (29.52).
Katie Meili (30.11), Molly Hannis (30.24), Natalie Pierce (30.89), Jorie Caneta (30.99), Andrea Cottrell (31.06), Katharine Ross (31.10) and Breeja Larson (31.28) also competed in the A-final. King now has the option to swim the 50 in Budapest since she won the 200 last night. The top two in the 50 do not automatically qualify for Worlds.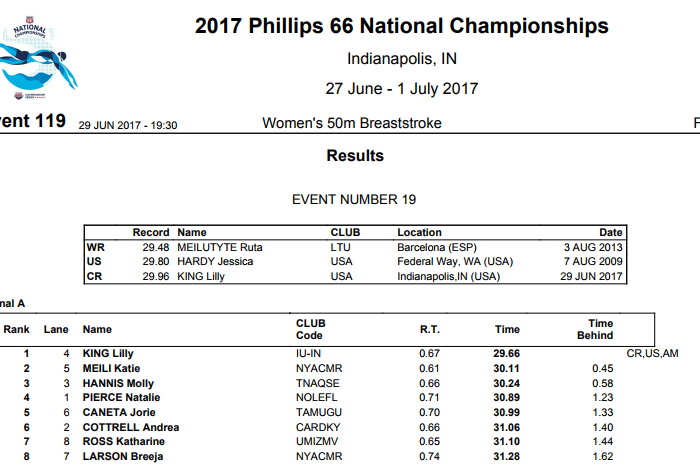 Men's 50 Breast
Kevin Cordes has been on fire in the 2017 Phillips 66 USA Swimming National Championships. Last night, he scorched a 2:07 in the 200 breast final, and tonight he showed off his 50 speed with a 26.88. Cordes lowered his meet record in the process that he set this morning at 26.89. Cordes sits at third in the world rankings behind Great Britain's Adam Peaty (26.48) and Brazil's Joao Gomes (26.83).
Andrew Wilson of Texas picked up the second spot at 27.18 ahead of Cody Miller of Badger Swim Club (27.24) and Connor Hoppe of Cal (27.28). Nic Fink (27.31), Michael Andrew (27.40), Matthew Anderson (27.78) and Ian Finnerty (27.83) also swam in the A-final.
Cordes has the chance to improve on his bronze medal from the 2015 Worlds. We will see tomorrow who the second swimmer could be based on the 100 breast. Right now Miller, Wilson, Andrew and Fink are showing promising signs of getting that second spot in the 100 if Cordes can pull off the hat trick.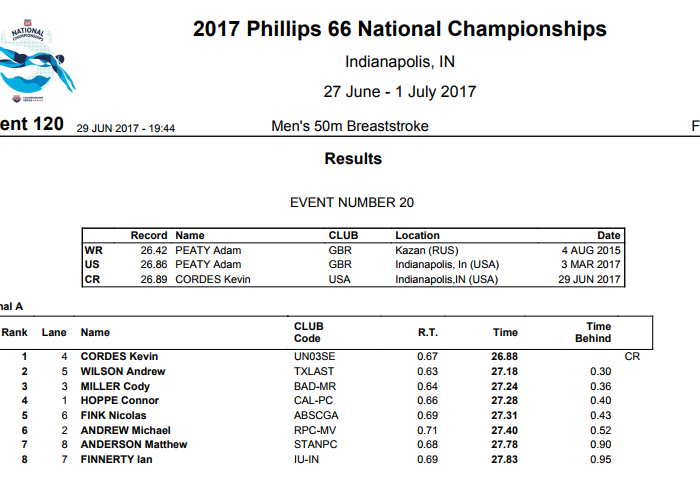 Women's 50 Back
Mizzou's Hannah Stevens won her first career national title in the 50 backstroke on Thursday night in Indianapolis. Stevens swam a 27.63 to break the meet record held by Rachel Bootsma at 27.68. Stevens is now seventh in the world in the 50 this year. She beat a talented field that included Olympian Kathleen Baker. Baker finished second there at 27.69 and Club Wolverine's Ali DeLoof finished third at 27.89.
Stevens makes her first national team trip with that win as she will represent the US in Budapest and she looks to be in good shape to get a spot in the 100 back tomorrow. Stevens also just missed the American Record held by Natalie Coughlin at 27.51 from 2015.
Courtney Caldwell (28.16), Amy Bilquist (28.25), Grace Ariola (28.43) and Katharine Berkoff (28.66) swam in the A-final. North Carolina's Caroline Baldwin was disqualified in the final.
Men's 50 Back
NC State swimmer Justin Ress shocked the whole field in winning the 50 back on Thursday in Indianapolis. The 19-year-old turned heads in the Natatorium as he beat the last two Olympic champions in the 100 back in Ryan Murphy and Matt Grevers. Ress beat them all with a 24.41 to have the number one time in the world for 2017. Ress moves ahead of China's Xu Jiayu (24.42) and Russia's Evgeny Rylov (24.52).
Ress beat out Murphy (24.64) and Grevers (24.67) to take home his first career national title. Ress will make his first major international trip with that win. John Shebat (24.88), Taylor Dale (24.93), Luke Kaliszak (24.97), Michael Andrew (25.01) and Daniel Carr (25.30) also swam in the A-final.