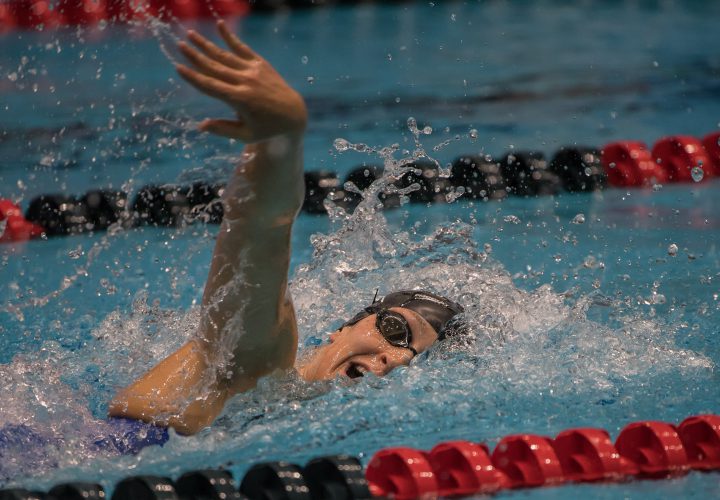 Photo Courtesy: Peter H. Bick
Two-time Olympic medalist Leah Smith kicked off the Charlotte UltraSwim with an impressive performance in the women's 800 free. Aside from the two Olympic distance races, the first two rounds of the 50-meter events were contested on night one.
Smith dominated the event and finished in 8:23.27, crushing her previous season-best time of 8:27.55 set earlier in Mesa in April. Smith's best time in the event is 8:20.18, set last year at Olympic Trials.
Joanna Melo finished second in 8:35.58, and Wolfpack's Hannah Moore finished third in 8:41.81.
Wolfpack's John McIntyre finished first in the men's 1500 free in 15:33.98, while Virginia's Sam Magnan touched second in 15:43.82. Tennessee's Walker Higgins finished third in 15:48.55.
The top performance in the semifinals of the 50-meter events came from Tennessee's Molly Hannis, who qualified first in the women's 50 breast in 30.67, moving her to sixth in the world this year. New York Athletic Club's Katie Meili (31.11) and Wolfpack's Kayla Brumbaum (32.58) qualified second and third, respectively.
North Carolina's Craig Emslie led the men's 50 breast semis in 28.53, followed by the SwimMAC duo of William Chan (28.92) and Niclas Eriksson (29.16).
Athens Bulldog's Veronica Burchill edged out teammate Olivia Smoliga for the top spot in the women's 50 free semis, 25.53 to 25.55, while SwimMAC's Madison Kennedy was third in 25.81. Missouri's Michael Chadwick held down the top seed in the 50 free in 22.52, but he figures to get a challenge in the final from the NC State duo of Ryan Held (23.03) and Justin Ress (23.04).
Wolfpack's Elise Haan finished atop the field in the women's 50 back semifinals, touching in 28.61. Smoliga was second in 28.87, and Tennessee's Kira Toussaint took third (29.08). The top three seeds in the men's event included Japan's Ryosuke Irie (25.51), Missouri State's Paul Le (25.65) and Ress (25.77).
Alyssa Marsh topped the 16 semifinalists in the women's 50 fly, finishing in 26.67. Burchill took second in 27.39, and Athens Bulldog's Chelsea Britt came in third at 27.54. SwimMAC's Tim Phillips topped semis of the men's event in 24.50, followed by Israeli swimmers Marcus Schlesinger (24.54) and Meiron Cheruti (24.83).
Full results available on Meet Mobile — 2017 Charlotte UltraSwim Meet