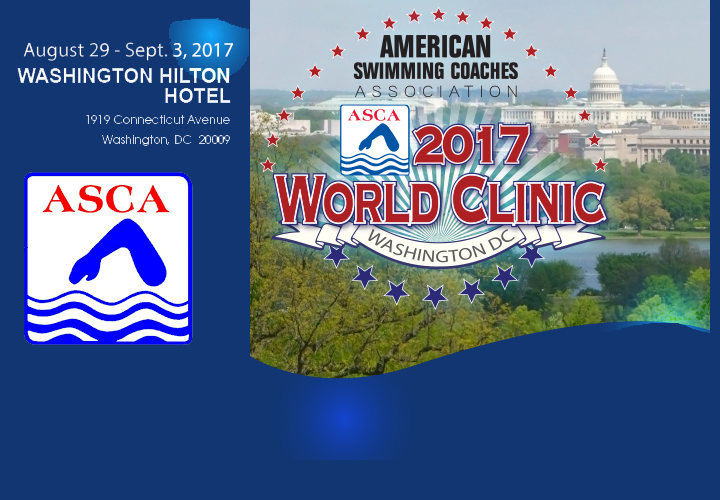 The ASCA World Clinic is now less than 6 weeks away and their next price increase goes into effect on July 29, so all registrations that come in by August 28 or prior will save at least $100.
ASCCA has one of the most comprehensive clinics assembled in years, with plenty of content for the elite coach, the high school and college coaches and the majority of age group coaches from those working with novices to fast age groupers.
There is also the World Swimming Association Constitutional Convention where the first steps are being taken to re-make Olympic Sport.
ASCA World Clinic Hotel
Washington Hilton
ROOMS STILL AVAILABLE
Washington, DC – 

August 30th, 2017
The American Swimming Coaches Association room block for the ASCA World Clinic 

August 28 through Sept. 3

 is filling up! This is a classic hotel in the heart of DC, close to all the attractions and a great rate available. You can book the hotel rooms on line here: https://aws.passkey.com/go/ascaworldclinic2017 The last date to register for a hotel room and be sure to get one is 

August 21, 2017

 The Hilton is also offering a special rate to us of just $99 a room for the night of 9/3 for those who want to stay over with their family and enjoy Washington over the holiday weekend. Tons to do for families with the history of our nation on display! And for Clinic Registration, here's the link.
https://swimmingcoach.org/2017-asca-world-clinic-registration/


July 28

 is the last day to book for registration and save money.John Leonard
————————————–
The 2017 ASCA World Clinic will be August 29-September 3 at the Washington Hilton in Washington, DC. Registration continues for the clinic
The ASCA World Clinic is in its 49th year in 2017. It is a World Clinic in terms of attendees (over 30 nations are represented) and scope, with educational programs ranging from Learn-to-Swim, to age group swimming, to training Olympians and Masters Swimmers.
Seminars on athlete training, research, program administration and operation, bio-mechanics and coaching philosophy are all a part of this remarkable annual event. Attendees can choose among lectures, workshops, classes, and poster presentations. There are over 300 hours of educational content to choose from.
The coaches who attend the World Clinic are the thought leaders in our profession. Up to 20% are international, more than 50% are Head Coaches, and the leading high school coaches and Division I NCAA coaches attend, as well as USA Swimming club coaches. Increased college presence will be felt, as the College Swimming Coaches Association of America greatly expands its programming and expected attendance. In total, between 1500 and 2000 coaches have attended each year during the past decade.
It's a large, diverse crowd with one thing in common: they are either the leaders in our sport, or they aspire to be in the future. They make a substantial commitment to their professional development by attending the ASCA World Clinic.
ASCA WORLD CLINIC SCHEDULE
Tuesday, August 29, 2017
ASCA Schools

8:00 am – 5:00 pm
Children With Challenges

*


USA Swimming Course
Sue Nelson & Tina Dessart,
USA Swimming
9:00 am – 5:00 pm
ASCA Level 5: Administration School

*

Coach Paris Jacobs,
Machine Aquatics
1:00 pm – 5:00 pm
ASCA Level 4: Leadership School

*

Coach George Block,
San Antonio Sports
1:00 pm – 5:00 pm
Effective Swim Meet Coaching For Age Group and High School Athletes

*

Coach John Leonard,
ASCA Executive Director
1:00 pm – 5:00 pm
Nutrition for Training and Competition

*

TBA

CSCAA (College) Track

1:00 pm – 1:45 pm
The Training of Leah Smith
Coach Augie Busch,
Virginia
2:00 pm – 2:45 pm
TBA
Coach Bill Roberts,
NAVY
3:00 pm – 3:45 pm
Training NCAA Champion Chris Swanson
Coach Mike Schnur,
Penn
4:00 pm – 4:45 pm
Finding and Polishing the Diamond in the Rough
Coach Trevor Miele,
NYU
*Separate Registration Required
Wednesday, August 30, 2017
ASCA Schools

8:00 am – 5:00 pm
ASCA Level 2: Stroke School

*

The Construction of Effective Swimming Strokes
Coach Pete Morgan,
Nations Capital Swim ClubCoach
Guy Edson, ASCA Technical Director
8:00 am – 5:00 pm
ASCA Level 3: Physiology School

*

Coach Chris Plumb,
Carmel Swim Club
8:00 am – 12 noon
Coaching for Character

*

Coach Don Heidary,
Orinda Aquatics
8:00 am – 12 noon
Dryland Training for High School Athletes

*

Coach Nick Folker,
Bridge Athletic
9:00 am – 4:00 pm
SwimAmerica Conference

*

Multiple Speakers

CSCAA (College) Track

9:00 am – 9:45 am
TBA
Coach Braden Holloway,
NCSU
10:00 am – 10:45 am
Training the 200 IM and 200's of Stroke
Coach Ned Skinner,
Virginia Tech University
11:00 am – 11:45 am
Panel Discussion: Training Between Confernece and NCAA's
Moderated by George Kennedy
12 Noon – 1:00 pm
Lunch Break

ASCA Schools

1:00 pm – 5:00 pm
Coaching the Individual Medley

*

Coach Dick Shoulberg, ASCA Hall of Fame
1:00 pm – 5:00 pm
Age Group Dryland Training

*

The Construction of Swimming Strokes
Coach Nick Folker,Bridge Athletic

CSCAA (College) Track

1:00 pm – 1:45 pm
TBA
TBA
2:00 pm – 2:45 pm
TBA
TBA
3:00 pm – 3:45 pm
TBA
TBA
1:00 pm – 5:00 pm
ASCA Board Meeting
7:00 pm – 8:15 pm
Keynote Address: Coach Chuck Warner Interviews Eddie Reese on the Past, Present and Future of Swimming
Coach Chuck Warner,
Coach Eddie Reese,
University of Texas
8:15 pm
Opening of Exhibit Hall
*Separate Registration Required
Thursday, August 31, 2017
Main Talks

8:30 am – 9:30 am
Building a Team Oriented Culture and Maintaining Long Term Success
Coach Jack Bauerle,
University of Georgia
10:00 am – 11:00 am
Breaststroke Technique
Coach Ray Looze,
Indiana University
11:30 am – 12:30 pm
Backstroke Technique


INVITED

Coach Dave Durden,
University of California
12:30 pm – 2:00 pm
Lunch Break

Special Seminar

2:00 pm – 6:00 pm
Special Seminar: An Afternoon with Coach TBA

*

Limited to First 40 Registrants!

Age Group Track

2:00 pm – 3:00 pm
Communicating with Age Groupers; Getting an Idea From Your Head Into Their Swimming
Coach Bill Aden,
Montclair Swim Team, California
3:15 pm – 5:15 pm
Shoulder and Core Stability
Followed by:
Sense or Nonsense and Swimmers Dryland
(Classroom)
Coach Matt Wren,
Core Swim
4:30 pm – 5:30 pm
Favorite Drills for Age Groupers
(In the Pool)
Coach Chris Natoli and
Coach Ian Rowe,
Nations Capital Swim Club

Senior Track

2:00 pm – 3:00 pm
Breaststroke Training
Coach Ray Looze,
Indiana University
3:15 pm – 4:15 pm
Planning a Re-Taper for the Olympics


INVITED

Coach Dave Durden,
University of California
4:30 pm – 5:30 pm
Training for the 400 IM
Coach Jack Bauerle,
University of Georgia

Business of Swimming Track

2:00 pm – 3:00 pm
A Model for Large Club Business Operations
Coach Jason Turcotte, Dynamo Swim Club
3:15 pm – 4:15 pm
Using SwimAmerica to Earn Money and Support your Program and Bring in Prepared Swimmers to Your Team
Coach John Leonard,
ASCA Executive Director
4:30 pm – 5:30 pm
Using StrongAmerica to Earn Money and Support your Team and Make Full-Time Positions from Part-Time
Coach Michael Scharf,
Bridge AthleticGeorge Block,
San Antonio Sports

Evening

6:30 pm – 7:00 pm
2017 ASCA Awards Banquet Reception
7:00 pm – 9:30 pm
2017 ASCA Awards Banquet and Hall of Fame Coaches Induction Ceremony

(Ticket required)
*Separate Registration Required
Friday, September 1, 2017
Main Talks

8:30 am – 9:30 am
Sprint Training
Banden Holloway &
Dave Durden


INVITED

Interviewed by: Coach Chuck Warner,
Arete Swim Club
9:30 am – 10:30 am
ASCA Business Meeting and Board Election
11:00 am – 12 noon
The Counsilman Memorial Lecture
Larsen Jensen, USA Olympian and Navy Seal

ASCA School and Special Seminar

8:00 am – 4:00 pm
ASCA International Masters School

*

Coach Scott Bay, 2016 USMS Coach of the Year and Friends
1:00 pm – 5:00 pm
Special Seminar: An Afternoon with Coach Bob Bowman

*

Limited to FIRST 40 Registrants!

Age Group Track

1:30 pm – 2:30 pm
DISC to Improve Your Communication Skills with Athletes
Coach David Wendkos
2:45 pm – 3:45 pm
Favorite Sets for Age Groupers
Coach Chris Natoli,
NCAP
Ian Rowe,
Nations Capital Swim Club
4:00 pm – 5:00 pm
TBA
Coach Bill Aden,
Montclair Swim Team, (CA)

High School Track

1:30 pm – 2:30 pm
Conflicts and Resolutions in Contemporary HS Coaching
Coach Sid Cassidy, St. Andrews HS
2:45 pm – 3:45 pm
Top 10 Suggestions for New High School Coaches
Coach Jen Gosline,
George Jenkins High School
4:00 pm – 5:00 pm
Dryland Routines for Swimming
Coach Mac Guy,
New Trier HS, (IL)

Business of Swimming Track

1:30 pm – 2:30 pm
The Life of a Professional Swimming Coach
Coach Mark Schubert,
Mission Viejo Nadadores
2:45 pm – 3:45 pm
Coordination and Communication for Your Large Team – Issues and Answers
Coach Tom Ugast,
Nations Capital Swim Club
4:00 pm – 5:00 pm
TBA
Coach TBA

Dinner Break

World Swimming Association Meeting

3:00 pm – 8:00 pm

WSA Constitutional Convention
*Separate Registration Required
Saturday, September 2, 2017
ASCA Schools

8:00 am – 5:00 pm
USA Swimming Build-a-Pool Conference*


(Continued on Sunday)

Rio Gold Medal Talks

8:30 am – 9:30 am
Rio Gold Medal Talk:
Olympic Preperation
Coach Fred Vergnoux
Spanish National Head Coach – Coach of Mirela Belmonte
10:00 am – 11:00 am
Rio Gold Medal Talk:


INVITED

Coach Bob Bowman
USA Coach of Michael Phelps
11:30 am – 12:30 pm
Rio Gold Medal Talk:
TBA
Coach TBA
12:30 pm – 2:00 pm

Lunch Break

2:00 pm – 3:00 pm
Rio Gold Medal Talk:
TBA
Coach TBA
3:15 pm – 4:15 pm
Rio Gold Medal Talk:
TBA
Coach TBA

Age Group Track

8:30 am – 9:30 am
Using a "12 Yard Pool" to teach Skills And Advantages of Doing So. The Mylin Sheath in Action!
Coach John Leonard,
ASCA Executive Director
10:00 am – 11:00 am
Tools and Toys and Teaching Long Axis Strokes
Coach Steve Haufler,
Orinda Aquatics
11:30 am – 12:30 pm
Components of Practices for New Swimmers
Coach Jackie Norgren,
ASCA Executive Assistant
12:30 pm – 2:00 pm

Lunch Break

2:00 pm – 2:45 pm
Coaching 11 & 12's…Technique, Training, and Fun
Coach Steve Haufler,
Orinda Aquatics
3:00 pm – 3:45 pm
Starts and Turns for New Swimmers
Coach Guy Edson,
ASCA Technical Director
4:00 pm – 4:45 pm
Tools and Toys and Teaching Short Axis Strokes
Coach Steve Haufler,
Orinda Aquatics

High School Track

8:30 am – 9:30 am
TBA
Coach Kevin Kinel,
Chesterton High School (IN)
10:00 am – 11:00 am
How to Deal With Difficult Parents/Administrators
Coach Mike Stott,
Collegiate School of Virginia
11:30 am – 12:30 pm
Integration of ParaOlympic Swimmers into Your Program
Coach Coach Peggy Ewald
12:30 pm – 2:00 pm

Lunch Break

2:00 pm – 2:45 pm
Opposing Coaches: Friend or Foe? Making Nice to Unpleasant People
Coach Mike Stott,
3:00 pm – 3:45 pm
TBA
Coach Kevin Kinel,
Chesterton High School (IN)
4:00 pm – 4:45 pm
TBA
Coach TBA
*Separate Registration Required
Sunday, September 3, 2017
ASCA Schools

8:00 am – 12:00 am
Working Successfully with Swimming Parents*

Coach John Leonard,
ASCA Executive Director
8:00 am – 12:00 pm
A Primer for High School Coaches*

Coach TBA
8:00 am – 12:00 pm
Successful Summer League Coaching

*

Coach Don Heidary,
Orinda Aquatics
8:00 am – 12:00 pm
Certified Stroke Technician

*

Coach Guy Edson,
ASCA Techincal Director
8:00 am – 1:00 pm
SwimAmerica Program Director and Site Supervisor Training

*

Julie Nitti
SwimAmerica
8:00 am – 5:00 pm
USA Swimming Build-a-Pool Conference

*


(Continued from Saturday)
*Separate Registration Required
Current registration rates are:
Current ASCA member = $300
Non-current ASCA member (US) = $380
Non-current ASCA member (International) = $420