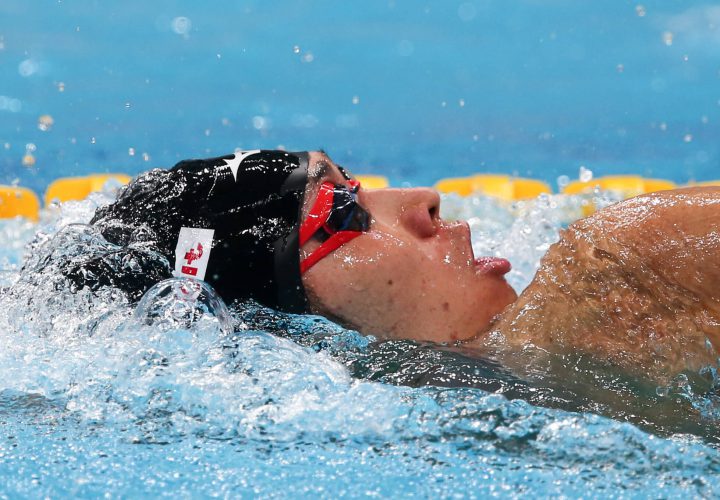 The third day of the 2018 Japan Open featured many prominent Olympians, such as Rikako Ikee and Kosuke Hagino, collecting victories.
Day Three Finals
Women's 50 Back
Men's 50 Back
Women's 100 Free
Men's 400 Free
Women's 200 IM
Men's 200 IM
Women's 200 Fly
Men's 200 Fly
Women's 800 Free
Kosuke Hagino collected his first victory of the Japan Open, turning in a top time of 1:57.31 in the men's 200 IM, followed closely by countryman Hiromasa Fujimori in 1:57.91. Both men, along Daiya Seto, will represent Japan at the 2018 Pan Pacific Championships, with today's time marking a season best for Fujimori.
Ikee added another title to her name with a top showing in the women's 100 free. The 17-year-old sprint star clocked a final time of 53.26, just shy of her national record of 53.03.
Yui Ohashi completed a sweep of the IM events by adding a victory in the 200 IM to her name. Ohashi stopped the clock at a time of 2:09.17, just off her season best time of 2:08.92, which sits at second in the world rankings for 2018 behind Korea's Kim Seoyoung's 2:08.61.
The men's and women's 200 fly races belonged to Yuya Yajima and Sachi Mochida, respectively. Yajima delivered a personal best of 1:54.72, improving upon his 1:55.05 from April. Mochida also improved upon her 2018 best, dipping below April's 2:08.61 with a 2:08.33. Her time moves her up the world rankings to be tied for tenth with Italy's Ilaria Bianchi. 
Emi Moronuki won the women's 50 back with a time of 28.18, while Korea's Won Youngjun claimed the men's title with a time of 25.25.
Naito Ehara posted a winning time of 3:48.32 in finals of the men's 400 free, just off his season best time of 3:46.64. That time ranks him eighth in the world for 2018.
The women's 800 free title went to Yukimi Moriyama with a final time of 8:33.03, which ranks 23rd in the world rankings for this year.