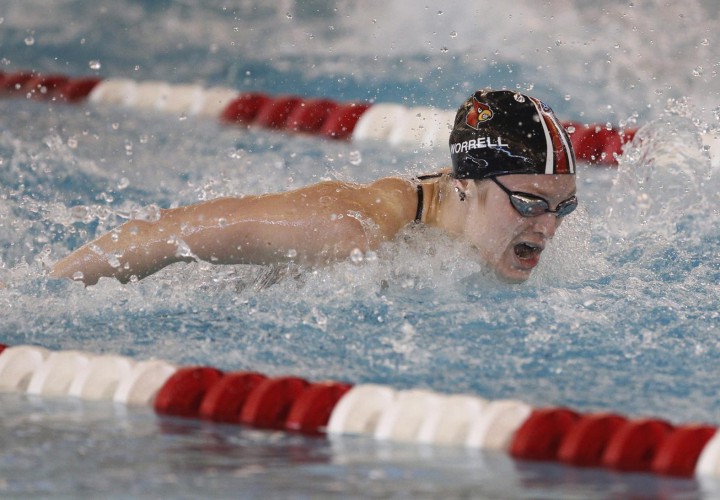 Photo Courtesy: Louisville Athletics
NCAA DI editorial coverage is proudly sponsored by Adidas. Visit All-American Swim for more information on our sponsor. For all the latest coverage, check out our event coverage page.

Louisville's Kelsi Worrell demolished her NCAA, U.S. Open and American record in the women's 100-yard fly at the 2016 NCAA Division I Women's Championships.
Worrell, who went out in 23.09, came home in 26.34 to win in 49.43.  That performance obliterated her previous record of 49.81 to win NCAAs last year.  To think, it was amazing just a year ago when Worrell became the first person to crack Natalie Coughlin's record of 50.01.  Within a year, Worrell is on the other side of being halfway to breaking 49 seconds.
Worrell is the only swimmer ever to break 50 seconds, and that's the fourth time she's done it.  Her splits for her now-former record for comparison's sake: 23.58, 49.81 (26.23).
Her victory was nearly record breaking in terms of how dominant it was.  She won by 1.18 seconds, nearly beating the record of 1.35 seconds set by Stanford's Misty Hyman in 1998 when she beat North Carolina's Richelle Fox (51.34 to 52.69).
Worrell also joined another short list of names as a multiple winner in the 100 fly:
4 – Natalie Coughlin, California
2 – Crissy Ahmann-Leighton, Arizona
2 – Mary DeScenza, Georgia
2 – Misty Hyman, Stanford
2 – Jenna Johnson, Stanford
2 – Mary T. Meagher, California
2 – Amanda Sims, California
2 – Jenny Thompson, Stanford
Texas A&M's Sarah Gibson took second overall in 50.61, moving up to seventh in the all time rankings, while California's Farida Osman placed third in 50.76.  Osman missed her sixth-ranked lifetime best of 50.53 from Pac 12s.
Stanford's Janet Hu (51.03), North Carolina's Hellen Moffitt (51.16), California's Noemie Thomas (51.39), California's Rachel Bootsma (51.40) and Georgia's Kylie Stewart (51.68) closed out the rest of the top eight.
Notably, Arizona's Annie Ochitwa threw down a 51.02 to win the B final.
                           === A - Final ===                            
 
  1 Worrell, Kelsi   SR Louisville          49.88      49.43N        20  
    r:+0.63  23.09        49.43 (26.34)
  2 Gibson, Sarah    JR Tex AM              50.84      50.61         17  
    r:+0.67  23.89        50.61 (26.72)
  3 Osman, Farida    JR California          51.30      50.76         16  
    r:+0.69  23.83        50.76 (26.93)
  4 Hu, Janet        SO Stanford            51.13      51.03         15  
    r:+0.67  24.09        51.03 (26.94)
  5 Moffitt, Hellen  JR UNC                 51.44      51.16         14  
    r:+0.75  23.94        51.16 (27.22)
  6 Thomas, Noemie   SO California          50.79      51.39         13  
    r:+0.61  23.44        51.39 (27.95)
  7 Bootsma, Rachel  SR California          51.56      51.40         12  
    r:+0.65  24.24        51.40 (27.16)
  8 Stewart, Kylie   SO Georgia             51.58      51.68         11  
    r:+0.73  24.54        51.68 (27.14)
 
                            === B - Final ===                            
 
  9 Ochitwa, Annie   FR Arizona             52.20      51.02          9  
    r:+0.74  23.54        51.02 (27.48)
 10 Stewart, Kendyl  SR USC                 51.96      51.23          7  
    r:+0.82  23.81        51.23 (27.42)
 11 Erasmus, Marne   JR SMU                 51.98      51.47          6  
    r:+0.72  24.38        51.47 (27.09)
 12 Engel, Lindsey   SO Stanford            52.05      51.84          5  
    r:+0.66  24.07        51.84 (27.77)
 13 Gastaldello, Be  SO Tex AM              52.10      52.01          4  
    r:+0.66  24.32        52.01 (27.69)
 14 Dalesandro, Gia  JR Indiana             52.04      52.12          3  
    r:+0.64  24.28        52.12 (27.84)
 15 Banic, Maddy     FR Tennessee           51.90      52.62          2  
    r:+0.73  24.55        52.62 (28.07)
 16 Labonge, Natali  JR NC State            52.39      52.81          1  
    r:+0.71  24.51        52.81 (28.30)
                Women - Team Rankings - Through Event 9                 
 
  1. Georgia                           204   2. California                      191.5
  3. Texas A&M                       172.5   4. Stanford                          150
  5. Southern Cali                   128.5   6. Virginia                          118
  7. Louisville                        114   8. Arizona                            80
  9. Indiana                            69  10. NC State                           68
 11. Tennessee                          62  12. Ohio St                            59
 13. Michigan                           54  14. Texas                              48
 15. Missouri                           40  16. UCLA                               37
 17. UNC                                36  18. Nevada                             29
 19. Wisconsin                          25  20. Florida                          19.5
 21. South Carolina                     17  22. Miami University (Ohio)            16
 23. Minnesota                          15  24. Alabama                            13
 25. Kansas                             11  26. Denver                             10
 26. Kentucky                           10  28. Purdue                              8
 29. University of Nebraska-Lincoln      7  30. Virginia Tech                       6
 30. Smu                                 6  30. Penn St                             6
 33. Air Force (W)                       4  33. University of Hawaii (W)            4