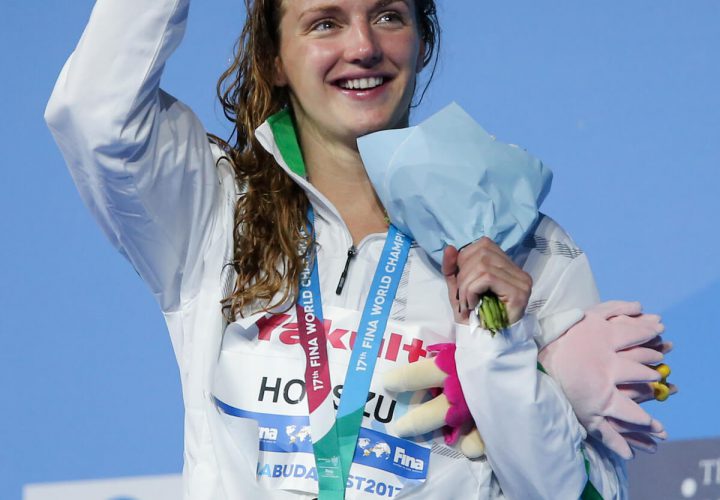 Editorial content for the 2017 FINA World Cup is sponsored by TritonWear. Visit TritonWear.com for more information on our sponsor. For full Swimming World coverage, check event coverage page.
The final session of the FINA Hong Kong World Cup featured some of the best swimmers in the world as Katinka Hosszu, Sarah Sjostrom and Chad Le Clos were among the winners on Sunday night in Hong Kong. The host country also almost came away with gold medals from Kenneth To and the mixed free relay, but they had to settle for silver.
Tonight's events:
Women's 100 Free
Men's 200 Free
Women's 50 Breast
Men's 100 Breast
Men's 100 Fly
Women's 100 Back
Men's 50 Back
Women's 200 Fly
Men's 200 IM
Women's 400 Free
Men's 50 Free
Women's 200 Breast
Women's 100 IM
Men's 200 Back
Women's 50 Fly
Men's 1500 Free
Women's 400 IM
Mixed 4×50 Free Relay
Women's 100 Free
Sarah Sjostrom continued her winning ways as she won the 100 free final ahead of Ranomi Kromowidjojo 51.99 to 52.53. Femke Heemskerk finished third with a 53.02. Sjostrom and Kromowidjojo were the only swimmers in the heat under 27 seconds on the second 50.
Men's 200 Free
Chad Le Clos used fresh legs in the final of the 200 free as he did not swim this morning. Le Clos won with a 1:42.88 as he swam away from Tom Shields over the final 50. Shields finished in second at 1:43.58 ahead of Russia's Daniil Pasynkov in third at 1:45.85. This is the third time Le Clos and Shields have gone head to head in Hong Kong as Le Clos now leads the series 2-1.
Women's 50 Breast
Alia Atkinson also used fresh legs to her advantage as she won the 50 breast after not swimming this morning. The world record holder swam the only sub-30 second race with a 29.26 for gold. Denmark's Rikke Pedersen finished in second at 30.50. Hong Kong picked up its sixth medal of the meet with Rainbow Ip with the bronze here at 32.05.
Men's 100 Breast
Cameron van der Burgh didn't have the fastest prelim time but he came away with the win on Sunday night in Hong Kong with a 56.43 to win yet another race in his legendary World Cup career. Van der Burgh beat the World Championship bronze medalist Kirill Prigoda of Russia who placed second at 56.78. Belarus' Ilya Shymanovich finished in third at 56.92.
Men's 100 Fly
Chad Le Clos picked up his third win over Tom Shields on the weekend as Le Clos won the 100 fly with a 50.28 to Shields' 50.82. Japan's Yuya Yajima picked up his second bronze of the meet with a 51.57. Le Clos now leads Shields 3-1 in wins over the weekend at the Hong Kong World Cup.
Women's 100 Back
Katinka Hosszu and Emily Seebohm went toe to toe in the 100 back final as the latter out-muscled Seebohm with a 56.20 to her 56.71. Those two were the class of the field as they were two full seconds ahead of third place finisher Chen Jie of China at 58.69.
Men's 50 Back
Pavel Sankovich of Belarus had his first win of the weekend in Hong Kong with a 23.03 for the gold medal in the 50 back on Sunday night. Sankovich swam away from Russian sprint specialist Vladimir Morozov who finished in second at 23.71. Brazil's Nelson Silva picked up his first medal of the weekend with a 23.76. Top seed Christian Diener of Germany finished out of the medals in fourth.
Women's 200 Fly
China's Zhang Yufei used consistent splits throughout her race to win the 200 fly on Sunday night at the Hong Kong World Cup. Zhang had a good last 50 as she won the final with a 2:08.64. Australia's Christina Licciardi finished in second with a 2:09.51 while early leader Chan Kin Lok of Hong Kong faded to third after leading through 150 meters. She was bronze medalist at 2:10.02.
Men's 200 IM
Russia's Kirill Prigoda had a huge back half in the 200 IM final to steal the gold medal from Hong Kong's Kenneth To with a 1:54.81. To was second at 1:54.83 after leading Prigoda by three full seconds at the halfway point. Hong Kong had yet to win a gold medal at this World Cup stop, but To came up just short. Hungary's David Foldhazi got his second medal of the meet with a bronze here at 1:57.16.
Women's 400 Free
In a minor upset, sprinter Femke Heemskerk beat World Championship bronze medalist Li Bingjie for the win in the 400 free. Heemskerk had a sizeable win over the Chinese swimmer with a 4:04.30. Heemskerk is normally seen in the 100 and 200 free events but she decided to test her hand in the longer distance. Li was second here at 4:09.13 and the bronze went to Hong Kong's Ho Nam Wai (4:12.70).
Men's 50 Free
Vladimir Morozov showed his sprint prowess in the 50 free as he had the only sub-21 swim in the final with a 20.91 for gold. Versatile Chad Le Clos won the silver with a 21.48 ahead of Germany's Damien Wierling at 21.58.
Women's 200 Breast
Canada's Kierra Smith led a wire to wire win over Denmark's Rikke Pedersen with a 2:18.48. Smith outlasted Pedersen for the gold as the former settled for silver at 2:19.19. Jamaica's Alia Atkinson finished in third at 2:26.70.
Women's 100 IM
In one of the most hyped races of the night, Katinka Hosszu ran away from Sarah Sjostrom with the 100 IM win. Hosszu narrowly missed her world record with a 56.97 ahead of Sjostrom's 58.62. Hosszu and Sjostrom have been the stars of the World Cup series so far and are two of the best female swimmers of all-time. Australia's Emily Seebohm was third at 58.77.
Men's 200 Back
Christian Diener missed out on the medals in the 50 back earlier, but he redeemed himself with a 200 back win at 1:51.25. The German held off a strong finish from Radoslaw Kawecki who finished second at 1:51.57. American Tom Shields grabbed the bronze in an unconventional event at 1:52.51.
Women's 50 Fly
Sarah Sjostrom narrowly missed the world record in the 50 fly as she swam a 24.62 to just miss Therese Alshammar's 24.38 world record from November 2009. Sjostrom had a marginal win over the Dutch duo of Ranomi Kromowidjojo (25.46) and Maaike de Waard (25.79), as Sjostrom rebounded from one of her only losses in the World Cups in the 100 IM earlier.
Men's 1500 Free
In an upset, China's Qiu Ziao beat the 800m World Champion in Gabriele Detti in the 1500 final in Hong Kong. Qiu swam a 14:44.09 to outlast Detti for gold. Detti got the silver at 14:46.44 and Poland's Wojciech Wojdak finished in third at 15:00.33.
Women's 400 IM
Katinka Hosszu finished her meet in Hong Kong with a win in the 400 IM at 4:33.55. She won handily ahead of the South African duo of Jessica Whelan (4:50.24) and Kristen Straszacker (4:50.49). Hosszu was well off the world record held by Mireia Belmonte of 4:18.94.
Mixed 4×50 Free Relay
The Netherlands finished off a successful World Cup meet with a win in the mixed free relay at 1:32.11. Thom de Boer (22.04), Kyle Stolk (21.69), Femke Heemskerk (24.21) and Ranomi Kromowidjojo (24.17) held off Hong Kong who placed second at 1:32.79. China finished in third at 1:33.41.