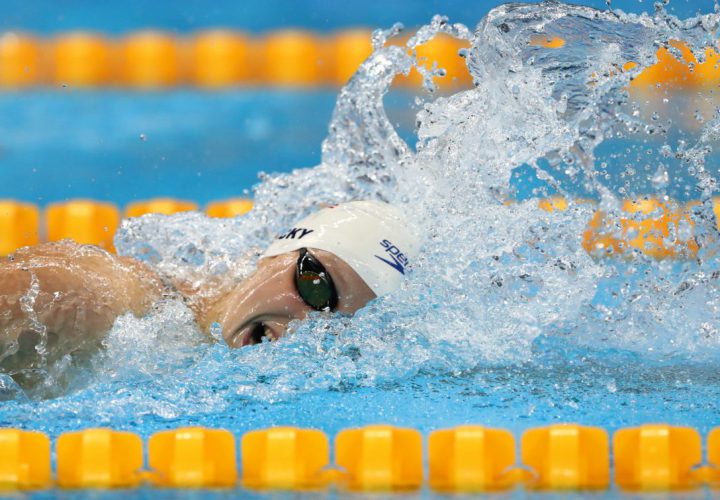 Photo Courtesy: Rob Schumacher-USA TODAY Sports
Katie Ledecky has been named one of Time's 30 most influential teens of 2016. This year marks Ledecky's second straight appearance on the list, and it's a well-deserved honor, to say the least.
Ledecky won four gold medals and one silver at the Olympic Games in Rio, setting world records in the 400 free and 800 free along the way.
"When Ledecky swims, few question whether she will win her race. Instead, they wonder whether she will set another world record, obliterating the previous one, which she herself set just a few months before," Time's Alice Park wrote.
The short feature then explains what Ledecky wants to get out of her time at Stanford.
"I want to swim in the NCAA, I want to be with my teammates, I want to go to class with them and compete collegiately. I think that's going to benefit me as a person, so I'm well rounded in both school and swimming, and in everything else I'm doing," Ledecky said.
This year is guaranteed to be the last year on the teens' list for Ledecky, as she will turn 20 on March 17, 2017.
Also on the list isYusra Mardini, an 18-year-old who swam on the first ever Refugee Olympic Team in Rio.
"The Syrian-born member of the first-ever Refugee Olympic Team made history at the Rio Games this summer — not because of her blistering times, but because she was the only competitor in the pool who had literally swum for her life," Time's Eliza Berman wrote.
Two other Olympians, gymnasts Simone Biles and Laurie Hernandez, made Time's list, as did other notable figures from outside sports like Malia and Sasha Obama.
To view the full list, click here.