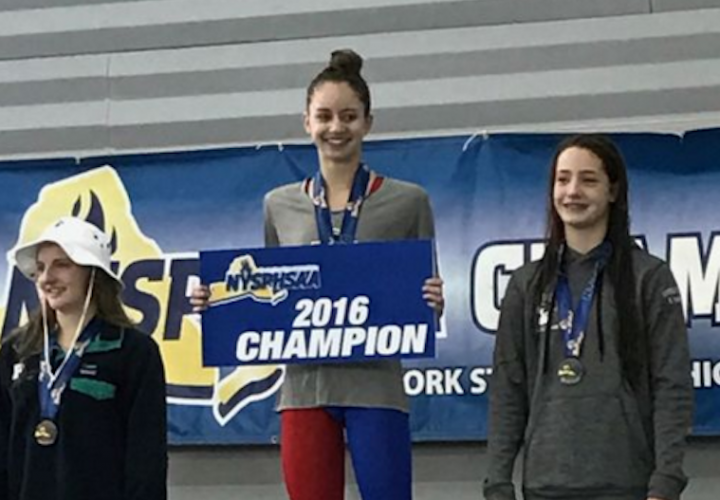 Photo Courtesy: @lohudsports Twitter
Agon is the proud sponsor of all high school coverage (recruiting, results, state championships, etc.) on SwimmingWorld.com. For more information about Agon, visit their website AgonSwim.com.
By Katie Wingert, Swimming World College Intern. 
Kate Douglass and Kristen Romano led New York's elite female high school swimmers in the weekend's record count, which totaled an astonishing seven out of twelve state records broken at the girls' high school state championship meet.
The young Douglass, a sophomore from Pelham, was co-recipient of the meet's Outstanding Swimmer Award. She dominated both the 50 freestyle and 100 freestyle. In prelims for the 50, the sophomore swam a state record time of 22.21—a time she nearly equaled at finals in 22.31. The next nine finishers were all within a second of one another, but Penfield's Serafina Viola managed to get her hand to the wall for second in 23.47, and Pittsford's Becca Evans nabbed the bronze in 23.64.
In the 100 free, Douglass posted a 48.54 in the finals, breaking her own state record from prelims. Olivia Jack, a junior from Burnt Hills-Scotia, commanded second at 50.75, while Viola just touched out Evans for third at 51.22.
Romano, a senior from Long Beach, was also co-recipient of the Outstanding Swimmer Award, contributing two first-place and state record-breaking swims in the 100 butterfly and 100 backstroke. In the 100 fly, Romano cruised to a 53.13, shattering Richelle Depold's 16-year-old state record of 54.35. Olivia Sapio, a senior at Orchard Park, earned the silver at 55.00, and Pittsford's Megan Deuel touched after Sapio in 55.59.
Romano's 53.36 in the 100 backstroke served to erase the previous state record of 53.98 and brought home another gold medal for Long Beach. Williamsville North's senior, Alyssa Helak, earned the silver in 56.06, and Elizabeth Walsh, a junior at Bellmore-Merrick, came in just behind her at 56.27.
Romano made up one half of a dynamic duo of seniors from Long Beach. Margaret Aroesty chased down state titles in both the 100 breaststroke and 200 I.M. In the breaststroke, Aroesty broke the 1:00 barrier and her own 2015 state record with the time of 59.85. She was followed by Jack, at 1:01.39, and Ursuline's Josephine Panit, at 1:03.02. In the I.M., Aroesty broke two minutes with a 1:59.51, with Sapio (2:02.29) and Panit (2:03.56) trailing her for second and third, respectively.
Lindsay Stone led the charge for Pittsford-Sutherland High School in collecting its third consecutive state title. Stone blew the field out of the water in both the 200 and 500 freestyle events. Her 200 freestyle time—1:47.39—broke the state record and more fully established her reputation as New York's mistress of middle-distance. Chloe Stepanek, a freshman from Northport, snagged the silver in 1:50.85, just .12 seconds ahead of Helak, who posted 1:50.97.
In the 500 freestyle, Stone clocked in at 4:47.10, just shy of her own state record from sectionals and seven seconds ahead of Pelham's Madison Hartiga at 4:54.69. Sophomore Lauryn Johnson from Sacred Heart just held on for third in 4:56.87.
The relays proved to be pivotal for both Pittsville's team victory and Long Beach's second place finish. Pittsford laid claim to the 200 freestyle relay in 1:34.34, which incorporated Stone's talents, as well as those of Evans, Emma Corby and Deuel. Pelham finished in second, at 1:34.73, with a notable 21.83 split for Douglass, and Orchard Park grabbed third at 1:37.30. Long Beach championed the 200 medley relay, combining the talents of Romano, Aroesty, Caroline Farrell and Joan Cash to break their own state record in 1:43.21. Their relay was followed by Orchard Park in 1:45.93 and Fox Lane in 1:46.48.
In the dramatic finale of the meet, Long Beach and Pittsford battled to the finish in the 400 freestyle relay. Long Beach combined the same talented team from the medley for the 200 freestyle relay and came out on top in 3:25.92 thanks to sub-fifty second splits from Romano and Aroesty. Pittsford finished second in 3:26.49, touching out Pelham (and anchor Douglass, who popped a 48.17) by just one one-hundredth of a second.
Full meet results can be found here.