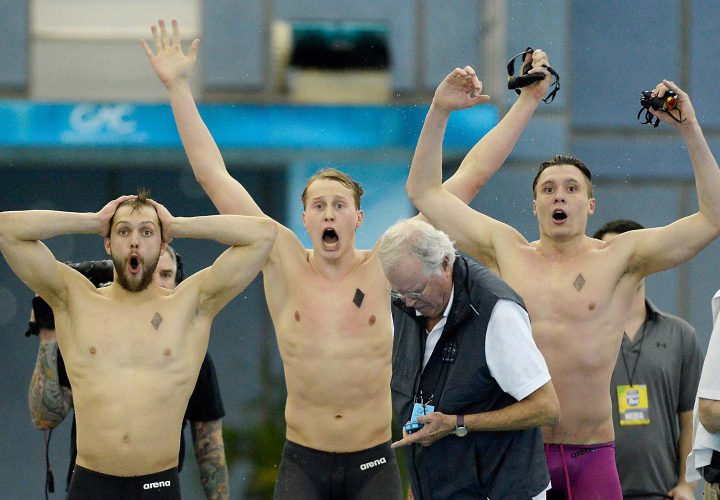 Photo Courtesy: Sarah D. Davis/theACC.com
Editorial content for the 2018 NCAA DI Championship coverage is sponsored by TritonWear. Visit TritonWear.com for more information on our sponsor. For full Swimming World coverage, check event coverage page.
Indiana's Blake Pieroni became the first man to break 1:30 in the 200 free leading off the 4×200 free relay at the NCAA championships, putting up a time of 1:29.63. The Hoosiers held the lead until the anchor, but NC State's Justin Ress put his team in front and gave them the first title of the meet.
The team of Andreas Vazaios (1:31.32), Ryan Held (1:31.09), Jacob Molacek (1:32.13) and Ress (1:30.77) finished in 6:05.31, crushing the previous NCAA and U.S. Open record of 6:06.53 set last year.
Indiana's quartet of Pieroni, Mohamed Samy, Vini Lanza and Ian Finnerty took second in 6:06.01, also under last year's record.
Third went to the Texas team of Townley Haas, Jeff Newkirk, Jonathan Roberts and Austin Katz in 6:07.59. Haas led off in 1:30.41, under his previous American and NCAA record of 1:30.41, but he was beaten handily by Pieroni. Texas' time was a new American record, breaking the mark of 6:08.61 another Longhorn foursome (that included Haas and Newkirk) set last year.
Florida, which as expected swam without superstar Caeleb Dressel, took fifth in 6:09.52. Georgia took fifth out of the first heat of the event, posting a time of 6:12.75.
Cal, led off by Andrew Seliskar in 1:31.28, finished sixth in 6:13.38, followed by Louisville (6:13.49) and Stanford (6:14.75).
Notably, Harvard finished 11th in 6:16.68, but sophomore Dean Farris sparkled with a 1:30.55 split on the second leg. Auburn finished 17th in 6:17.86, and Zach Apple led the way with a 1:30.74 on the anchor leg.
Event 1  Men 800 Yard Freestyle Relay
==================================================================================
         NCAA: N 6:06.53  3/22/2017 NC State
                          R Held, A Vazaros, J Ress, S Dahl
     American: A 6:08.61  3/22/2017 Texas
                          J Conger, J Newkirk, C Smith, T Haas
   U. S. Open: O 6:06.53  3/22/2017 NC State
                          R Held, A Vazaros, J Ress, S Dahl
 Championship: C 6:06.53  3/22/2017 NC State
                          R Held, A Vazaios, J Ress, S Dahl
         Pool: P 6:14.14  3/16/2007 Arizona
                          N Nilo, J Basson, D Townsend, A Ritter
    School                           Seed     Finals NISCA Points
==================================================================================
  1 NC State                      6:12.92    6:05.31N        40  
     1) Andreas Vazaios JR            2) r:0.12 Ryan Held SR          
     3) r:0.27 Jacob Molacek JR       4) Justin Ress JR               
    r:+0.05  21.46        44.38 (44.38)
      1:07.55 (1:07.55)   1:31.32 (1:31.32)
        1:51.77 (20.45)     2:15.14 (43.82)
      2:38.71 (1:07.39)   3:02.41 (1:31.09)
        3:22.70 (20.29)     3:46.19 (43.78)
      4:10.34 (1:07.93)   4:34.54 (1:32.13)
        4:54.83 (20.29)     5:17.86 (43.32)
      5:41.23 (1:06.69)   6:05.31 (1:30.77)
  2 Indiana                       6:11.50    6:06.01N        34  
     1) Blake Pieroni SR              2) r:0.22 Mohamed Samy SO       
     3) r:0.31 Vini Lanza JR          4) Ian Finnerty JR              
    r:+0.35  20.89        43.53 (43.53)
      1:06.45 (1:06.45)   1:29.63 (1:29.63)
        1:50.61 (20.98)     2:13.83 (44.20)
      2:37.51 (1:07.88)   3:01.57 (1:31.94)
        3:22.61 (21.04)     3:46.30 (44.73)
      4:10.25 (1:08.68)   4:33.80 (1:32.23)
        4:54.90 (21.10)     5:18.03 (44.23)
      5:41.92 (1:08.12)   6:06.01 (1:32.21)
  3 Texas                         6:14.25    6:07.59A        32  
     1) Townley Haas JR               2) r:0.27 Jeff Newkirk JR       
     3) r:0.23 Jonathan Roberts SR    4) Austin Katz FR               
    r:+0.32  20.87        43.74 (43.74)
      1:07.06 (1:07.06)   1:30.41 (1:30.41)
        1:51.47 (21.06)     2:14.41 (44.00)
      2:38.33 (1:07.92)   3:02.99 (1:32.58)
        3:24.07 (21.08)     3:47.47 (44.48)
      4:11.33 (1:08.34)   4:35.35 (1:32.36)
        4:56.32 (20.97)     5:19.46 (44.11)
      5:43.48 (1:08.13)   6:07.59 (1:32.24)
  4 Florida                       6:12.06    6:09.52P        30  
     1) Jan Switkowski SR             2) r:0.22 Khader Baqlah SO      
     3) r:0.36 Maxime Rooney SO       4) Mark Szaranek SR             
    r:+0.26  21.28        44.18 (44.18)
      1:07.61 (1:07.61)   1:31.98 (1:31.98)
        1:52.55 (20.57)     2:15.73 (43.75)
      2:39.41 (1:07.43)   3:03.62 (1:31.64)
        3:24.32 (20.70)     3:47.68 (44.06)
      4:11.80 (1:08.18)   4:36.88 (1:33.26)
        4:57.56 (20.68)     5:20.53 (43.65)
      5:44.59 (1:07.71)   6:09.52 (1:32.64)
  5 Georgia                       6:21.01    6:12.75P        28  
     1) Jay Litherland SR             2) r:0.34 Javier Acevedo SO     
     3) r:0.42 Gunnar Bentz SR        4) Walker Higgins SO            
    r:+0.15  21.76        45.32 (45.32)
      1:09.15 (1:09.15)   1:33.89 (1:33.89)
        1:54.87 (20.98)     2:18.32 (44.43)
      2:42.75 (1:08.86)   3:07.11 (1:33.22)
        3:23.89 (16.78)     3:51.41 (44.30)
      4:15.46 (1:08.35)   4:39.44 (1:32.33)
        5:00.91 (21.47)     5:24.41 (44.97)
      5:48.50 (1:09.06)   6:12.75 (1:33.31)
  6 California                    6:13.30    6:13.38P        26  
     1) Andrew Seliskar JR            2) r:0.22 Zheng Quah SO         
     3) r:0.45 Matthew Josa SR        4) Michael Jensen SO            
    r:+0.09  21.15        44.28 (44.28)
      1:07.56 (1:07.56)   1:31.28 (1:31.28)
        1:52.26 (20.98)     2:16.15 (44.87)
      2:40.17 (1:08.89)   3:05.14 (1:33.86)
        3:26.12 (20.98)     3:49.89 (44.75)
      4:14.13 (1:08.99)   4:38.94 (1:33.80)
        4:59.93 (20.99)     5:23.32 (44.38)
      5:47.95 (1:09.01)   6:13.38 (1:34.44)
  7 Louisville                    6:16.88    6:13.49P        24  
     1) Nicolas Albiero FR            2) r:0.18 Zach Harting JR       
     3) r:0.13 Andrej Barna SO        4) Sam Steele SO                
    r:+0.30  21.74        45.60 (45.60)
      1:09.30 (1:09.30)   1:33.11 (1:33.11)
        1:54.05 (20.94)     2:17.47 (44.36)
      2:41.22 (1:08.11)   3:05.22 (1:32.11)
        3:26.14 (20.92)     3:50.06 (44.84)
      4:13.92 (1:08.70)   4:39.13 (1:33.91)
        5:00.51 (21.38)     5:24.23 (45.10)
      5:48.63 (1:09.50)   6:13.49 (1:34.36)
  8 Stanford                      6:17.98    6:14.75         22  
     1) Abrahm DeVine JR              2) r:0.17 Liam Egan SR          
     3) r:0.41 James Murphy SO        4) Grant Shoults SO             
    r:+0.23  21.53        45.08 (45.08)
      1:08.92 (1:08.92)   1:32.77 (1:32.77)
        1:54.83 (22.06)     2:18.77 (46.00)
      2:42.90 (1:10.13)   3:06.73 (1:33.96)
        3:28.13 (21.40)     3:52.06 (45.33)
      4:16.86 (1:10.13)   4:41.54 (1:34.81)
        5:03.30 (21.76)     5:26.92 (45.38)
      5:50.53 (1:08.99)   6:14.75 (1:33.21)