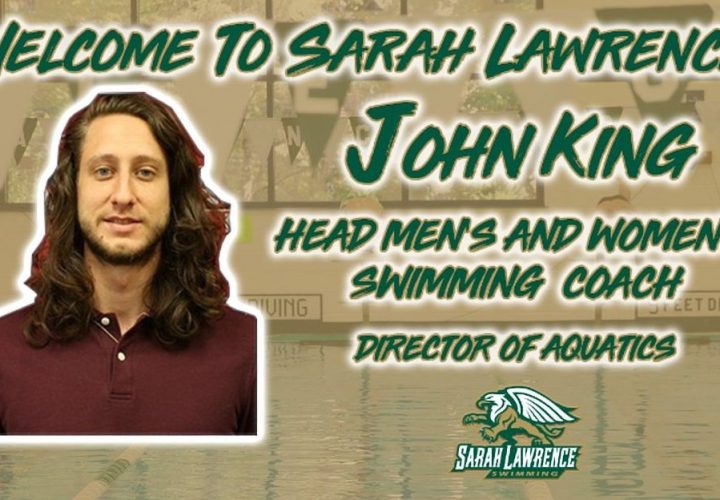 Photo Courtesy: Twitter, @SLCGryphons
BRONXVILLE, N.Y. – John King has been named Sarah Lawrence College Head Men's and Women's Swimming Coach/Director of Aquatics, announced by Director of Athletics and Physical Education Kristin Maile. King joins Sarah Lawrence after spending the last four seasons at Arcadia University.
"I am excited to be joining the Sarah Lawrence College family and being part of such an amazing institution," commented King, who becomes the third head coach in program history. "There is an excellent commitment at Sarah Lawrence College to the overall student experience and I plan to be a major part of that. As the new head coach, I want to help facilitate a healthy, respectful environment that supports positivity and growth for my student-athletes in all aspects of their lives."
"We are excited to have John join Sarah Lawrence and the Gryphons Athletics community," says Maile. "John has helped architect a strong men's and women's swimming program at Arcadia, and I believe that, along with his experience across different collegiate levels, will be an asset, and help continue to push an already budding Gryphons' program."
The Knights have steadily improved each year with the help of King. In his four years as an assistant coach, the men's side posted a 29-12 mark in dual meets, including a program-record 10 victories this season. On the women's side, the Knights complied a 32-9 mark, including a team-record 11 dual meet wins this year.
The Arcadia men's and women's swimming programs have turned in 129 MAC Freedom All-Conference performances, 16 individual conference championship efforts, and the program's first two relay titles during his tenure.
Among his myriad of duties, King served as the primary coach for the distance group. The group excelled under his guidance, as the squad captured eight conference championships. King's impact can be seen most readily by the success of Grant Fisher, a three-time MAC Freedom champion in the 500 freestyle, posted a NCAA "B" Cut time in the 1,650 freestyle, becoming just the second swimmer in program history to notch a NCAA-qualifying mark.
In addition, King assisted in national recruiting efforts and was responsible for the team's dryland workouts, while participating in day-to-day duties as Assistant Aquatics Director.
Both the men's and women's team has also been successful in the classroom, posting the required 3.0 semester grade-point average for CSCAA Scholar All-America Team honors 11 times.
King began his collegiate coaching career at the University of Miami during the 2011-12 campaign, where he worked with the ACC Champion in the women's 100 breaststroke and ACC silver medalist in the women's 100 butterfly, both of whom qualified for the NCAA Division I Championships.
In addition, King has served as the head swimming coach at the Ridley Park Swim Club, master's coach of the Hurricane Aquatics Masters Team, and assistant coach at Strath Haven High School.
King was a member of the men's swimming team while attending NCAA Division II Bloomsburg University, where he competed in distance events. He was a Pennsylvania State Athletic Conference (PSAC) Championships qualifier in each of his four seasons, winning a bronze medal in the 1,000 freestyle as a junior. King finished his collegiate career as the Huskies' record-holder in the 1,000 and 1,650 freestyle events.
A native of Folsom, Pennsylvania, King earned his bachelor's degree in exercise science with concentrations in coaching and strength and conditioning from Bloomsburg in 2011.
The above press release was posted by Swimming World in conjunction with Sarah Lawrence College Athletics. For press releases and advertising inquiries please contact Advertising@SwimmingWorld.com.