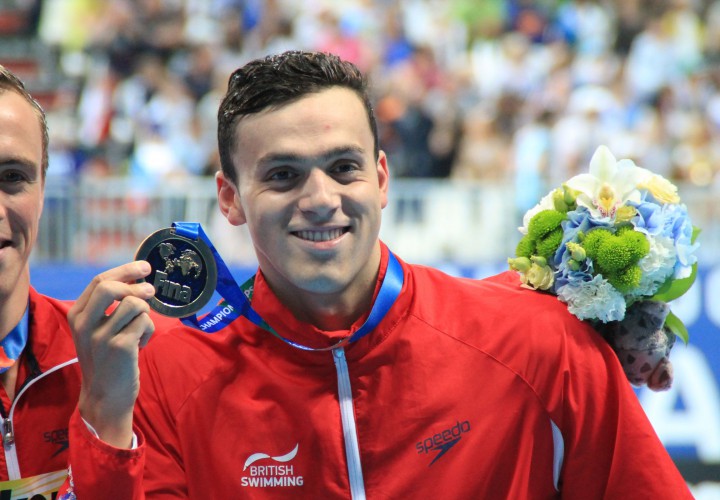 Photo Courtesy: Maria Dobysheva
James Guy surged to the top of the world in the men's 200-meter free with a British Olympic qualifying time at the 2016 British Nationals.
Guy clocked in with a 1:45.19, just missing his own British record of 1:45.14 from the 2015 World Championships.
That swim shot him ahead of Kosuke Hagino's 1:45.50 from the Japanese Championships in the world rankings, and beat the British Olympic qualifying time of 1:45.91.
Stephen Milne (1:47.15), Robert Renwick (1:47.23) and Duncan Scott (1:47.31) set themselves up for potential relay duty in the men's 800-meter free relay.
Cameron Kurle (1:47.82), Ieuan Lloyd (1:48.23), Daniel Wallace (1:48.50) and Nicholas Grainger (1:48.53) also competed in the finale.
| | | | | | | | | | | | | |
| --- | --- | --- | --- | --- | --- | --- | --- | --- | --- | --- | --- | --- |
| Place | Name | YoB | Club | | Time | | R.T. | FINA Pt | | 50 | 100 | 150 |
| 1. | James Guy | (95) | Millfield | | 1:45.19 | | + 0.64 | 911 | | 24.50 | 51.00 | 1:18.09 |
| 2. | Stephen Milne | (94) | Perth City | | 1:47.15 | | + 0.74 | 862 | | 25.42 | 52.81 | 1:20.39 |
| 3. | Robert Renwick | (88) | UniOfStirl | | 1:47.23 | | + 0.68 | 860 | | 25.51 | 52.76 | 1:19.85 |
| 4. | Duncan Scott | (97) | UniOfStirl | | 1:47.31 | | + 0.69 | 858 | | 25.07 | 52.27 | 1:19.57 |
| 5. | Cameron Kurle | (97) | Millfield | | 1:47.82 | | + 0.73 | 846 | | 25.62 | 53.41 | 1:20.87 |
| 6. | Ieuan Lloyd | (93) | Co Cardiff | | 1:48.23 | | + 0.69 | 837 | | 25.56 | 53.19 | 1:20.80 |
| 7. | Daniel Wallace | (93) | Warrender Ba | | 1:48.50 | | + 0.72 | 830 | | 25.73 | 53.18 | 1:20.80 |
| 8. | Nicholas Grainger | (94) | Co Sheffield | | 1:48.53 | | + 0.72 | 830 | | 25.64 | 52.80 | 1:20.74 |