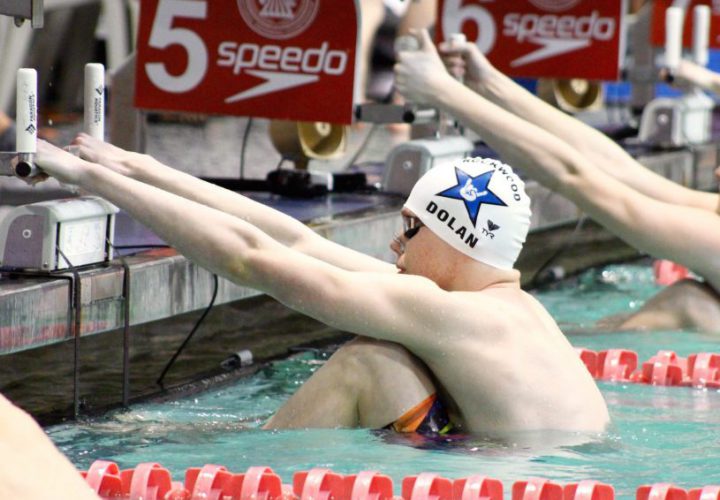 Photo Courtesy: Taylor Brien
The 2017 L.A. Invite hosted its first night of finals with Sarah Darcel and Jack Dolan among the event winners.
Danica Ludlow of UCSC won the first gold of the 2017 LA Invite with a top showing in the women's 800 free. Ludlow stopped the clock at a final time of 8:47.48, followed by New Zealand's Hayley McIntosh and her time of 8:51.54. Emma Chard completed the podium with a time of 8:52.01.
Mission Viejo's Ella Ristic claimed gold in the women's 100 free, delivering a narrow victory of 56.65 over Tucson Ford's Cameron McHugh's 56.70. Teammate Annie Ochitwa collected third with a close 56.74.
UCSB's Mason Tittle won the men's 100 free with a top showing of 50.42. Nick Thorne of Tucson Ford grabbed second with a time of 50.80, followed by RSCA's Jack Dolan and his time of 50.99.
Sarah Darcel of ISC picked up her first win of the meet in the women's 200 fly, posting a dominating finish of 2:12.59. HRA's Alex Reddington turned in a second place finish of 2:15.18, while SoCal's Elise Garcia was third with a 2:15.36.
UC Santa Barbara's Kevin Mendoza and Tucson Ford's Nick Thorne posted the only sub-two minute swims of the men's 200 fly at times of 1:59.80 and 1:59.92 respectively. Connor Wilkins of OAK finished third overall with a time of 2:02.71.
Cameron McHugh added to her medal collection with a first place finish of 2:12.94, followed by BUEN's Solie Laughlin and her time of 2:13.90. UBCD's Ingrid Wilm completed the podium with a time of 2:15.61.
Jack Dolan of RSCA earned his first gold medal of the meet with a top showing in the men's 200 back, stopping the clock at a final time of 2:02.51. Tucson Ford's Steven Medvedev took second overall with a 2:02.99, while PS's Hayden Cornellison was third with a 2:05.01.
Sarah Darcel added a second gold medal to her collection in dominating fashion. Darcel delivered a gold medal finish of 4:42.99 in the women's 400 IM, followed by Solie Laughlin's 4:53.62. NOVA's Isabelle Odgers rounded out the podium with a third place finish of 4:54.55.
UCSC's Peter Brothers turned in a first place finish of 3:57.40 in the men's 400 free, while Ben Olszewski, swimming unattached, grabbed a close second with a time of 3:57.77. Mission Viejo's Noah Brune posted the only other sub-four minute swim of the night with a time of 3:59.63.