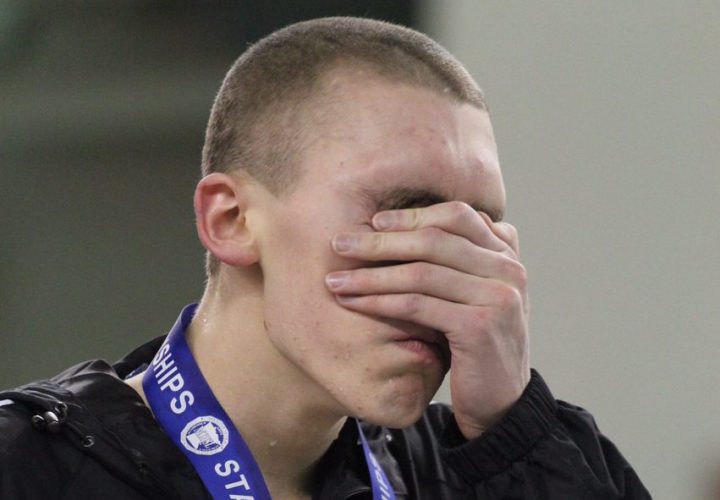 Photo Courtesy: Kim Dahlgren
Agon is the proud sponsor of all high school coverage (recruiting, results, state championships, etc.) on SwimmingWorld.com. For more information about Agon, visit their website?AgonSwim.com.?National Records for High School Are Pending Application Verification.? Click Here to Learn More
Agon is the proud sponsor of all high school coverage (recruiting, results, state championships, etc.) on SwimmingWorld.com. For more information about Agon, visit their website AgonSwim.com.
At Saturday night's 2018 Minnesota Boys Class AA High School swimming and diving state championships Chanhassen senior Jack Dahlgren took down two state marks while Minnetonka won the team state title.
Minnetonka scored 217.5 points while Shakoppe scored 181 and Chanhassen was third with 175 points.
Dahlgren's night began as he swam the backstroke leg of his team's winning 200 medley relay in 21.95. He was followed by Dolan Craine, Evan Bock, and Ryan Druce as the quartet finished in 1:31.63. Minnetonka's Quinn Yeager, Teddy Nordvold, Erik Gessner, and Isaac Alberts were second in 1:32.89.
In the very next event Dahlgren stopped the clock in 1:35.39 for 200 freestyle gold. He took down Sam Schilling's 2017 Class AA and All-Time record of 1:35.82. Sean Dwyer of Prior Lake was second (1:38.42) and Edina's Andrew Gray was also under 1:40 in 1:39.20.
In the 100 backstroke Dahlgren had a bit more company. In prelims North St. Paul's senior Mitchell Whyte touched in 48.10 to set a new Class AA and All-Time record. In finals Dahlgren was first to the wall, lowering those marks and stopping the clock in 47.52. Whyte finished runner up, also under his own record, with a a 47.84. Wayzata's Sam Kennedy also cleared 50 seconds in 49.88.
Minnetonka's John Shelstad won the 200 IM with a 1:48.92 and Craine finished second (1:50.00).
Lakeville North's Andrew Trepanier led a trio of juniors atop the 50 freestyle podium. Trepanier finished in 20.46, Elk River's Zack Kopp in 20.52 and Duluth East's Ryan Zelen in 20.71. Trepanier and Kopp were the top two finishers in the 100 freestyle with times of 44.52 and 45.17, respectively.
Minnetonka's Gessner won a close 100 butterfly, touching in 48.85. His teammate Shelstad finished third (49.20) while Whyte was sandwiched in between with a 48.97.
After a runner up finish in the 200 freestyle, Prior Lake's Dwyer finished first in the 500 free (4:29.75). Stillwater's Robert Niemann took silver (4:32.19).
Minnetonka's Alberts, Gessner, Michael Shelstad, and John Shelstad won the 200 freestyle relay in 1:24.65.
St. Louis Park freshman Hayden Zheng won the 100 breaststroke by nearly a second, finishing in 56.43. He had another freshman on his tail: Wayzata's Nick Kale in 57.33.
Dahlgren ended his high school career with one more gold, anchoring Craine, Druce, and Bock to a 3:05.15 400 freestyle relay. Shakopee was second with a time of 3:05.86.