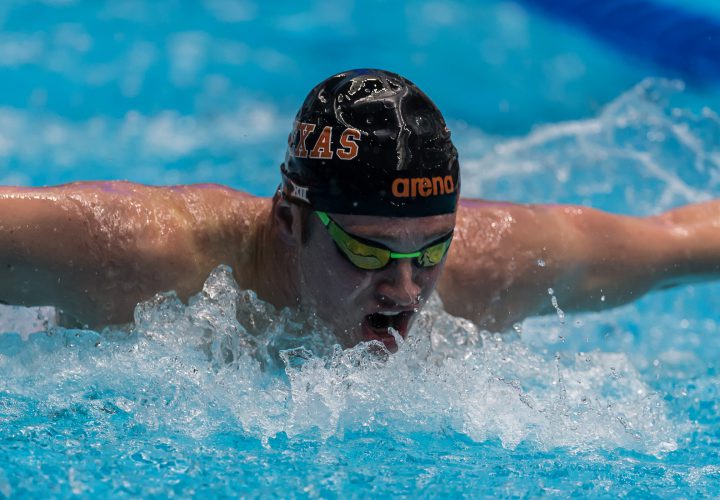 Photo Courtesy: Peter H. Bick
Editorial content for the 2018 TYR Pro Swim Series Austin is sponsored by SwimOutlet.com. Visit SwimOutlet.com for more information on our sponsor. For full Swimming World coverage, check out our event coverage page.
Swimming in his home pool, Jack Conger out-raced Michael Andrew in the 50 fly the third time around on Saturday night in Austin at the TYR Pro Swim Series. Conger won the final race of the night with a 23.37 ahead of Andrew's 23.43. Conger descended from a 23.90 to a 23.59. Both swimmers were tied after the semi-finals and the final was expected to be pretty much a shootout. Pun intended.
Conger held off Andrew to give him his second loss of the night after the latter lost to Nathan Adrian in the 50 free final. Both swimmers scored points for Kaitlin Sandeno's swim squad.
 Event 33F  Men 50 LC Meter Butterfly
=========================================================================
        World: W 22.43  4/5/2009  Rafael Munoz
     American: A 22.76  7/23/2017 Caeleb Dressel
         Meet: M 23.11  2012      Matt Targett
    Name            Age Team                 Seed     Finals       Points 
=========================================================================
  1 Conger, Jack     23 Nation's Capital       NT      23.37        
  2 Andrew, Michael  18 Race Pace Club-M       NT      23.43