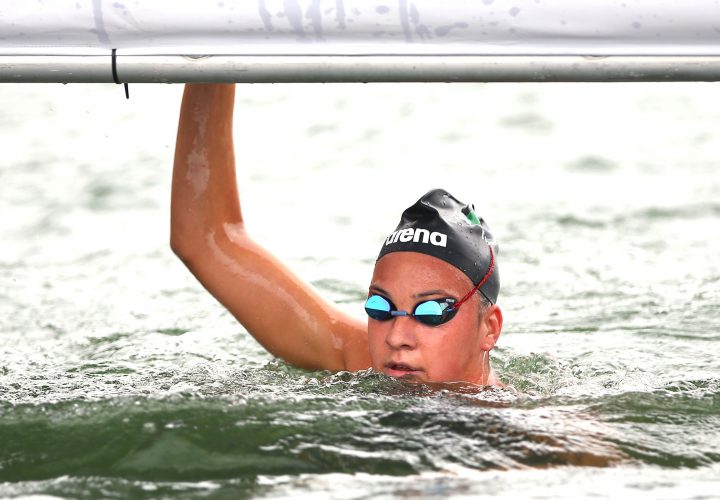 Photo Courtesy: Gwangju Summer Universiade Organizing Committee
Italy's Simone Ruffini and Arianna Bridi were the fastest today (Sunday May 20) in the FINA/HOSA Marathon Swim World Series which was taking place in the Seychelles, as the island hosted the second leg of the event for the first time ever.
The women's race, which kicked-off with a water start, saw Bridi pocketed the gold at stake as the Italian touched home in 1h58m32s30. She was followed by Brazil's Ana Marcela Cunha and Italy's Martina De Memme, who respectively touched home in 1h58m32s60 and 1h58m33s40 for silver and bronze.
Doha's winner and current Olympic title holder Sharon Van Rouwendaal (NED) finished fourth today.
In the afternoon race, Ruffini clocked a time of 1h49m41s90 and secured the gold medal, while Great Britain's Jack Burnell touched home second in 1h49m44s00. Germany's Rob Muffels stepped on the last step of the podium today, clocking a time of 1h49m46s30.
Just like in the women's competition held in the morning, Olympic champion and Doha Swim World Series winner Ferry Weertman (NED) finished fourth in a tie with Italy's Andrea Manzi. Ruffini had taken the bronze in Doha.
The 2018 circuit will next stop in Setubal, Portugal, on June 9 for the third of nine meets. Today's races can be watched on-demand on FINAtv and a detailed news report is available on FINA website.
Medallists in Seychelles
MEN
1. Simone Ruffini (ITA) 1:49:41.90; 2. Jack Burnell (GBR) 1:49:44.00; 3. Rob Muffels (GER) 1:49:46.30
WOMEN
1. Arianna Bridi (ITA) 1:58:32.30; 2. Ana Marcela Cunha (BRA) 1:58:32.60; 3. Martina De Memme (ITA) 1:58:33.40
Calendar 2018
#1 – Doha (QAT) – March 17
#2 – Seychelles (SEY) – May 20
#3 – Setubal (POR) – June 9
#4 – Balatonfured (HUN) – June 16
#5 – Lac St Jean (CAN) – July 26
#6 – Lac Megantic (CAN) – August 11
#7 – Chun'An (CHN) – September 16
#8 – Taiwan (TPE) – September 22
#9 – Abu Dhabi (UAE) – November 24
About Fédération Internationale de Natation (FINA)
The Fédération Internationale de Natation, founded in 1908, is the governing body for aquatics worldwide. FINA's five discipline Swimming, Open Water Swimming, Diving, Water Polo and Synchronised Swimming – are all included in the Olympic programme. High Diving made its first appearance in FINA events at the 2013 FINA World Championships. FINA counts 209 affiliated National Federations on the five continents and has its headquarters in Lausanne (SUI).
The above press release was posted by Swimming World in conjunction with FINA. For press releases and advertising inquiries please contact Advertising@SwimmingWorld.com.