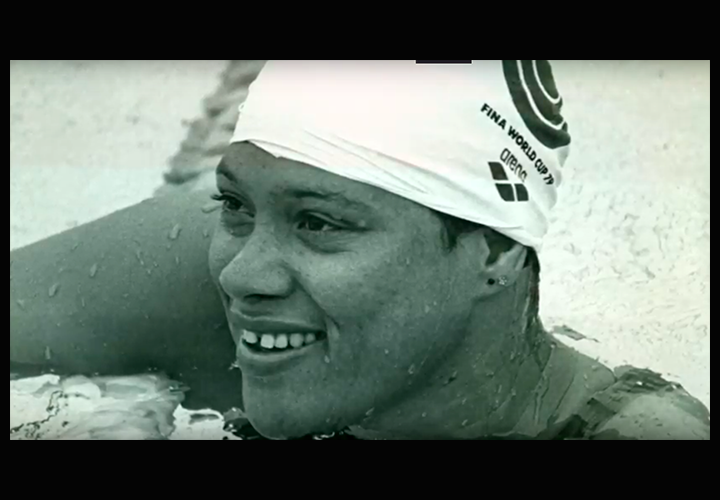 By Bruce Wigo.
Black Swimming History in the race pool did not begin with Simone Manuel's gold medal in Rio. Nor did it begin with Cullen Jones' gold medal in Beijing, Maritza McClendon's Olympic silver medal in Athens, Anthony Ervin's gold in Sydney, Sabir Muhammad's American records in the 1990s or Anthony Nesty's gold medal in 1988.
Before any of these great swimmers, there was Enith Brigitha, who swam for the Netherlands in the 1970's. Enith was a genuine superstar in an era dominated by women swimmers from the German Democratic Republic, who we now know benefited from the use of PEDs (Performance Enhancing Drugs). Enith was born on the West Indian Island of Curacao, where she first learned to swim in the Caribbean Sea. By the time she moved to Holland with her mother and brother in 1970, she had become the island's most promising swimmer. Two years later, swimming for Coach Willie Storm at the Club Het Y in Amsterdam, she qualified for the 1972 Munich Olympic Games and reached the final in four events, and this was just the start of her success. All told Enith, she set five short course world records and collected 21 Dutch titles in the freestyle, backstroke, medley and butterfly events. She won the Dutch 100 meter freestyle title seven years in a row, was twice named Dutch Sportswoman of the Year – and has the distinction of being the first person of African descent to win Olympic medals (2 bronze medals in Montreal) in swimming. But for the systematic doping of the East German swimmers, Enith might have been the first of her race to claim Olympic Gold in swimming.
To learn more about Enith and see John Naber's introduction of Enith when she was inducted into the International Swimming Hall of fame, her induction video and acceptance speech click here.